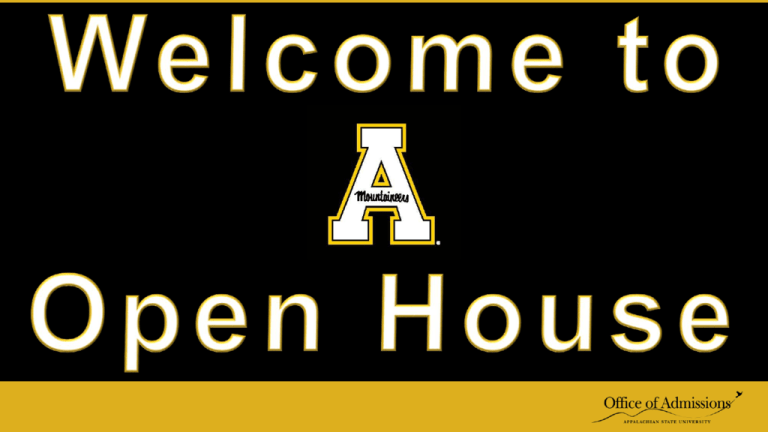 TODAY'S PRESENTATION
• Why Appalachian?
• Admissions Process
• Transferring Credit
• Advising Tips
• Resources
• Transfer Student Panel
WHY CHOOSE APPALACHIAN?
Breathtaking Location
• Elevation: 3,333 ft
• Named one of "The Best Small Towns" in
America by Outdoor magazine
Get out there!
• Paddle, hike, bike, backpack,
ski/snowboard, rock climb, drive the Blue
Ridge Parkway…
Outdoor Laboratory for Learning
• Deep and lasting relationships in the
community
GLOBAL LEARNING
Faculty-led, short-term
programs
52 countries
A top ranked university for the number of
study-abroad students (Institute of
International Education)
Semester, summer and yearlong programs
27 countries
Alternative Spring Break
9 countries
SUSTAINABILITY
TrTRANSFER ADMISSION CRITERIA
•
•
•
30 Transferable hours
• SAT/ACT scores
required with less
than 30 hours
Minimum GPA 2.25
Earn a C or better in all
transferable
coursework
•
Apply after having 12 hours
on a transcript for review
•
Rolling Admission
•
2-4 Week Notification
Period
Applications open in August for next year's term
HOW TO APPLY
A Complete Application Includes:





Online Application
$55 Application Fee
Official College Transcripts
Official High School Transcripts (if under 21)
SAT/ACT Scores Required with less than 30 hours
TuTUITION, SCHOLARSHIPS AND
FINANCIAL AID
•
•
Transfer Merit Based Scholarships
scholarships.appstate.edu
Financial Aid
• Award Letter
• Checking for updates
OFFICE OF TRANSFER SERVICES
Dedicated services and resources for transfer
students
•
•
Provide accurate and timely
information regarding the
transferability of credit, pre-advising
and admissions.
Continuous support of transfer
students.
www.transfer.appstate.edu
TRANFERRING CREDITS
Meeting General Education Requirements

NC Community College
•
•
•
•
•
Associate in Arts, Associate in Science
Transfer Core Diploma (if in progress by
fall 2014)
C or better in all core coursework
Individual articulated credits/UGETC courses
Petition Process (after acceptance)
In State Public Four Year
•
Gen Ed requirements completed at any UNC sister institution
are reviewed on individual basis
Out of State
•
Associate in Arts and Associate in Science degrees are
reviewed on an individual basis
JUMP START APPALACHIAN
• A transfer student support program
• Meet current ASU transfer students
• Meet faculty
• Tour campus
Friend "Jump Start Appalachian" on Facebook
T-POP (Transfer Pre-Orientation Program)
•
•
Preparation for Orientation
Students are still required to attend Orientation session
GET INVOLVED!
What do you like to do???
Over 300 clubs and organizations!
•
•
•
•
•
•
•
Academics & Professional •
•
Club Sport
•
Fraternity & Sorority
•
Governing
•
Honorary
•
Leadership
Multicultural & International •
•
Political
Recreation
Religious & Spiritual
Residence Life
Service
Performing Arts
Special Interest
Transfer Specific
• Tau Sigma Honor
Society
• Transfer Student
Organization
• College of Business
Transfer Student
Association
RESOURCES
•
•
•
•
Transfer Residential Learning
Communities
Transfer Specific Library
Resources
Learning Assistance Program
University Writing Center
•
•
•
•
•
Disability Services
Career Services
Counseling Center
Health Services
Advising
Transfer Student
Mentor Panel
Questions?
Thank you for visiting us
today!
Be sure to complete our online survey.