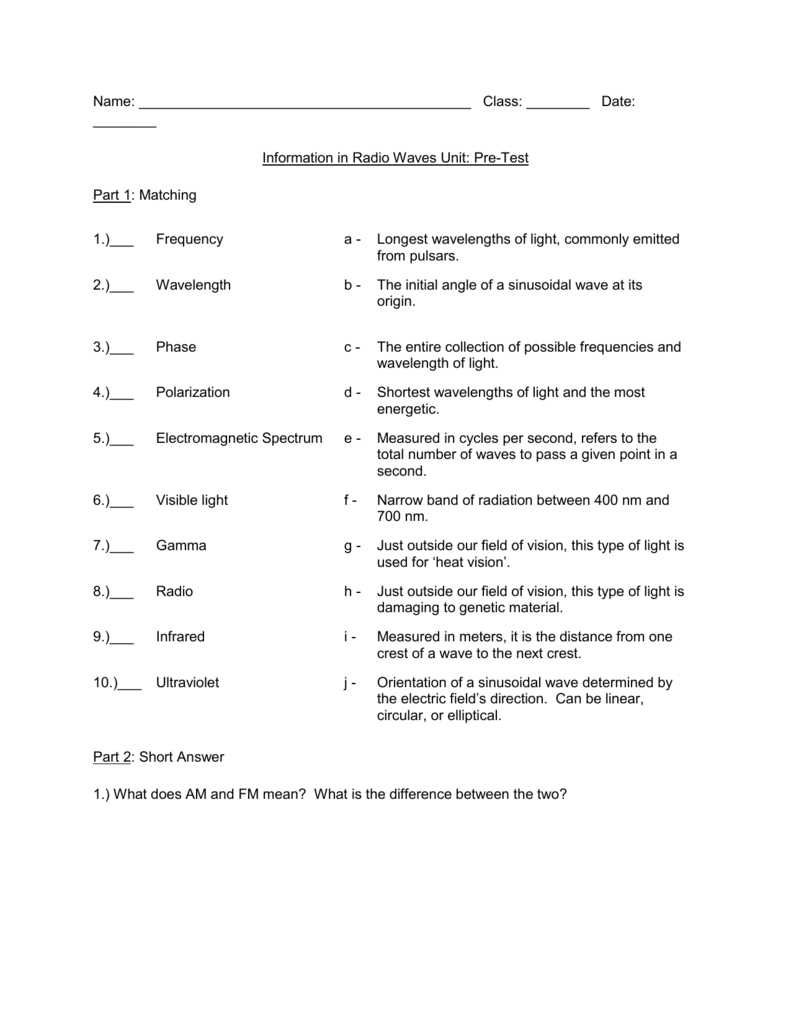 Name: __________________________________________ Class: ________ Date:
________
Information in Radio Waves Unit: Pre-Test
Part 1: Matching
1.)___
Frequency
a-
Longest wavelengths of light, commonly emitted
from pulsars.
2.)___
Wavelength
b-
The initial angle of a sinusoidal wave at its
origin.
3.)___
Phase
c-
The entire collection of possible frequencies and
wavelength of light.
4.)___
Polarization
d-
Shortest wavelengths of light and the most
energetic.
5.)___
Electromagnetic Spectrum
e-
Measured in cycles per second, refers to the
total number of waves to pass a given point in a
second.
6.)___
Visible light
f-
Narrow band of radiation between 400 nm and
700 nm.
7.)___
Gamma
g-
Just outside our field of vision, this type of light is
used for 'heat vision'.
8.)___
Radio
h-
Just outside our field of vision, this type of light is
damaging to genetic material.
9.)___
Infrared
i-
Measured in meters, it is the distance from one
crest of a wave to the next crest.
10.)___
Ultraviolet
j-
Orientation of a sinusoidal wave determined by
the electric field's direction. Can be linear,
circular, or elliptical.
Part 2: Short Answer
1.) What does AM and FM mean? What is the difference between the two?
2.) What is the difference between light waves and sound waves?
3.) Describe the four basic characteristics of light waves.
4.) How can information be encoded into a radio wave? What kinds of information can be
extracted from radio waves?
5.) What is Geodesy? How does this field of study use radio waves?
6.) Describe how GPS works.
7.) How do solar outbursts affect the Earth?
8.) What is spectroscopy? How does it work?
9.) Why is Hydrogen's radio signature useful for astronomers?
10.) How do astronomers make pictures using radio waves?