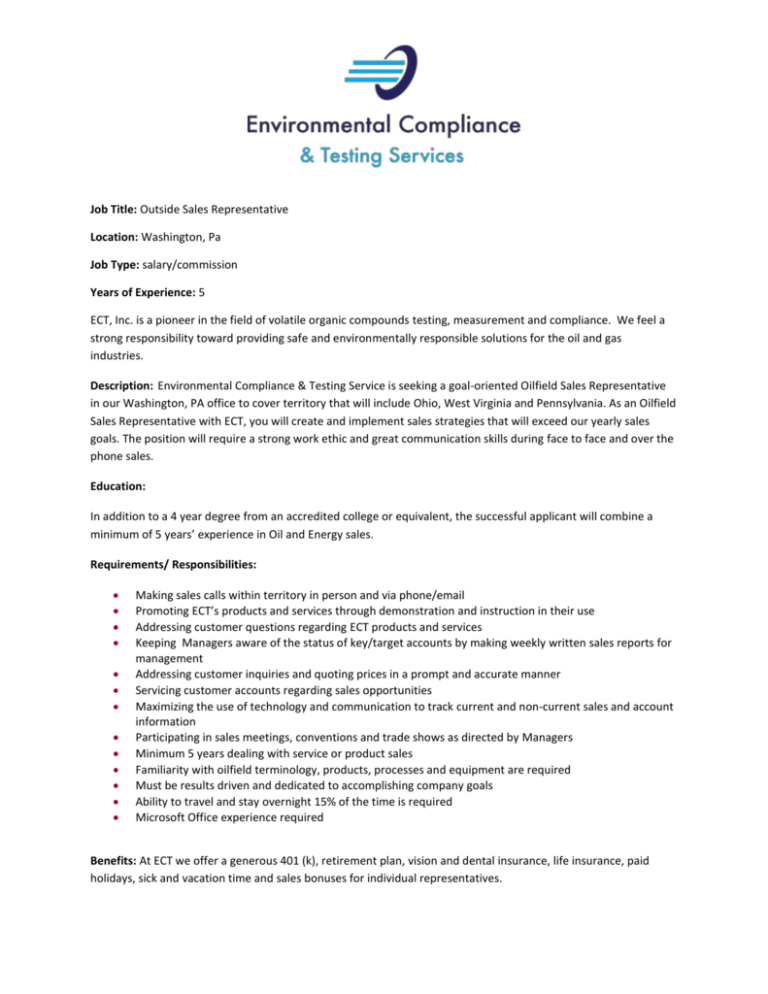 Job Title: Outside Sales Representative
Location: Washington, Pa
Job Type: salary/commission
Years of Experience: 5
ECT, Inc. is a pioneer in the field of volatile organic compounds testing, measurement and compliance. We feel a
strong responsibility toward providing safe and environmentally responsible solutions for the oil and gas
industries.
Description: Environmental Compliance & Testing Service is seeking a goal-oriented Oilfield Sales Representative
in our Washington, PA office to cover territory that will include Ohio, West Virginia and Pennsylvania. As an Oilfield
Sales Representative with ECT, you will create and implement sales strategies that will exceed our yearly sales
goals. The position will require a strong work ethic and great communication skills during face to face and over the
phone sales.
Education:
In addition to a 4 year degree from an accredited college or equivalent, the successful applicant will combine a
minimum of 5 years' experience in Oil and Energy sales.
Requirements/ Responsibilities:













Making sales calls within territory in person and via phone/email
Promoting ECT's products and services through demonstration and instruction in their use
Addressing customer questions regarding ECT products and services
Keeping Managers aware of the status of key/target accounts by making weekly written sales reports for
management
Addressing customer inquiries and quoting prices in a prompt and accurate manner
Servicing customer accounts regarding sales opportunities
Maximizing the use of technology and communication to track current and non-current sales and account
information
Participating in sales meetings, conventions and trade shows as directed by Managers
Minimum 5 years dealing with service or product sales
Familiarity with oilfield terminology, products, processes and equipment are required
Must be results driven and dedicated to accomplishing company goals
Ability to travel and stay overnight 15% of the time is required
Microsoft Office experience required
Benefits: At ECT we offer a generous 401 (k), retirement plan, vision and dental insurance, life insurance, paid
holidays, sick and vacation time and sales bonuses for individual representatives.
Additional Information:
ECT's Environmental support programs have been at the for front of industry standards since our beginning in
2014. Primarily serving southwestern Pennsylvania, ECT has grown to offer unique affordable products in Ohio
and West Virginia. We have built great partnerships in these states, and strive to assure the highest level and
quality of work for customer satisfaction.
The Equal Employment Opportunity Policy of Environment Compliance Training & Services (ECT, Inc.) is to provide a fair and equal employment
opportunity for all associates and job applicants regardless of race, color, religion, national origin, gender, sexual orientation, age, marital status
or disability. ECT, Inc. hires and promotes individuals solely on the basis of their qualifications for the job to be filled.
ECT, Inc. believes that associates should be provided with a working environment which enables each associate to be productive and to work to
the best of his or her ability. We do not condone or tolerate an atmosphere of intimidation or harassment based on race, color, religion, national
origin, gender, sexual orientation, age, marital status or disability.
We expect and require the cooperation of all associates in maintaining a discrimination and harassment-free atmosphere.