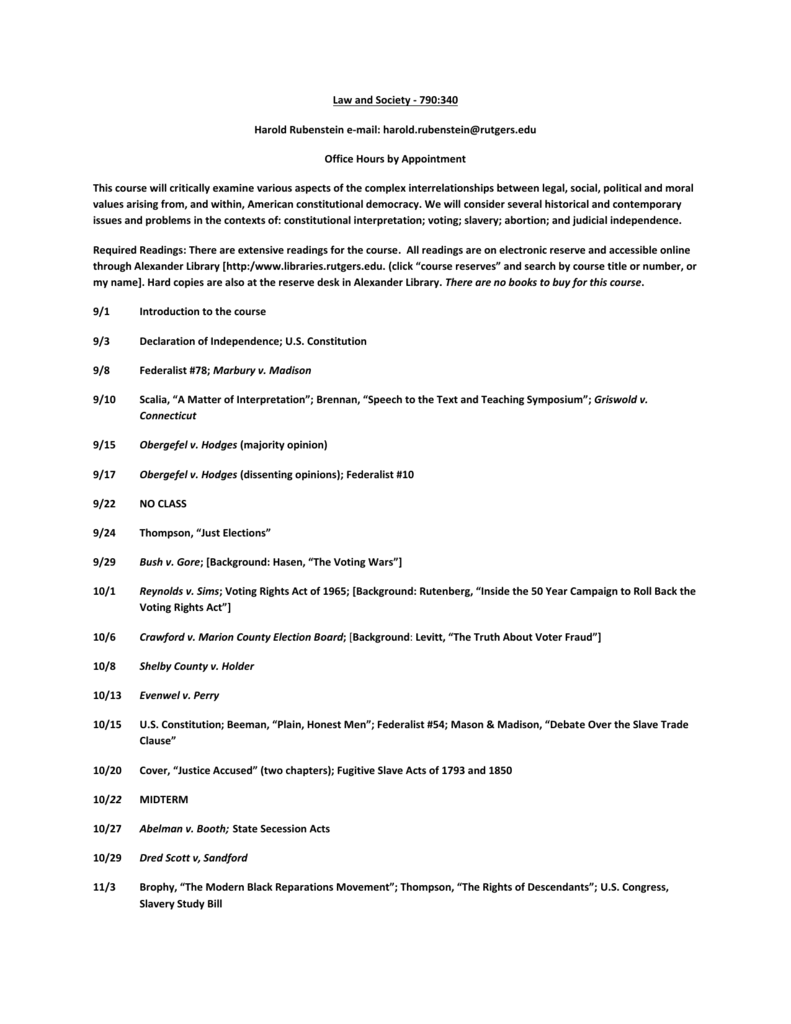 Law and Society - 790:340
Harold Rubenstein e-mail: [email protected]
Office Hours by Appointment
This course will critically examine various aspects of the complex interrelationships between legal, social, political and moral
values arising from, and within, American constitutional democracy. We will consider several historical and contemporary
issues and problems in the contexts of: constitutional interpretation; voting; slavery; abortion; and judicial independence.
Required Readings: There are extensive readings for the course. All readings are on electronic reserve and accessible online
through Alexander Library [http:/www.libraries.rutgers.edu. (click "course reserves" and search by course title or number, or
my name]. Hard copies are also at the reserve desk in Alexander Library. There are no books to buy for this course.
9/1
Introduction to the course
9/3
Declaration of Independence; U.S. Constitution
9/8
Federalist #78; Marbury v. Madison
9/10
Scalia, "A Matter of Interpretation"; Brennan, "Speech to the Text and Teaching Symposium"; Griswold v.
Connecticut
9/15
Obergefel v. Hodges (majority opinion)
9/17
Obergefel v. Hodges (dissenting opinions); Federalist #10
9/22
NO CLASS
9/24
Thompson, "Just Elections"
9/29
Bush v. Gore; [Background: Hasen, "The Voting Wars"]
10/1
Reynolds v. Sims; Voting Rights Act of 1965; [Background: Rutenberg, "Inside the 50 Year Campaign to Roll Back the
Voting Rights Act"]
10/6
Crawford v. Marion County Election Board; [Background: Levitt, "The Truth About Voter Fraud"]
10/8
Shelby County v. Holder
10/13
Evenwel v. Perry
10/15
U.S. Constitution; Beeman, "Plain, Honest Men"; Federalist #54; Mason & Madison, "Debate Over the Slave Trade
Clause"
10/20
Cover, "Justice Accused" (two chapters); Fugitive Slave Acts of 1793 and 1850
10/22
MIDTERM
10/27
Abelman v. Booth; State Secession Acts
10/29
Dred Scott v, Sandford
11/3
Brophy, "The Modern Black Reparations Movement"; Thompson, "The Rights of Descendants"; U.S. Congress,
Slavery Study Bill
11/5
Walker v. Texas Division, Sons of Confederate Veterans, Inc.
11/10
Thomson, "A Defense of Abortion"
11/12
Roe v. Wade
11/17
Maher v. Roe; Right to Choose v. Byrne
11/19
Cuomo, "Religious Belief and Public Morality"
11/24
Planned Parenthood of Southeastern Pennsylvania v. Casey
11/26
THANKSGIVING
12/3
Jackson Women's Health Org. v. Currier; Planned Parenthood Southeast v. Strange
12/8
Brown v. Board of Education; "The Supreme Court Justice Who Was Against Segregation"
12/10
Caperton v. A.T. Massey Coal Company; Albin, "Judicial Independence"
FINAL EXAM (in-class, closed book) (Start time: 8 p.m. per university exam schedule) [12/17/15]
COURSE REQUIREMENTS: All students are required to follow university policies and procedures. This includes the policy on
academic integrity - http://academicintegrity.rutgers.edu/
In addition, students are required to attend class; to complete the assigned readings prior to class; and to participate in class
discussions to the extent reasonably possible (given the class size). Grades will be determined by performance on the
following:
Court observation report (20%) – Instructions for the assignment will be distributed separately [Due 10/1/15]
Midterm Exam (40%) (closed-book, in-class exam covering everything up to the midterm) [10/22/15]
Final Exam (40%) (closed-book, in-class exam covering everything after the midterm) [12/17/15]
For both the midterm and final exams attendance is mandatory! No one will be permitted to take a make-up exam unless
they have prior written permission from the appropriate Dean.
Class participation – Although class participation is required, students who qualitatively (not necessarily quantitatively)
participate can raise their grade. The determination of qualitative participation is at the sole discretion of the instructor.
Students with Disabilities: Any student with a documented disability requiring reasonable accommodations must make prior
arrangements for such accommodations through the University's Office of Disability Services ([email protected]). I
work closely with that office and will take whatever steps are necessary to ensure that the educational needs of such
students are fully met pursuant to instructions and guidance from that office.
Note: This syllabus is subject to change with notice.