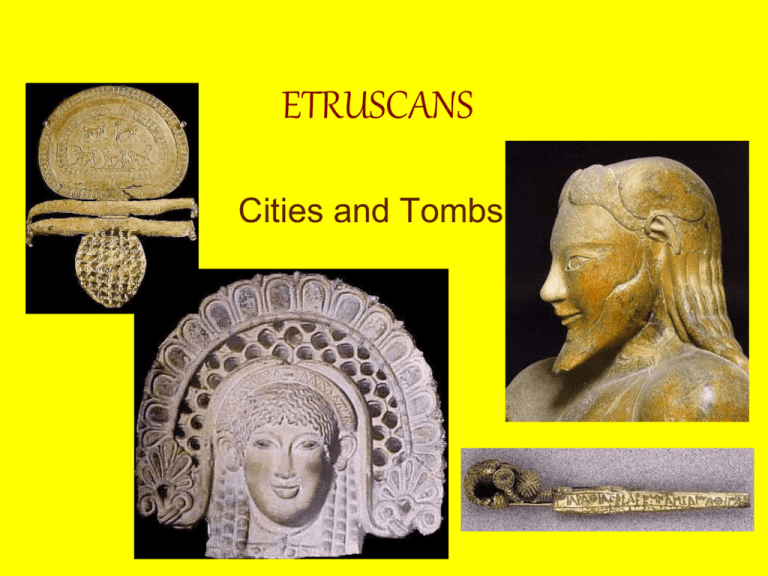 ETRUSCANS
Cities and Tombs
ETRUSCANS
• Location: Northern Italy, 1200 BC
• Earliest settlers in Rome?
• Large influence on Rome: politics, religion,
entertainment
• Kings of Rome were Etruscan.
• Highly advanced culture: art, music,
writing.
– Written language not totally deciphered.
Etruscans
Etruscans
• Etruscans known for their highly advanced
cities.
• Etruscans known for their highly
decorated and painted tombs.
• Known for highly skilled sculpture.
• Iron producing civilization.
Cities of the Etruscans
• The presence of one or more cities
indicates that the civilization in question
was likely highly advanced.
• Cities require: trade, writing, division of
labor, advanced governments and
protection
CITIES
• Tarquinia:
– Archaeological finds bear out that Tarquinia was one
of the oldest Etruscan centers, 8th century BC.
– Trading power, mineral resources
– Remains:
• small sections of the solid walls
• foundations of a temple, the Ara della Regina, early 4th
century BC
– Winged Horses in relief were in the pediment of the
temple
Cities
• Winged Horses:
Look at the Detail!
Cities
• Vetulonia
– Vetulonia is the Etruscan city where the Lictor's
rods/Fasces originated.
– In 1898, a necropolis was discovered with a bundle of Iron
rods with a double axe in the centre. Later that year, the
burial stele of Avele Feluske was discovered, on which
illustrated the same device.
– Aerial photographs show traces of an extensive wall system
constructed possibly around the 4th century BC
Fasces
Fasces
• The traditional Roman fasces consisted of
a bundle of white birch rods, tied together
with a red leather ribbon into a cylinder,
and often including a bronze axe (or
sometimes two) amongst the rods, with
the blade(s) on the side, projecting from
the bundle.
• Symbolized "Power".
The Lictor
• Lictor: Class of Roman civil
servant, who attended and
guarded magistrates of the
Roman Republic and Empire who
held imperium (power);
essentially, a bodyguard.
Cities
• Caere
– Located 50 km north of
Rome.
– Important trading center
– Earliest settlement: 8-9th
century BC
– By 7th century pottery
manufacture emulated that
of Greece.
– Manufacturing center of
bucchero ware pottery.
– Known for its
necropolis=city of the dead
Cities
• Bucchero Ware: Became common between about the
7th and early 5th century BC. The ware is black,
sometimes gray, and often shiny from polishing. The color
was achieved by firing in an atmosphere charged with
carbon monoxide instead of oxygen. This is known as a
reducing firing, and it converts the red of the clay, due to
the presence of iron oxide, to the typical bucchero colors.
Cities
• Populonia:
– West coast of Central Italy
– Only large Etruscan city
directly on the sea.
– Mainly known for the
smelting of iron ore and
silver from the Island of
Elba as evidenced by its
slag remains which
crushed many tombs.
– First city to coin silver.
Cities
• Clevsin: (modern
Chiusi)
– Located in the
Tuscany region.
– 8th century BC.
– Surrounded by many
tombs, like the "Tomba
della Scimmia.
– Decorations on
sarcophagi yield
numerous inscriptions.
TOMBS
TOMBS
• Background:
• the earliest grave sites were
cremations, with the ash being retained
either in biconical urns, or urns
fashioned to represent huts. Gradually
inhumation burials began to appear,
the first being in Tarquinia and Caere,
and during the Orientalizing period
eventually became the prevailing rite
Biconical Urn
• Used as a burial urn
• Handle usually broken
off at time of burial,
probably part of the
burial rite. Possibly
suggesting mourning?
TOMBS
• Funeral Games:
• Funereal games such as the Games of the Phersu (See: tomb of
the Augurs), involved one man urging a dog to bite another
man. Other games of skill were popular ( See tomb of the
Juggler): In this game, the objective was to throw a series of
disks into a large wine crater balanced on the head of a female
performer.
• The game of Pertica, consisted of a slippery wooden pole
which competitors had to climb
• The Tomb of the Olympic Games shows details of such sports
together with crowds of spectators.
TOMBS
• Most tombs resembled Chamber tombs:
circular covered in a mound with doorway.
Many were under ground with many
rooms.
TOMBS
• Tomb of Hunting and Fishing
–
–
–
–
–
Tarquinia
End of 6th century BC
May be a seen of the afterlife.
Fishing, swimming, bird hunting
Tomb Contains:
• Anteroom: Hallway
• Room 1
• Room 2: Burial
Looking into burial chamber (2nd room)
TOMBS
Four fishermen, colorful birds, dolphins, man with slingshot
TOMBS
TOMBS
• Tomb of Orcus:
– Tarquinia
– First constructed in Mid 4th C. BC, then enlarged later.
– Tomb reflects the gloom of the period.
– The woman Velchia, a noble Etruscan woman, stares
into the darkness
– Her eye is shown from the side view, an indication of
Hellenistic influence, late 4th C. BC.
TOMBS
Velchia, "noble woman"
Hint: notice the eye
TOMBS
• Layout:
– Left Wall: only parts of fresco remain
– Right Wall: a continuation of banquet scene
with Velchia
– Main wall: Banquet scene, people are
reclining. To the side of the banquet is a
winged demon (Charun)
TOMBS
Charun
TOMBS
• Tomb of Orcus: Chamber 2
– Entrance: two figures: Charun and Cyclops
– A huge cyclops figure was discovered when
excavating tomb
TOMBS
• FACT: The set up inside many of the
mound tombs at Caere were as Etruscan
homes, with stairs, rooms, chairs, utensils,
ceilings.
– They formed a necropolis or city of the dead
at Caere.
TOMBS
• Tomb of the Reliefs: 4th C. BC
–
–
–
–
Location: Caere (Cerveteri)
Gives insight into daily life of Etruscans
Places for over forty burials!
Shape: single chamber with cut out niches and long
dromos
– Dug into the ground a considerable depth
– Supported by two pillars
– The tomb is filled with reliefs of military and home
tools: helmets, spears, beds
• Tombs are carved out of volcanic rock (Tufa)
• Wall decorations also carved out of tufa.
TOMBS
Shield
Helmet
Greaves
Sword
Man's
chest
TOMBS
Tomb of the Reliefs:
Items from everyday life:
Kitchen
These are reliefs and not
real, created on a
column.
TOMBS
• Tomb of the Regolini-Galassi
–
–
–
–
–
–
–
–
–
–
–
Location: Caere
7th C. BC
Famous for its rich contents
Circular tomb with short dromos
Two side chambers, oval
Half of tomb was cut out from tufa and the other with square
blocks
End of antechamber, bronze bed with warrior
Carriage that transported body found in same room
In left chamber, two horse chariot was found
Due to the wealth of the burial, the woman must have been very
wealthy, a princess?
Three total burials
TOMBS
• "Dromos" of the Tomb Regolini-Galassi
TOMBS
Buccero ware
Etruscan alphabet
TOMBS
Gold jewelry:
Bracelets
TOMBS
…and this gold pectoral
TOMBS
• Regolini-Galassi
The Bronze Bed
TOMBS
• Regolini-Galassi
Silver objects from Tomb
TOMBS
• Tomb of the Leopards: 5th C. BC
– Location: Tarquinia
– Women dining with men!
• What might this indicate about Etruscan society?
– Rectangular layout
– Banquet scene on walls
• Banquets are thought to have accompanied
funerals.
TOMBS
TOMBS
Dancing scene
Instruments!
TOMBS
• Tomb of the Olympiads
– Location: Tarquinia
– 530-520 BC
– Rectangular
– Athletic scenes: chariot races, running,
jumping events, discus, boxing
TOMBS
TOMBS
Runners
TOMBS
Discus
Thrower
TOMBS
• Tomb of the Augurs
– Location: Tarquinia
– 530-480 BC
– Single rectangular chamber with short dromos
– Phersu games: A provoked fight between a
man and dog
• Prelude to gladiator games?
TOMBS
TOMBS
Man reading name written on
wall, means "father"
TOMBS
Wrestlers part of the funeral games
TOMBS
Phersu Games: Man urging dog to attack another man who is
bleeding
TOMBS
A dancer
ETRUSCAN ART
• Bronzes:
Capitoline Lupa 6th C. BC
Tarquinia, 4th C. BC
ETRUSCAN ART
• Bronzes
Lions Head:C 5th C. BC
Bronze Situla
ETRUSCAN ART
• Sculpture: Apollo of
Veii
Statue of Aplu (Apollo),
pediment of the temple at Veii.
probably made by Vulca, the
only Etruscan artist known by
name. 520 - 550 BCE.