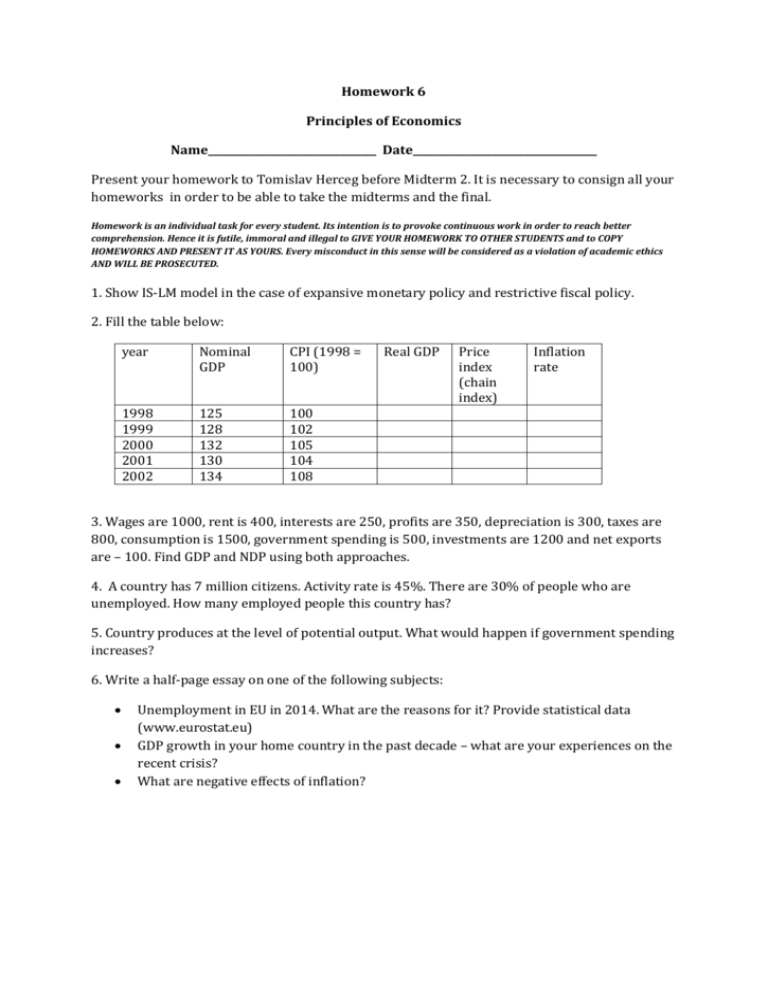 Homework 6
Principles of Economics
Name________________________________ Date___________________________________
Present your homework to Tomislav Herceg before Midterm 2. It is necessary to consign all your
homeworks in order to be able to take the midterms and the final.
Homework is an individual task for every student. Its intention is to provoke continuous work in order to reach better
comprehension. Hence it is futile, immoral and illegal to GIVE YOUR HOMEWORK TO OTHER STUDENTS and to COPY
HOMEWORKS AND PRESENT IT AS YOURS. Every misconduct in this sense will be considered as a violation of academic ethics
AND WILL BE PROSECUTED.
1. Show IS-LM model in the case of expansive monetary policy and restrictive fiscal policy.
2. Fill the table below:
year
Nominal
GDP
CPI (1998 =
100)
1998
1999
2000
2001
2002
125
128
132
130
134
100
102
105
104
108
Real GDP
Price
index
(chain
index)
Inflation
rate
3. Wages are 1000, rent is 400, interests are 250, profits are 350, depreciation is 300, taxes are
800, consumption is 1500, government spending is 500, investments are 1200 and net exports
are – 100. Find GDP and NDP using both approaches.
4. A country has 7 million citizens. Activity rate is 45%. There are 30% of people who are
unemployed. How many employed people this country has?
5. Country produces at the level of potential output. What would happen if government spending
increases?
6. Write a half-page essay on one of the following subjects:



Unemployment in EU in 2014. What are the reasons for it? Provide statistical data
(www.eurostat.eu)
GDP growth in your home country in the past decade – what are your experiences on the
recent crisis?
What are negative effects of inflation?