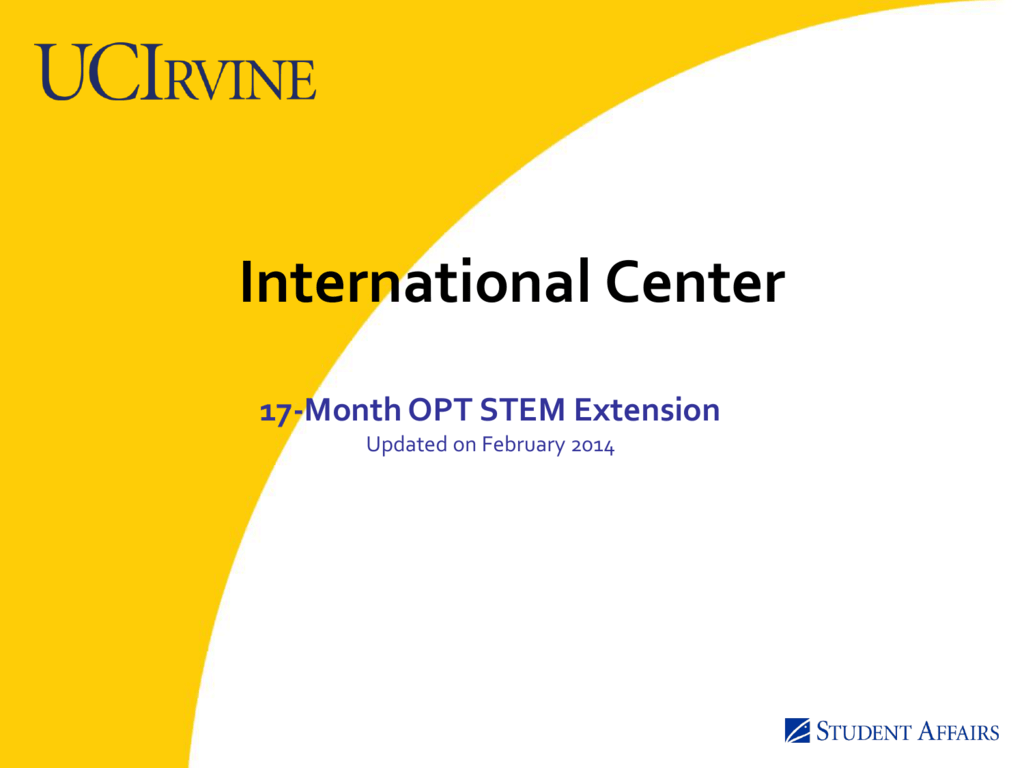 International Center
17-Month OPT STEM Extension
Updated on February 2014
Eligibility Requirements
1. Students currently on OPT who hold a STEM degree (Science, Technology,
Engineering, Mathematics) are eligible to apply for a 17 month OPT extension
2. To find out if your degree qualifies visit
http://www.ice.gov/doclib/sevis/pdf/stem-list.pdf
3. You can find your CIP code (Classification of Instructional Programs) on the
third page of your I-20
4. The student's employer MUST be registered in the government sponsored EVerify program. For more information on the E-verify program visit
http://www.uscis.gov/e-verify
5. Additional requirements:
 You can only apply before the end date of your EAD card
 You can apply as early as 4 months (120 days) before the end date on
you EAD card.
 The student agrees to report to the International Center any change of
name, address or interruption of employment
 Student must be in the 12 month period of OPT
 Employment must be directly related to the student's major area of study
 Has not received a 17 month OPT extension after earning a STEM degree
Application Steps
1.
Confirm that your degree qualifies for the 17 month extension
2.
Turn in a complete application to the IC between as early as 4 months
(120 days) before your current EAD card expires
3.
Once the IC reviews your application, a new I-20 will be generated.
Without this I-20 the USCIS will NOT approve your request for the
extension
4.
You will mail your OPT application along with new I-20 to the USCIS
5.
*NOTE: Application for OPT STEM extension must be submitted
BEFORE the expiration of your EAD card. No exceptions!
17 Month Extension Timeline
1st year of OPT
Start of OPT
same as start
date on EAD card
4 MONTHS BEFORE EAD
card expires
First day eligible
to apply for 17 month
extension
17 month extension
11 ½ MONTHS
Last day eligible to
turn in your application
to the IC
Application Materials
Materials needed for OPT STEM Application
1. Two U.S. passport quality sized photos.
2. OPT student agreement form (this can be found on our website)
3. I-765 form. Use black ink pen or type this form
4. Photocopy of biographical page of passport
5. Photocopy of F-1 visa
6. I-94 form
7. Photocopy of most current I-20 reflecting your initial OPT dates
8. Photocopy of front and back of EAD card
9. Photocopy of your UCI diploma
10. OPT employment update form (found on our website)
NOTE: Do not turn in an incomplete application. All the required
Documents above MUST be included.
OPT 17 Month
Extension
COMPLETING
THE I-765 FORM
Completing the I-765 Form
•
•
•
•
•
•
•
•
•
•
•
•
Check "Renewal of my permission to accept employment"
box
Section 1: Write last name in capital letters followed by first
name. Example: ANTEATER, Peter
Section 2: Leave blank if you have not used any other
names
Section 3: Use your U.S. address that you will be at for the
next 60-90 days. If you are using another individual's
address please use this format:
• EXAMPLE: C/O "First and last name of individual"
Section 4: Please write your country of citizenship/nationality
as listed in your passport
Section 5: Write your place of birth: city, province, and
country if applicable
Section 6: Date of birth as listed in your passport
Section 7: Gender as listed in your passport
Section 8: Check box stating your marital status.
Section 9: Provide your social security number. If you do not
have one, leave blank
Section 10: Write down your 11 digit I-94 number found on
your I-94 form
Section 11: For OPT STEM extension mark the "yes" box
and proceed to the next questions
• Which USCIS office: Please write Laguna Niguel
• For dates: Please write the start and end dates on your
current EAD card
• Results: Please write Granted
Continuing the I-765 Form
•
•
•
•
•
•
•
•
Section 12: Write your date of last entry in the U.S. Refer to
your I-94 form
Section 13: Write the airport code of the city you last entered
the U.S. For example: If you entered through Los Angeles, you
will write LAX
Section 14: Write F-1 Student; however if your last entry was
with another visa, write that visa status instead.
Section 15: Write F-1 Student
Section 16: In the parenthesis write (C) (3) (C)
Section 17: Write your degree. Example: Ph.D in Computer
Science.
• List employer's name
• List employer's e-verify number
Signature section: Sign in black ink and be sure your
signature does not touch the top or bottom lines.
Reminder: Be sure to complete addition of the I-765 form
Unemployment Periods
• While on OPT STEM period you may not
be unemployed for more than 120 days.
• Make sure to report any change of
employer or unemployment to the
International Center as soon as possible.
You may submit an OPT employment
update form which can be found here
Frequently Asked Questions
Q: How long does it take to get the 17-month OPT
authorization?
A: Approximately 60 to 90 days. This does not
include the 7 business days processing time at
the IC.
Q: I am currently in pre-completion OPT, do I need
to apply for OPT post completion and then for the
17-month extension?
A: Yes, each OPT requires a new application. One for OPT precompletion, a second for OPT post completion, and a third one
for the 17-month extension. Each application requires the
payment of $380. You cannot turn in all applications at once.
Each application must be turned in within the permissible time.
OPT pre and post completion can be turned in prior to your
graduation date. OPT post completion can be turned in 90 days
prior to your graduation date. OPT 17-month application can be
turned in as early as 120 days prior to the end date of your EAD
card.
Q. What if my I-20 has a program listed as
"Multidisciplinary Other" as the major but my official
degree at UCI will list Masters on Computer and
Information Sciences? Will my degree certificate prove
that I am a STEM student?
A.
This can be a problem. Prior to your graduation date, you
should update the IC with your actual degree. Your I-20
should always reflect the degree you are getting.
Q: My minor is in the STEM list, can I still apply for the 17
month extension?
A: No, only conferred Bachelor, Master and Doctoral
degrees qualify for the 17 month extension.
Further Questions and
Information
For questions, please e-mail the IC staff at
[email protected] or call our main line at
949-824-7249
Thank you and good luck!