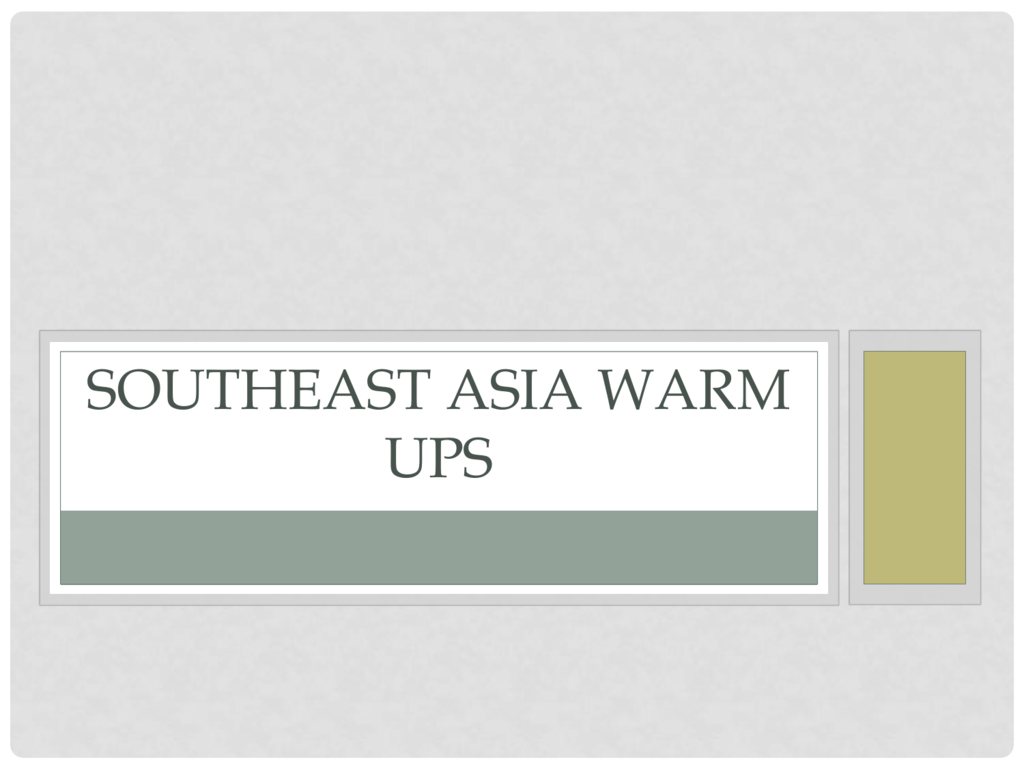 SOUTHEAST ASIA WARM
UPS
APRIL 21
• Out of eleven Southeastern countries, how many
are islands?
APRIL 22
• "Southeast Asia is now a region full of hope
because of the freedoms America has helped
foster." Khaleda Zia, Bangladesh Prime Minister
• "I saw courage in the Vietnam War and the struggle
to stop it. I learned that patriotism includes protest,
not just military service." John Kerry, U.S. Secretary of
the State
• With two different views on the American effort in
Southeast Asia, which side do you think is right? Is
there a right answer?
APRIL 23
Imperial City; Hue, Vietnam
APRIL 24
What is the main reason for Indonesia's border?
APRIL 25
• https://www.youtube.com/watch?v=cam0wLRIwB
w
• What are your thoughts on the video?
APRIL 28
What factor best explains the location of these cities?
APRIL 29
• "I love food, all types of food. I love Korean food,
Japanese, Italian, French. In Australia, we don't
have a distinctive Australian food, so we have food
from everywhere all around the world. We're very
multicultural, so we grew up with lost of different
types of food." Hugh Jackman
• What does this quote hint at what Australian lifestyle
is like?
APRIL 30
Ahu Akivi, Easter Island
1400 A.D.
Moai
MAY 1
• What are some things you do that effect the
environment?
Save me!
• What did you learn?
MAY 2
• https://www.youtube.com/watch?v=QzMsoz4XIkM
• https://www.youtube.com/watch?v=ReANkJV0Evk
• What are your thoughts on the didgeridoo? What
kind of sound does it make?