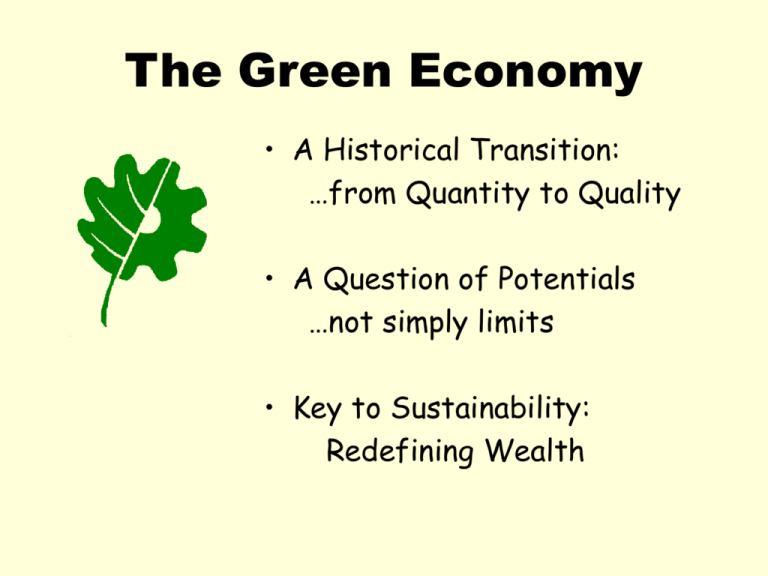 The Green Economy
• A Historical Transition:
…from Quantity to Quality
• A Question of Potentials
…not simply limits
• Key to Sustainability:
Redefining Wealth
Principles of a Green Economy
1.
The Primacy of Human Need, Service, Use-value,
Intrinsic Value & Quality
2. Following Natural Flows
3. Waste Equals Food
4. Elegance and Multifunctionality
5. Appropriate Scale / Linked Scale
6. Diversity
7. Self-Reliance, Self-Organization, Self-Design
8. Participation & Direct Democracy
9. Human Creativity and Development
10. The Strategic role of the Built-environment, the
Landscape & Spatial Design
3-D's of Green Development
• Dematerialization
• Detoxification
• Decentralization
Industrialism: The Divided Economy
Invisible
Use-value
"Consumption"
People
Unpaid
Women
Informal
Private
Visible
Exchange-value
"Production"
Things
Paid
Men
Formal
Public
2
Invisible Economy (1)
Total Productive System of an Industrial Society
(layer cake with icing)
GNP-Monetized
½ of Cake
Top two layers
GNP "Private" Sector
"Private" Sector
"Public"Sector
"underground economy
Non-Monetized
Productive ½ of
Cake
Lower two layers
All rights reserved.
"Love Economy"
Mother Nature
Rests on
GNP "Public" Sector
Rests on
Social Cooperative
Love Economy
Rests on
Nature's Layer
Copyright© 1982 Hazel Henderson
Invisible Economy (2)
Basics of a Green Economy
1. The Service Economy
"Hot Showers and Cold Beer"
Nutrition, Illumination, Entertainment, Access,
Shelter, Community, etc.
2. The "Lake Economy"
Flowing with nature, Every output an input,
Closed-loop organization, Let nature do the
work
The Economy in Loops
Industrialism: Accumulation
• Production-for-production's-sake
• Invisibility of key factors
• Centralization of production, massive upfront
investment
• Focus on labour productivity : resources
substitute for human energy
• Cog-labour: humans as component parts
• Regulation: controls as limits
• Scarcity-based: role of waste since WWII
• Globalization: free trade & intellectual property
Postindustrialism: Regeneration
• New relationship of culture to economics: centrality of
human development
• Substitution of human creativity for resources
• Direct targeting of human need: conscious consumption
• Human-scale technologies: production 'distributed' over
the landscape ; Integration: ALL places are places of
production
• Qualitative Wealth is PLACE-BASED
• Distributed regulation: incentives for positive action
throughout economy.
• Self-reliance / interdependence:
"Trade recipes, not cookies"
Value Revolution & Market
Transformation
• Values-driven business
BALLE, GET
• Green/social Evaluation
LCA, Eco-footprints,
Community Indicators
• Green/social Certification
LEED bldg., FSC wood, LFP
food
• Transformative /collective
consumerism
Corporate Strategies
• Corporations as financial, not
production, entities
• Structural problems: the 'bottom
line'
• documentary: The Corporation
• Need to change corporate DNA
• Need for outside help: regulation
(EPR), new enterprises networks,
certification
• The Stakeholder Corporation &
democracy
Community / Small Business
• The realm of cutting-edge alternatives in almost
every sector
• Need for new & stronger networks
• Local market power based on solid knowledge
• Import substitution
• Regenerative finance
• Necessity of empowering all sections of the
community
• Community development Plans & Indicators
Social Change Today
• Strategic priority of
ALTERNATIVES over opposition.
• Community as the key locus for
change, but every level requires
action
• Need for long-term VISION
• Need for incremental change and
PIONEER ENTERPRISES in
ecological economic succession.
• Need for incentives/disincentives
thoughout the entire economy.