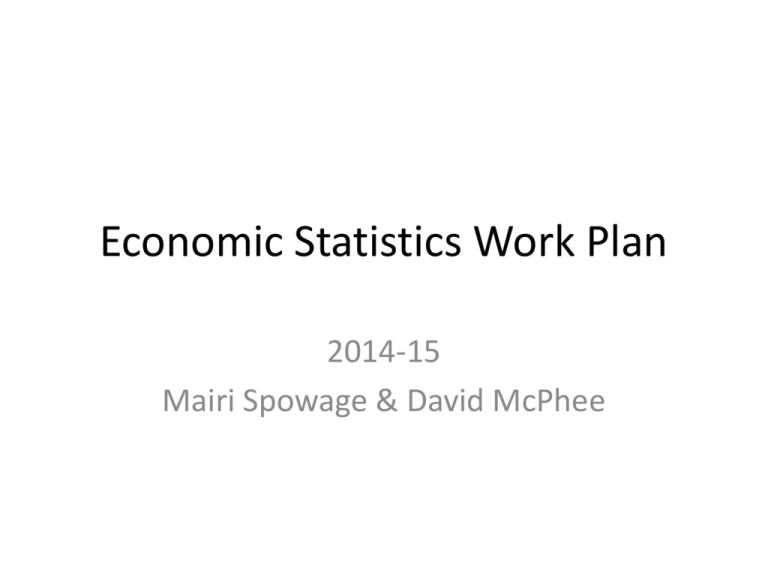 Economic Statistics Work Plan
2014-15
Mairi Spowage & David McPhee
OCEA
Macroeconomic
Policy
Sean Neill
Economic &
Fiscal Modelling
Simon Fuller
OCEA – Graeme
Roy
National
Accounts
Mairi Spowage
Business &
Enterprise
David McPhee
Climate Change
& Energy
Colin MacBean
National Accounts
Reflection on 2013-14
I/O – GDP – QNA
Reweight
April-July
National Accounts Unit
2014-15
Customer
Engagement
ESA 2010 – OctMarch
Short-term Indicators
Quarterly Series –
GDP, IME & RSIS
System
Improvement &
Data Development
Preliminary
Estimates
Input -Output
I-O Publication
July
Commonwealth
Games
Budget 2015-16 Carbon budget
CGE Data
Developments
Scottish National
Accounts
Quarterly National
Accounts
Exp. development
Oil & Gas
Productivity
GNI
GERS 2013-14
Short-term Indicators
Projects
• System Improvement & Data Development
– Development of monthly processing system
– Development of monthly seasonal adjustment & forecasting models
(univariate ARIMA)
– Investigate possibility of multivariate ARIMA (Glasgow Uni contract)
– Development of automatic correction capability
• Preliminary Estimates (with support from JL/DH/SF)
– Production of initial preliminary estimates for review [Autumn]
– Further & more wide ranging peer review [Nov-Mar]
• Administration Stocktake & Improvement
Core Business
• Quarterly Series – GDP, IME, RSIS – April & July
• Ad-hoc requests
• Customer Engagement
Input-Output
Project Related
• Budget 2015-16
– Impact Assessments & Environmental Satellite (Carbon Budget)
• Commonwealth Games
– Impact Assessments
• CGE Data Development
– 2 region rUK Social Accounting Matirix
• UK IxI
• Tourism Statistics
• Lead on ESA 2010 redevelopment
Core Business
• I-O Publication July
• Ad-hoc Economic Impact Assessments
Scottish National Accounts
Project Related
• QNA Publication Development
– To meet UKSA requirements May- August
• Regional Accounts reconciliation
• Experimental Product Development
– Oil & Gas Model
– Productivity (first released 23rd April)
– GNI
• GERS 2013-14
– Work with HMRC & DFPNI April-October
– Consultation on changes in October/November 2014
Core Business
• Quarterly National Accounts
• Ad-hoc requests
Overarching work
Project Related
• Customer Engagement
– Redevelopment of SESCG , in conjunction with business statistics
– Engagement with key stakeholders – both existing and established,
established but ready for improvement and also new.
• I/O – GDP – QNA Reweight
– I/O & GDP released together in mid-July
– Quarterly National Accounts in August on new basis
• ESA 2010
– Engagement with ONS during summer about their approach
– Formulation of plan for our implementation
Core Business
• Communications & Ministerial Engagement
• Ad-hoc briefing requests
Business & Enterprise
Reflection on 2013-14
Business and Digital Unit
Business & Digital
Economics
Business Statistics
Trade Statistics
(RS, DC, MS, SD)
(GM, RB)
Internationalisation &
rebalancing the economy
Core Business statistics
GCS
Digital Economy
measurement framework
Growth Sector Reports
Developing other export
and import analysis
(LK, CW, RD)
Trade Statistics
Project Related
• Survey Improvements – Online collection, data processing improvements
• Review and develop sources used in Global Connections Survey
• Scoping and developing links between Global Connections Survey sources, other
Business statistics sources and SDI management sources
• Review coverage of export and import statistics in Scotland
• Develop analysis of Global Connections Survey returns on barriers to exporting
and assistance identified by companies to improve exporting/internationalisation
Core Business
• Project manage collection and processing of Global Connections Survey Returns
• Statistical Support on trade statistics
• Quarterly Ministerial briefing on HMRC Regional Trade Statistics
• FOI-PQ-Comms-MACS
Business and Enterprise Statistics
Project Related
• Develop briefing for Growth Sectors
• Measurement framework for Scotland Can Do
• Support Cities analysis
• Working Futures
• Small Business Survey
• Working with SE, HIE and VS
Core Business
• Statistical publications (BERD, GERD, BIS, SABS)
• Growth Sectors database
• Statistical support on business and enterprise statistics
• TTWA profiles and Cities briefing
• FOI-PQ-Comms-MACS
Business and Digital Economics
Project Related
• Business
–
–
–
–
•
Internationalisation (literature review of economic impact, characteristics of exporters, identifying
hidden champions, Mittelstand)
City deals
Tourism (Homecoming 2014 evaluation, marketing measurement, advice on use of statistics)
Analytical support on Business Directorate constitutional work (CER, CCA and Consumer
Ombudsman proposals)
Digital
–
–
–
–
Digital economy measurement framework
Boost to the internet module of ONS Opinions and Lifestyle Survey
Developing the economic evidence for public sector investment in Smart Cities
Analysis on the measures of digital participation
Core Business
•
•
•
•
•
Sectoral trends industry and local authority economic profiles
Monthly narrative on SME access to finance
Lead analyst for SHS internet questions
Two National Indicators (Improve digital infrastructure, widen use of internet)
Support to Business and Digital Directorates
Questions to consider
• What are we doing well that meets your
needs?
• What should we focus our resources on more
to better meet those needs?