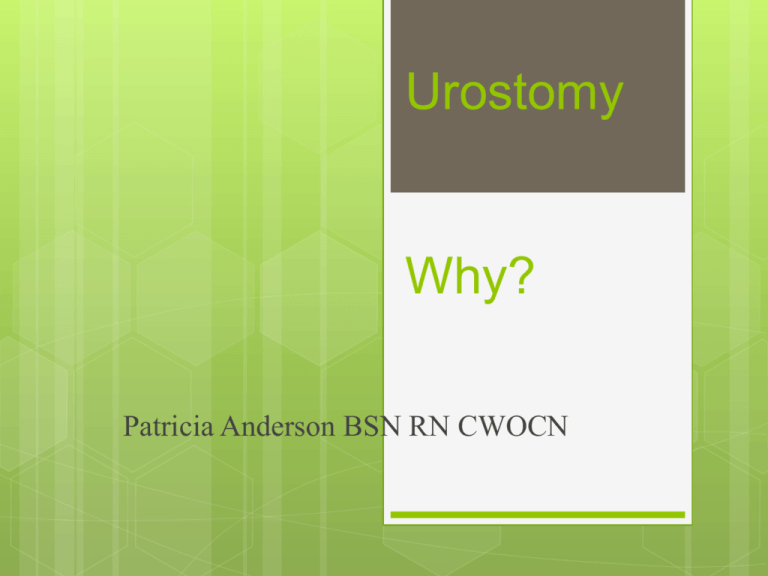 Urostomy
Why?
Patricia Anderson BSN RN CWOCN
The American Cancer Society's estimates for
bladder cancer in the United States for 2013 are:
About 72,570 new cases of bladder cancer
About 15,210 deaths from bladder cancer
More common among men than women.
More common among whites than blacks.
Man having this cancer during his lifetime is
about 1 in 26.
For women, it is about 1 in 90.
Risk Factor
 Cigarette
smoking
 Exposure to aniline dye
 Schistosomiasis
 Chronic irritation of the bladder
 Patients treated with pelvic radiation
 Patients taking phenacetin
Categorization of Cancers
 Histologic
 Grade
 Stage
type
Histologic types
 Transitional
cell carcinoma: 95%
 Adenocarcinoma
 Squamous
cell carcinoma
Stage
 Tumor
invasion
 Nodes
 Metastasis
 This
is the TNM system
Tumor Stage
T
0
 T carcinoma in situ
 T1
 Superficial
 T2
 Invasion
 T3
muscle
 Invasion through
muscle into the fat
surrounding the
bladder and lymph
nodes.
 T4
disease
 Superficial disease
 Borderline
into the
Superficial bladder cancers
 Treated
topically with chemotherapy instillation
 Monitoring
 Only
for recurrence
10 to 15% of superficial cancers develop into
aggressive cancer
Radical Cystectomy and Urinary
Diversion
 Higher
grade tumor
 Larger
tumor
 Multiple
tumors
 Carcinoma
bladder
in situ in multiple sites in the
Preoperative Preparation

Educational visit with WOC nurse

Stoma marking

Discuss outcomes, including sexuality changes

Preoperative bowel preparation

Patient will see their primary care physician for
surgical clearance
Types of Cystectomies
 Partial
cystectomy: removes part of the bladder
where tumor located.
 Simple cystectomy: removal of the bladder.
 Radical cystectomy: removal of the bladder, pelvic
lymph nodes, urethra
 Men: prostate, the seminal vesicles, and part of the
vas deferens.
 Women: the cervix, the uterus, the ovaries, the
fallopian tubes, and part or all of the vagina.
Radical Cystectomy and Creation
of Ileal Conduit Involves
 Removal
 Lymph
of the bladder
nodes in the pelvis are included in this removal
 Conduit
made from small bowel
Ileal Conduit
Mesentary stays connected
Urethral stent
Urostomy with stents
Early Postoperative Complication
 Bleeding
 Wound
infection
 Pelvic abscess
 Bowel obstruction
 Prolonged ileus
 Urine leak
 Ureteral obstruction
Postoperative Care

Hospital stay generally 5 to 7 days

Mainly to return to normal bowel function and normal
ambulation

Generally have nasogastric tube for 2 to 3 days

Urethral stents will be removed 5 to 14 days post op

Continue pouching and stoma education
Postoperative complications

Stomal complications - stenosis, bowel necrosis,
parastomal hernia, prolapse, retraction

Complications related to ureterointestinal anastomoses
- leakage, stricture, pyelonephritis

80% of patients will have asymptomatic bacteriuria

Metabolic complications can occur
Mortality post radical cystectomy
 Reported
to be 1 to 3%
References





http://www.wisegeek.org/what-is-aniline-dye.htm
http://medicaldictionary.thefreedictionary.com/phenacetin
http://www.webmd.com/cancer/bladdercancer/cystectomy-for-bladder-cancer
https://www.google.com/search?q=ileal+conduit&hl=e
n&qscrl=1&rlz=1T4ADFA_enUS490US491&tbm=isc
h&tbo=u&source=univ&sa=X&ei=M5cNU_SColwell, Goldberg, Carmel: Fecal and Urinary
Diversions: Management Principles, Mosby 2009,
pages 184 to 203.