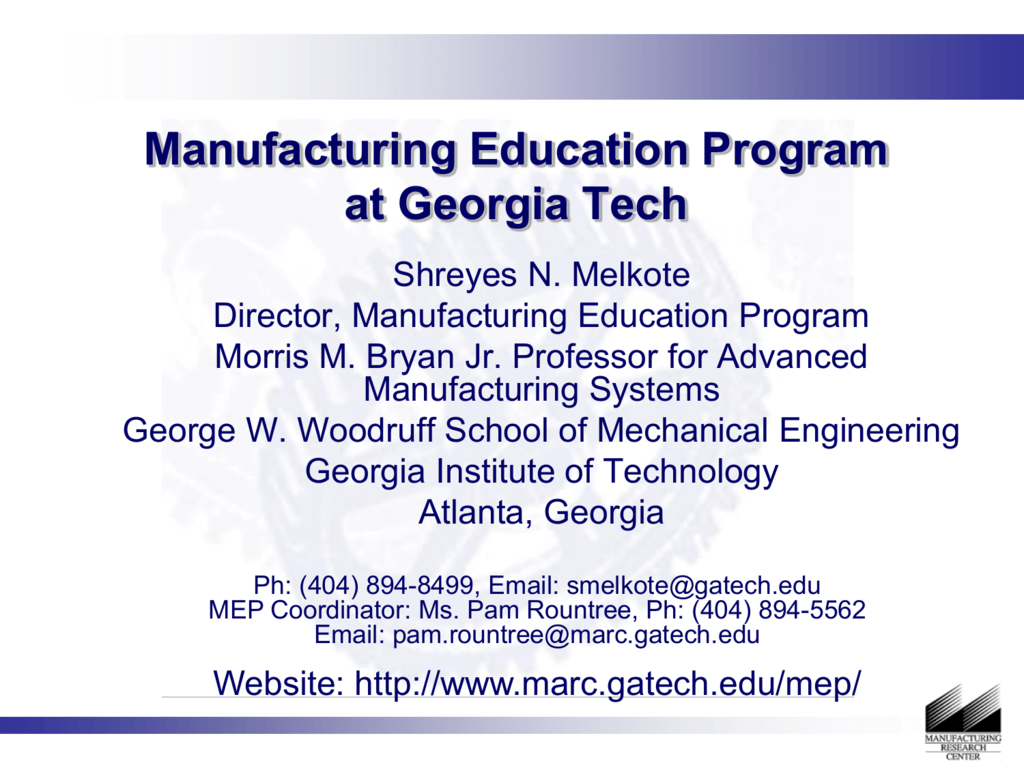 Manufacturing Education Program
at Georgia Tech
Shreyes N. Melkote
Director, Manufacturing Education Program
Morris M. Bryan Jr. Professor for Advanced
Manufacturing Systems
George W. Woodruff School of Mechanical Engineering
Georgia Institute of Technology
Atlanta, Georgia
Ph: (404) 894-8499, Email: [email protected]
MEP Coordinator: Ms. Pam Rountree, Ph: (404) 894-5562
Email: [email protected]
Website: http://www.marc.gatech.edu/mep/
Outline
• Manufacturing Education Program (MEP)
– Graduate Certificate in Manufacturing
• Other Efforts
– Collaborative Aerospace Lifecycle Systems
Engineering Program (CALSEMP)
Georgia Tech
Manufacturing Research Center
Dr. Shreyes Melkote
Interim Director
http://www.marc.gatech.edu/
Manufacturing Research Center
• Multidisciplinary research center focusing on the next
generation manufacturing technologies
• World-class facility in manufacturing processes,
applications, and technological solutions to
manufacturing problems
Center Objectives
• Maintain state-of-the-art laboratory facilities
to support research, education, and technology
transfer
• Partner with companies, industry consortia,
and other external organizations to advance
the state-of-the-art in manufacturing
• Provide a neutral site for the development and
demonstration of novel processing techniques
and application-specific tools for manufacturing
• Produce engineering graduates with
substantial hands-on experience in hardware,
software, and systems-level aspects of
manufacturing
• Provide continuing education opportunities
by administering short courses and workshops
focused on areas of interest in manufacturing
Manufacturing Research Center
Technical
Programs
Facilities &
Capabilities
Education
Program
Research
Partnerships
Georgia Tech Manufacturing Education Program
Engineering
Disciplinary
Schools
Graduate Certificate
in Manufacturing
Industry
Manufacturing
Scholarships
Overseas
Partner
Institutions
International
Option
Manufacturing
Education
Program
(MEP)
Manufacturing Research Center (MARC)
Graduate Certificate in Manufacturing
Objectives
• To provide high quality educational
experience in manufacturing as part of our
student's M.S. or Ph.D. programs.
• To develop human resources in the area of
manufacturing and to better prepare
engineers in meeting today's manufacturing
challenges.
Graduate Certificate in Manufacturing
• Started in 1989 as Computer Integrated
Manufacturing Systems (CIMS) Program
• Currently over 25 graduate students
enrolled in the program from ME, ISYE,
ECE, AE, and CHBE
• Awarded over 104 Certificates in the last
12 years
Academic Requirements
Course Areas:
Manufacturing Processes
Industrial Automation
Seminar
Requirement
Course
Requirements
Production Systems
Manufacturing Enterprise
Program Details
• Must be enrolled in a graduate
engineering degree program at GT
• Must take 12 semester hours of key
courses in at least two different
engineering schools (from ME, ECE, or
ISYE programs).
• Must enroll in manufacturing seminar
series (ECE/ISYE/ME 6792) consisting of
at least 8 seminars. One credit hour.
Key Courses
Course Group 1: Electrical &
Computer Engineering (ECE)
Course Group 2: Industrial &
Systems Engineering (ISyE)
Course Group 3: Mechanical
Engineering (ME)
*ECE 4761: Industrial Controls
and Manufacturing
ECE 6450: Introduction to
Microelectronics Technology
ECE 6460:
Microelectromechanical Devices
ECE 6556: Intelligent Control
ISyE 6201: Manufacturing
Systems
ISyE 6202: Warehousing
Systems
ISyE 6203: Transportation and
Supply Chain Systems
ISyE 6405: Statistical Methods
for Manufacturing
Design/Improvement
ISyE 6413: Design and Analysis
of Experiments
ISyE 6414: Statistical Modeling
and Regression Analysis
ISyE 6669: Deterministic
Optimization
**ME 4210: Manufacturing
Processes and Engineering
ME 6222: Manufacturing
Processes and Systems
ME 6223: Automated
Manufacturing Process Planning
ME 6224: Machine Tool Analysis
and Control
ECE 6557: Manufacturing
Systems Design
ECE 6759: Plasma Processing of
Electronic Materials and Devices
ME 6405: Introduction to
Mechatronics
ME 6407: Robotics
ME 7227: Rapid Prototyping in
Engineering
* ECE students cannot count this course (ECE 4761) toward their Certificate requirement.
** ME students cannot count this course (ME 4210) toward their Certificate requirement.
International Option
Georgia Tech Lorraine
SUPELEC
ENSAM
The Logistics Institute
-Asia Pacific
NUS
Graduate Manufacturing Scholars Program
• Since 1999, MEP has awarded 34
scholarships/fellowships to Certificate
program students
– Scholarship/fellowship awards require
students to complete the MEP Certificate
• Funding for scholarships/fellowships
provided by industry partners in
manufacturing (e.g. GM)
CALSEMP & AMMEP Programs
CALSEMP Program
• CALSEMP – Collaborative Aerospace Lifecycle
Systems Engineering Masters Program
– A Masters program initially formulated at the first
Advanced Materials & Manufacturing Engineering
Partnership (AMMEP) Workshop held at Georgia
Tech in 2011.
– Builds off the GT Aerospace Systems Design (ASD)
graduate program & the Focus Areas from the
National Defense Industrial Association (NDIA)
Advanced Manufacturing Engineering Capabilities
Committee.
How is CALSEMP Being Created?
• The GT graduate masters program in ASD will be
extended, with industry, university, and government
support, to include more emphasis on manufacturing,
producibility and downstream lifecycle support
educational activities.
• The NDIA AMEC Committee is providing the customer
focus through its identification and roadmap preparation
in 6 identified Focus Areas for research and education
for manufacturing and producibility.
• Industry and government sponsorship support is sought
for development of the CALSEMP over the next 9
months for implementation in Fall 2012.
Why is CALSEMP Being Created?
• The A&S sector is heavily dependent on Advanced
Materials development and rapid integration to stay
competitive for next generation vehicles.
• The A&S sector is made up of "Systems Integrators" who
provide a multiplier flow-down of manufacturing jobs
throughout the Supply Chain.
• Job creation, extension and workforce development in
the A&S sector must be achieved through a "hands on,"
experiential learning approach along a student's life
cycle.
Issues and Challenges
• Student interest in manufacturing education is
on the decline
• Perception that "manufacturing is dead in the
US" and is not "high tech"
– Not supported by companies looking for qualified
graduates
• Lack of resources to develop and/or maintain
state-of-the-art infrastructure to support
manufacturing education
Georgia Tech Manufacturing
Education Program
Website: http://www.marc.gatech.edu/mep/
Questions?