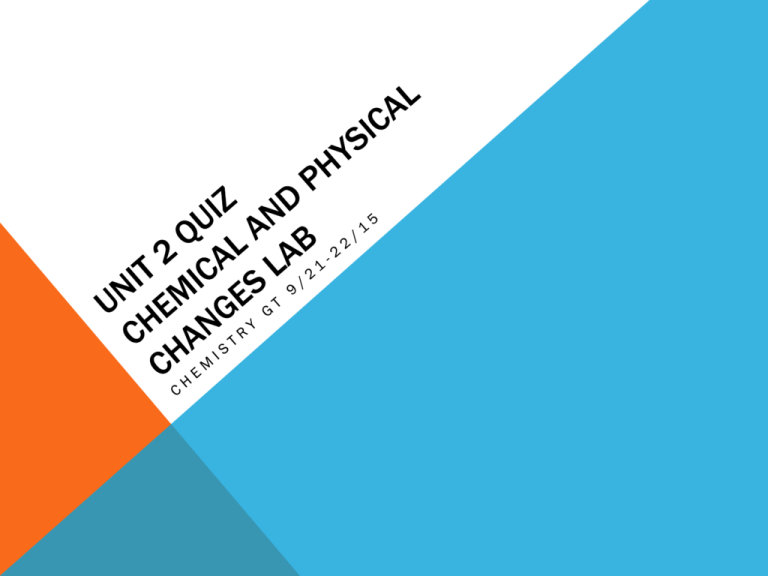 DRILL
What property does its
slope represent?
Calculate the slope.
80
70
60
Mass (g)
Look at the line graphed
over there 
90
50
40
30
HW: Chem & Phys
Changes Lab Questions
20
10
0
0
20
40
60
Volume (mL)
80
OBJECTIVES
IWBAT
Classify matter and explain how matter may
change.
Differentiate between chemical and physical
changes and properties
Calculate density
Summarize and apply the Law of
Conservation of Energy
Find or calculate atomic mass, atomic
number, number of protons, neutrons, and
electrons, charge, etc. for any atom
UNIT 2 QUIZ
You need:
Pen or pencil
Calculator
You will have 20 minutes to do the quiz.
Pick up Chemical and Physical Changes
Lab when done.
LAB NOTES
Experiment:
1. The test tube clamp is the small one. Tilt
the test tube when heating.
2. DO NOT HEAT. Use the cleanest test tube.
Use the smaller piece of Mg. Don't bother
with measurement—just cover the Mg with
HCl.
3. NO TEST TUBE. Use the larger piece of Mg.
Use the silver tongs and place the Mg
near the top of the light blue cone of
flame.
MORE LAB NOTES
4. Use ONLY a pinch of table salt. Make
sure you DON'T use sugar.
5. Do NOT breathe the smoke. This will
destroy the test-tube—when it's cool,
throw it away in the broken glass
container.
6. Use the cloudiest test tube. DO NOT
HEAT.
LAB SAFETY & NOTES
Write in pen!
Goggles on at all times
Hair tied or pulled back
No food, drink, or gum in the lab
CAUTION: DO NOT STARE DIRECTLY AT THE LIGHT GIVEN OFF
BY THE MAGNESIUM RIBBON
 CAUTION: Metal close to the burner flame can be very hot – DO NOT
TOUCH
CHEMICAL & PHYSICAL CHANGES LAB
Work through the steps of the lab.
Today is the day for the lab! We will NOT have time
next class, so work quickly, efficiently and
safely!
LAB PARTNERS-4A
Abrams, Alex C.
Acker, Benjamin P.
Atkinson, Sydney L.
Austin, Jacob A.
Blanco, Andrew J.
Braimoh, Eunice I.
Bundy, Nina A.
Byers, Frankie T.
Chalfant, Andrew N.
Chaudry, Salma F.
Farrell, Avery A.
Gabriel, Nathan R.
Gildersleeve, Ryan N.
Havrilko, Ava H.
Hayes, Harrison F.
Irby, Erik D.
Keh, Samuel J.
Kim, Selim
Lawrence, Destiny C.
Majid, Mariam
Montanaro, Kaden
Patel, Jainik S.
Rahman, Ayad A.
Regal, Sarah L.
Stern, Emily R.
Weaver, Samuel J.
Wieprecht, Tesia R.
LAB PARTNERS – 4B
Abdou, John A.
Acker, Natalie R.
Kavalsky, Hanna L.
Chen, Yuxin
Crisco, Leah A.
Desai, Shriya R.
Goldberg, Aaron R.
Gonzalez, Miguel A.
Hawkins, Emily C.
Kukata, Sumanth
McLane, Catheryn C.
Mumper, Grace J.
Nilles, Andrew I.
Puhl, Anthony D.
Raskin, Sasha E.
Samuels, Andrew R.
Simmons, Ryan T.
Stokes, Emily F.
Withers, Ariana P.
DISPOSAL/CLEAN-UP
The cloudy waste goes into a waste container.
Do NOT put the wood or metal into the sink
Wood and metal go into trash, once they are
cool.
The test tube with the sugar will get ruined after
it is heated
 Place it into the cardboard box labeled GLASS once it
cools off
IODINE—HEATING & COOLING
http://www.youtube.com/watch?v=4fAOI6
BeMZY ~1:25-2:30
This is a time-lapse video, so it is much
faster than it would have happened in
real life.
Work on the questions for a few minutes.
STARTING UNIT 3!
What is an
atom?
ion?
isotope?
proton?
neutron?
electron?
What does all this mean?? Let's do some
Atomic Structure notes
CLOSURE
What is the most common isotope of
mercury?
How many protons, neutrons, and
electrons would a neutral atom of
"standard" mercury have?