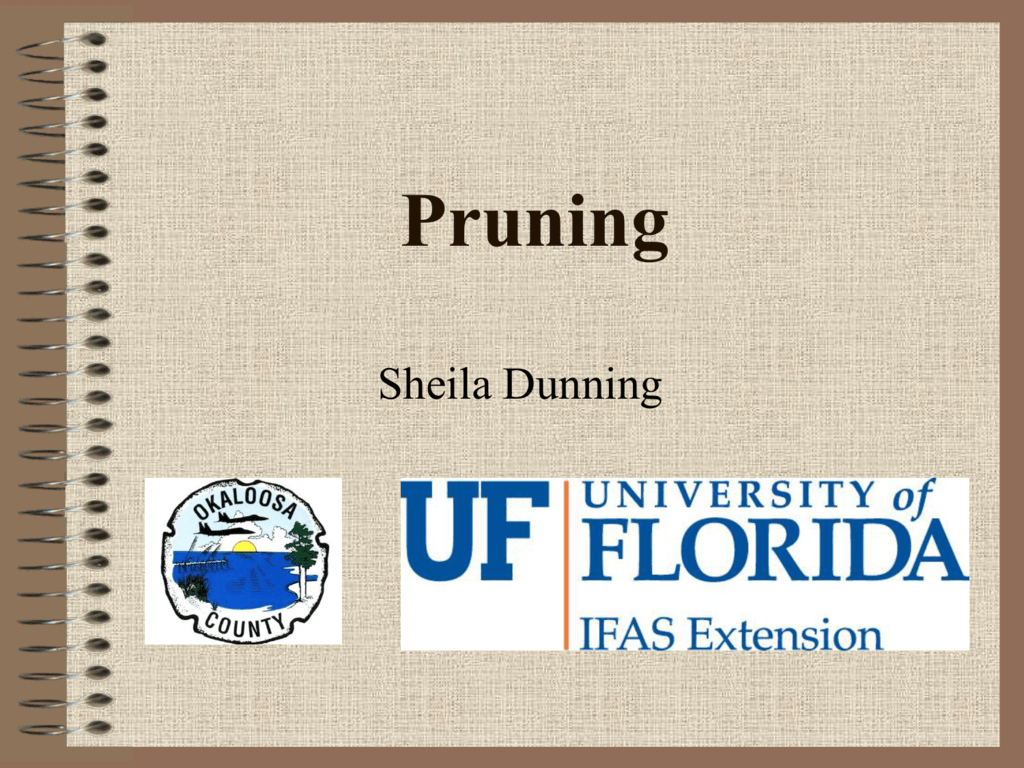 Pruning
Sheila Dunning
What is Pruning?
• Removal of plant parts
– Shoots, branches, fronds, flowers
• Improve health
• Control growth
• Influence flowering & fruiting
– Roots
• Encircling
Why Prune?
• Routine maintenance
– Don't wait until overgrown
If a plant needs to be pruned several times
each year to control size, it is probably the
wrong plant for that location
• Proper plant selection may eliminate the need
– Florida Grades and Standards
– Dwarf cultivars
– Save landfill space
Plant Grading System
– Florida Fancy
– Florida # 1
– Florida # 2
– Cull
Document available online at
http://www.doacs.state.fl.us/pi/pubs.html
Florida Fancy
• Characteristics of
Trees:
– Single straight trunk
– No chlorosis
• Characteristics of
Shrubs:
– Exceptional health
– Well shaped
– Densely foliated
Florida #1
• Characteristics of
Trees:
– May require some
corrective pruning to
develop good structure
– Minor trunk defects
• Characteristics of
Shrubs:
– Healthy, vigorous
– Well branched
– Well foliated
Florida #2
• Characteristics of Trees:
– Require major corrective
pruning
– Badly misshapen
– Sparse foliage
• Characteristics of
Shrubs:
– Healthy plant
– Fairly well shaped
– Fair foliage and branches
Reasons to Prune
•
•
•
•
•
•
Maintain or Improve Health or Vigor
Control Plant Size or Form
Train Young Plants
Influence Flowering & Fruit Production
Safety
Rejuvenate Old Plants
Maintain / Improve Health
• Remove dead, dying or damaged branches
• Remove diseased or insect infested parts
– Limits the spread
– Sterilize or replace equipment between cuts
• 1:9 Alcohol or bleach : Water
Control Size / Form
• Standard, espalier or topiary forms
• Thin canopy
– Never more than a 1/3 foliage cover at a time
– Remove ½ - 1" diameter stems from edge
– Never clean out interior
• Root prune
– Slows growth & produces compact plant
– ½ rootball at a time – 4-6 weeks apart
Cleaning of interior can leave trees
more vulnerable to wind damage
Train Young Trees
• Should begin within the first 2-3 years
after planting
• Continues for 20 years or more
• Good branch structure improves strength
and longevity
• Frequent light prunings encourages faster
growth & prevents undesirable sprouting
Influence Flowering / Fruiting
• Pinching new growth increases number of
flowers
• Severe pruning produces
fewer, but larger flowers
• Removal of deadheads
encourages re-bloom
• Larger fruit produced when number of
flowering branches is reduces
Safety Hazards
• Stem attachment influences structural
strength
• Remove branches with bark inclusion
• Remove dead branches and stubs
Attachment Strength
• Codominant stems are
not well attached to
each other, especially
when included bark is
present in the union
• Branches are more
secure when they are
small in comparison
to the trunk
Included or Embedded
Bark
Included Bark
Pruning Embedded Wood
Pruning Techniques
• Heading
– Hedging, shearing
• Thinning
– Reduction
Heading
• Selective cutting of terminal ends of young
branches to a node
– Forces growth from lower buds
• Produces shorter plant
• New growth is vigorous and upright
– Can lead to interior shading / leaf loss
• Avoid top-heavy plants by heading shoots
to varied heights
Growth Habit Following Heading
Heading cuts should be made
on a slight angle ¼" above a bud,
facing in the direction of desired growth.
No Heading Cuts for Trees
Except when required due to storm damage
Topping Trees
Thinning
•
•
•
•
Complete removal of branches
Gives open appearance
Increases light penetration
Encourages wind resistance
Pruning Steps for Trees
1. Remove dead, diseased or broken branches.
2. Select best permanent branches
–
–
Spacing 6-24" apart
Remove or shorten others
3. Remove suckers from trunk base
–
Don't remove branch sprouts – tree struggling to
survive
4. Form central leader
–
–
Depending on species
Reduce length of branches with bark inclusions
Two Year Process
Reduction Cuts
Where To Cut
Proper Pruning Cuts
Never
cut a
branch
flush
with the
trunk
Proper closing of
a pruning cut.
Branch collar is intact
Wound wood
forms a circle.
Don't leave a
stub
Pruning Cut
Without a Visible Collar
Flush Cuts
Reduction Cut of
Large Branch
Remember
• Don't remove more than 1/3 of the crown
at a time.
• Better to prune a little at a time over
multiple years.
• Maintain 50%-70% live crown ratio
• Avoid removing limbs >4" diameter.
Pruning Paints and
Wound Dressings
Do not prevent wood
rot, cracks, or
mushrooms.
Some dressings may
actually promote decay
by trapping moisture.
Palms Are Not Trees
• Never damage terminal bud
• Remove only brown fronds and flower stalks
• "9-3" if green must go
• Harbor insects & rodents
• Hazard to people or property
Use the Right Tool for the Job
Questions?