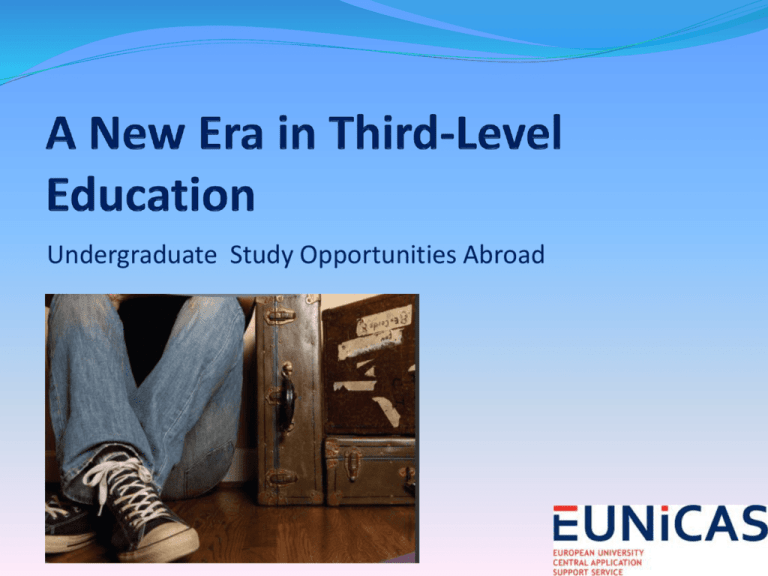 Undergraduate Study Opportunities Abroad
Threshold of a New Era in ThirdLevel Education in Europe
2011:
At the Westminster Education Forum on higher
education, it was revealed that research
suggested there were currently around 22,000
British students on degree courses abroad;
approximately 1.7 per cent of Britain's entire
student population.
By comparison, in China and India - well-known
for having a large number of their students
educated abroad - these figures were only 1.4 per
cent and one per cent respectively
This might be a bit of surprise: No 1
Degree programmes in Europe
are taught in English
What Can You Study in Europe?
[through English]
- Biosciences
- Business/Management
- Communication Management
- Digital Media/Gaming
- Engineering
- Environmental Science
- Hospitality & Tourism
- International Law
- International Relations/Politics
- IT & Software
- Media & Entertainment Management
- Medicine
- Nutrition
- Performing Arts
- Physiotherapy
- Psychology
- Sports Science
- Veterinary Science
There are
currently nearly
700
programmes
taught through
English
Most Popular EUNiCAS Choices [to date]
1.
2.
3.
4.
5.
6
7
8
9
10
Medicine
Physiotherapy
Liberal Arts & Sciences
International Relations
Psychology
Veterinary Medicine
International Law
Game Design
Business/Management
Biosciences
THES Rankings [Europe]
universities offering one or more
programmes through English
17
18
19
22
23
24
30
34
40
42
44
51
53
63
64
64
65
76
Leuven
Utrecht
Gottigen
Leiden
Lund
Durham
Amsterdam
Delft
Eindhoven
Trinity College Dublin
Aarhus
Groningen
Nottingham
Rotterdam
Warwick
UCD Dublin
VU Amsterdam
Pompeu Fabra
77 Tubingen
83 Maastricht
84 Leicester
85 Twente
88 Gothenburg
89 AU Barcelona
95 Umea
97 Milan
108 Tilburg
109 Queens
111 S. Denmark
114 Linz
130 Aalto
132 Charles, Prague
141 Sapienza Rome
143 Jagiellonian
145 Surrey
147 Cork
Mmm..... but surely studying
abroad is expensive?
This might be a bit of surprise: No 2
Tuition Fees [Euro]
Denmark
Sweden
Norway
Finland
Austria
Germany
Switzerland
Netherlands
Italy
Ireland
Free
Free
Free
Free
Free -750
Free – 1500
500 - 1500
1771* [and loan]
800 – 3800
2250
More in private universities/institutions
* NB: some Liberal Arts programmes more
Cost of Living
Comparative Consumer Prices [2010]
Oslo 152
Copenhagen 134
Paris 130
Dublin 122
Milan 121
Brussels 120
London 118
Lyon 115
Berlin 115
Helsinki 113
Stockholm 111
Amsterdam 111
Munich 107
Madrid 103
Vienna 103
New York 100
Frankfurt 97
Melbourne 96
Barcelona 96
Montreal 85
Prague 72
Budapest 63
Warsaw 53
Kosice 52
<< Sigh!>>
OK..... but what about the entry
requirements?
This might be a bit of surprise: No 3
Entry Requirements
For most programmes [excl. Ireland]:
Three A Levels and Three GCSEs [Grade C or above]
Some subject requirements
Some programmes:
-Interview and/or
- Entrance Test and/or
- Letter of Motivation and/or
- Grades
Netherlands
University Of Groningen
- International
Relations
-International Business
- Economics
- Medicine
- Psychology
- International and European Law
-- English Studies
University of Utrecht
Economics
Pharmaceutical Sciences
Liberal Arts & Sciences
Major in Humanities in: Art History & Museum Studies, Chinese Language &
Culture, History, Literature & Classics, Performing Arts, Philosophy
Major in Social Sciences in: Anthropology, Economics, Geography, Law, Political
Science, Psychology, Sociology
Major in Science in: Biology; Chemistry; Earth & Environment; Medical Science;
Cognitive Neuroscience; Physics
University of Leiden
Liberal Arts & Sciences
International Relations
Core Concepts:
History ; Cultural Studies ; Economics; Political Science ; Sociology and Anthropology
Regions [and their corresponding languages]:
East Asia [Chinese, Japanese, Korean]; Latin America [Spanish, Portuguese]; MiddleEast [Arabic, Persian, Turkish]; North America [French, Spanish]; Russia and
Eurasia[Russian]; South Asia [Hindi]; Southern Africa [Afrikaans, Swahili]; South-East
Asia [Indonesian, Spanish] Western Europe [Dutch, French, German, Spanish, Italian,
Portuguese].
University of Maastricht
European Studies
Econometrics and Operations
Research
Economics and Business
Economics
International Business
European Public Health
Arts and Culture
European Law
Liberal Arts & Sciences
Knowledge Engineering
Medicine
Netherlands: Applications
-Centralised Application System: Studielink
- Not centralised admissions system
- Open: 01 October
Different Closing Dates
- Register with Studielink and, often, separately with
university
- Apply to up to 4 programmes [one where selection
is decentralised/by lottery]
Denmark
University of Southern Denmark
Product Development and Innovation
Business & Chinese
European Studies
Economics and Business
Economics and IT
Global Management & Manufacturing
Innovation & Business
Aarhus University
Business Adminstration
Business Administration and International
Management
Business Administration and Sustainability
Electronic Design Engineer
Global Management and Manufacturing
International Communication & MultiMedia
Management & Marketing
Communication
Denmark : Applications
Centralised Application System: KOT
Applications window: 01 Feb – 15 Mar BUT there
are some late application windows
Apply to up to 8 programmes on Printed KOT Form
– listed in order of priority
Sweden
Lund University
Development Studies
Fine Art
Umeå University
Business Administration &
Economics
Life Sciences: Biology & Chemistry
Sweden : Applications
Centralised Application System: universityadmissions.se
Applications window: 01 Dec – 17 Jan
Apply to up to 8 programmes– listed in order of priority
Note: some issues on deadlines for production of A-Level
results
Italy
Politecnico di Torino
Architecture
Automotive Engineering
Computer Engineering
Electronic Engineering
Mechanical Engineering
Telecommunication Engineering
Universita di Milano
Medicine
Some Subject Areas
Medicine & Veterinary Science
MEDICINE
Budapest
Kosice
Prague
Milan, Rome, Pavia
Poland
VET SCIENCE
Budapest
Warsaw
Brno
Physiotherapy
Netherlands: 4 programmes
Poland: 1 programme [Poznan]
Hungary: 1 programme [Debrecen]
Finland: 1 programme [Satakunta]
Game Architecture & Design
Breda University of Applied Sciences
Aalborg University
Howest University College
Darmstadt University of Applied
Sciences
Saxion University of Applied Sciences
Life Sciences
BSc Biochemistry [JK University, Linz]
BSc Sustainable Biotechnology [Aalborg University]
BSc Health & Nutrition [VIA Univ. College]
BSc Life Sciences [HAN University AS ]
Medical & Pharmaceutical Biotechnology
[Krems University AS]
Ireland
 Central Applications Office [CAO]
 - www.cao.ie, from 03 November
 - First Deadline: 01 February [Eur30]
- Late Deadline: 01 May [Eur60]
- Change of Mind Deadline: 01 Jul
Ireland: calculating points
Level
Grade
CAO Points
A Level
A*
150
A
135
B
120
C
100
D
75
E
40
A
65
B
60
C
50
D
35
E
20
A-S Level
CCEA, AEB,
AQA, EDEXCEL,
OCR, UCLES,
WJEC Only
Ireland: some examples of entry points
University
Subject
Points
UCD
Psychology
515
UCD
Vet Medicine
565
UCD
International Commerce
465
Trinity
Science
475
Trinity
Philosophy & Political Science
520
Cork
Nutritional Sciences
490
Cork
International Commerce & Chinese
360
DCU
Journalism
440
DCU
Biotechnology
435
Galway
Marine Science
400
Galway
Arts
340
Limerick
Journalism & New Media
435
Ireland: Medicine
 Min. 480 points plus HPAT [max 300]
 - In addition to applying through CAO, need to apply to
ACER [Eur95]
 - must apply to ACER before 20 Jan [with CAO Reg No]
Late Application until 01 Feb Eur160
- HPAT Exam: 25 February 2012 [Results 25 April]
Ireland: Medicine

Allocation of places on basis of Combined score for ALevels and HPAT
 Notional Max Score: 865 [300 from HPAT]
 Points 2011:
728 [Galway] – 739 [Trinity]
What is Eunicas?
With Eunicas, UK and Irish students can apply for up to eight
degree programmes and we will guide and support you
through the possible pitfalls of your application journey.
Through eunicas.co.uk you can access:
 A comprehensive directory of degree programmes,
taught through English, in Europe
 Information on universities and the cities that they are based in
 Information on fees, entry requirements and application processes
and in addition
Our low-cost [Eur28.00] application support service:
YOUR INSURANCE POLICY
Registrations
valid for 12
months
If You Always Do .........