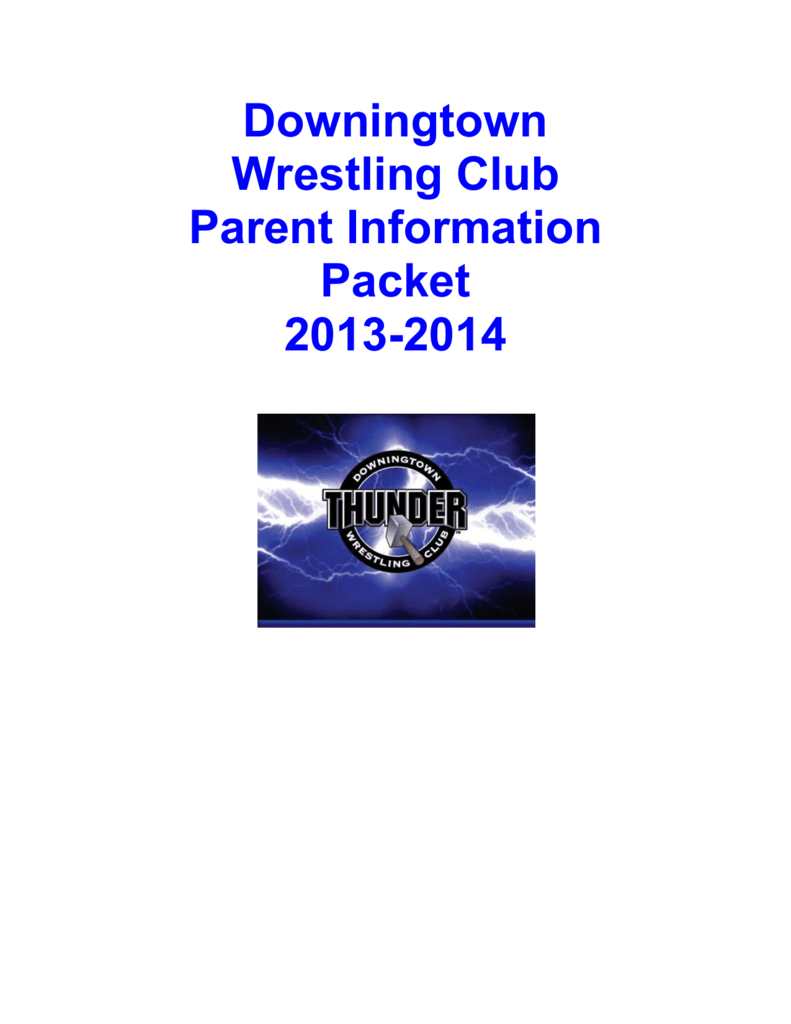 Downingtown
Wrestling Club
Parent Information
Packet
2013-2014
Our Philosophy
The Downingtown Wrestling Club was established to provide Downingtown area youths
the opportunity to experience the great sport of wrestling, to instill qualities of leadership, good
sportsmanship, self-discipline, compassion, mental and physical fitness and respect. Our goal is
not for every child to win every match, but for each child to strive for and achieve his or her own
personal best. Winning is not measured by which wrestler has his hand raised at the end of the
match, but by the wrestler who gave his best effort and improved in the process.
that will carry into adulthood
Practice
Practice Times and Locations
Practice will start Monday, November 18, 2013. The practice schedule is still being finalized, but
we hope to follow the same schedule as last year. Novices (1st and 2nd year wrestlers and those
under 8 years old) practice will be held Monday from 5:45 p.m. until 7:00 p.m. and Wednesday
from 6:00 – 7:30 p.m. Practices for Novices will be held at Downingtown East High School in
the wrestling room, 50 Devon Drive, Exton. Please enter through the back of the school.
Advanced practices will be held on Mondays at Downingtown East from 7:00-8:30 pm and on
Tuesday and Thursday evenings from 6:30-8:00 pm at Lionville Middle School in the wrestling
room. Please enter through the back by the gymnasium.
Please do not drop your child off unless there is a coach in the gym. Given the limited space in
the two wrestling rooms, parents must wait in the hall outside the wrestling room. Parents are
not permitted to stand along the wall inside the wrestling room at Downingtown East. This is a
space and safety issue. For first year wrestlers and those under 8 years old, it is a good idea for
you to stay, at least for the first few practices. For wrestlers under 7 years of age, parents
must stay for the entire practice. Please remember, however, that the coaches require the
undivided attention of the wrestlers during practice. Please do not 'coach' your child from the
sidelines. Please respect the volunteer coaches' time and effort, and refrain from loud
conversations or other activities that may inhibit the communication between coaches and
wrestlers. Wrestlers who do not cooperate with coaches instructions will be asked to leave the
mat.
Please note that we follow the Downingtown Area School District school closure policy.
If DASD schools are closed or dismissed early due to weather, we will not practice. Further, we
will not have practice on the following dates:
November 27-28
December 23-January 3
January 20
February 17
In addition, we may have to move/combine practice times in order to ensure we get sufficient
practice time for each group. Our use of the DASD facilities is subject to school team/activity
use, and we are often blocked from use when school activities are taking place. Changes will be
communicated as far in advance as possible.
Practice Groups
During practice wrestlers will be divided into two groups: The Novice/Intermediate
group and the Advanced group. Novices and Intermediates will focus on introducing the basic
concepts and skills. Technical skills from each position will be taught with emphasis on
takedowns. Skills are broken down into steps and proper technique is stressed. Repetitive drilling
is an integral part of training. The wrestler will be expected to compete in all club scheduled
competitions. In order to progress to the Advanced group, wrestlers should have at least 2 years
wrestling experience, the ability to perform specific technical skills, the ability to learn and apply
new skills quickly and have had a fair level of success in competition. More emphasis is placed
on conditioning, power, speed and proper technique in live wrestling. More attention is focused
on individual strengths and weaknesses. Team leadership and discipline are expected. Coaches
will make an assessment of each wrestler's skill level and assign them to the appropriate group.
All first year wrestlers will begin in the Novice group. A wrestler may be moved from one group
to the other throughout the year based on the coach's assessment.
DWC will also have a tournament team. The tournament team will be selected and run
by the Advanced coaches. This team will represent the DWC in team dual tournaments. A team
dual tournament involves each team wrestling other teams, one at a time, with each team having
one wrestler in each designated weight class. A team score is kept. All decisions on tournament
team participation are made in the sole discretion of the Advanced coaches. You will be notified
if your child is selected for the tournament team.
Practice Rules and Standards
Practices start on time! This means all wrestlers should be dressed, shoes on, and ready to
warm up by the scheduled start time. At that time, wrestlers will stretch and limber up. Warm
ups will last about 10-15 minutes, then drilling and live wrestling will follow. We produce very
skilled and competitive wrestlers in the short time we have to practice. We need your help to
have your kids on time and ready to go. Please bring a water bottle to practice. All wrestlers
must stay at the end of practice to help roll up the mats. Wrestlers who fail to help with be
warned, and further failures may result in dismissal from the team.
Practice Gear
Please wear a snug fitting tee shirt and gym shorts or a singlet. Wrestling shoes should be
carried to practice. Never wear street shoes (sneakers) on the mat, or wrestling shoes outside. If
you do not have wrestling shoes, sneakers may be worn provided they are not used as street
shoes. Please ask the coaches if any used wrestling shoes are available. Often, our wrestlers who
outgrow their shoes make them available for other wrestlers.
Health
All cuts, scrapes, burns, and assorted wounds should be covered when wrestling. No watches,
bracelets, chains, or piercing are to be worn on the mat as well as no jeans (cutoffs), zippers, or
buttons. Loose clothing can be dangerous to hands and fingers. It is difficult to check the
execution of proper technique when practice gear is too loose. Kneepads, headgear, and
mouthpieces are recommend but not mandatory for practice. You will, however, be required to
have headgear for your child to wear for our Saturday meets. Mouth guards are mandatory for
children with braces. Most local sporting goods stores (Dick's, Sports Authority) carry youth
wrestling headgear. Never share equipment or towels.
At Home
After a practice or match, everyone should bathe with an antibacterial soap. We mop the mats as
often as possible to keep the germs down but you still must do your part also. All practice gear
should be laundered after each use. Wrestlers should keep their nails clean and trimmed short. If
you notice any rash or pimples, please have your child examined by your family
physician/pediatrician and promptly inform the coaches. Your child will need a doctor's
clearance to practice if any skin condition is present.
Weight
The DWC does not encourage nor condone unhealthy dieting practices known as "cutting
weight" by our wrestlers. Our Saturday ICWL match pairings are based on the wrestlers' actual
weights, not by weight class, so there is no reason to try to get to a lower weight in a short period
of time. The ICWL, our league, requires all rostered wrestlers to weigh in at the start of the
wrestling season. More information will be provided about times and locations as the date
approaches. Most tournaments do place wrestlers into weight classes for purposes of preparing
brackets. Proper technique and mental attitude honed through hours of practice are far more
important than the weight of the wrestler. In fact, unhealthy dietary habits resulting in sudden
weight loss will do more to harm a wrestler's performance than any edge gained from wrestling
lighter opponents.
DWC Staff
At Downingtown Wrestling Club we are all volunteers. Your staff includes the following
volunteers:
Dave Massimini
Andrew McDowell
Maria McDowell
Director and President
Director
Treasurer
[email protected]
[email protected]
[email protected]
Bradley Richmond
Ramie Richie
Joe Horvath
Tom Salus
Bob Aceto
Eddie Torres
Anthony Pacinelli
Mark Pezone
Brian Huntoon
Kristian Uggla
Head Coach
Advanced Coach
Advanced/Novice Coach
Assistant Coach
Assistant Coach
Assistant Coach
Assistant Coach
Assistant Coach
Assistant Coach
Assistant Coach
[email protected]
Team Matches
The DWC is a member of the Intercounty Wrestling League (ICWL). The ICWL
schedules meets between its member clubs on 7 consecutive Saturdays, beginning January 4,
2014. The DWC typically hosts at least one meet each year and dates will be communicated by
email and the team website when finalized. These meets usually involve three teams, with one of
the teams hosting the meet. The ICWL is comprised of other youth wrestling clubs from the
Philadelphia area. You will be responsible for providing transportation for your child to and from
each meet. The longest travel time is approximately one hour. Each Tuesday before a Saturday
meet, you will receive an email asking if your wrestler will participate in the upcoming meet. It
is imperative that you inform us by Wednesday at 5:00 pm of that week if your child will
not wrestle so that we can submit a roster to the other teams and pair the wrestlers for
individual matches. Attendance at Saturday meets is strongly encouraged. These meets allow
the kids to apply the techniques they have learned in a 'live' wrestling situation. Competition
will help them improve as wrestlers and also increase their self-confidence. Wrestlers are not
required to weigh-in before the ICWL Saturday meets. Each club is expected to provide a roster
with accurate weights for its wrestlers, and our coaches will weigh our wrestlers several times
throughout the year to ensure accurate weights.
Wrestlers must wear a Thunder singlet to all meets and tournaments. Your child should
put on a singlet and a t-shirt at home as there are no locker rooms for our use. Wear sweat clothes
over the singlet. Use a gym bag to hold wrestling shoes, sweat clothes, headgear, water bottles,
etc. Your child should wear a t-shirt, at least, between matches to stay warm. Wrestlers must
arrive 45 minutes before the meet begins to allow enough time for warm ups. Failure to arrive on
time will result in a wrester forfeiting his or her matches.
Each child will generally have two to three matches in a Saturday ICWL meet. Some
weeks a wrestler may only have one match, depending on the size of the other teams and the
weight/age of the wrestler. The league has developed a process for pairing wrestlers based on
age, weight, years of experience and ability. Each week, the coaches of each team spend hours
developing the pairings that will result in the most competitive matches for all wrestlers. Please
have the courtesy to show up for your matches, and if you can not attend due to an emergency,
please provide the coaches with as much advance notification as possible. Matches are usually
from 8:30 a.m. to around 1:00 p.m., although please be sure to check the calendar on the DWC
website as times may vary. The match ups of the kids will be posted somewhere in the gym area,
sometimes in an adjacent hallway or lobby. Bring a pen and paper to record the match numbers.
The numbering system consists of a three digit match number. The first indicates which mat, the
next two indicate the match number. For example, match 321 will be the 21st match on mat 3.
Experienced parents, please help the new ones!
Matches are officiated by certified PIAA referees. At most meets you are permitted to sit or stand
near the mat to watch your child's match. Please follow the parents' code of conduct (attached)
at all times. Most importantly, please let the coaches coach your child. Your job is to provide
encouragement and support when the match is complete, win or lose.
Singlets/Sweats
Wrestlers are required to wear a Downingtown Thunder singlet during all ICWL matches and
tournaments. We will be taking orders at the start of each season. Singlets stretch, and most
children can get at least two seasons out of one singlet. We will also offer Downingtown
Thunder sweats for sale. Purchase of sweats is not mandatory, however we encourage each
wrestler to wear them any time our team is attending a meet or tournament. Sweats are also
available for purchase by family members. Please contact the President with any questions.
Tournaments
The ICWL sponsors post-season Novice and Open Championship tournaments. There are various
tournaments throughout the season that your child can participate in. The cost is typically around
$35 per wrestler, which must be paid by the parents. These tournaments generally start at 8:00
a.m. and can last all day, depending on how far your wrestler advances. You can enter your child
in as many tournaments as you like. Keep in mind your child's comfort and skill level, as some of
these tournaments are more challenging than others. Some tournaments are designated as novice
for first or second year wrestlers only, while others offer high-level competition. Our coaches
will be available to help you to select the most appropriate tournaments for your child as the
season progresses. Feel free to discuss the options with the DWC coaches. We will attempt to
select certain tournaments to attend as a team and make coaches available to attend these
tournaments. Information will be provided as the season progresses.
Fundraising
The Downingtown Wrestling Club is a non-profit corporation that relies on the generous
donation of time by our volunteers. In addition to time, we also require funds to pay the various
expenses required to keep the club in operation. Only part of these expenses is covered by
registration fees. The remainder must come from donations. We hold one major fundraising
event per year. More details will be provided as we get closer to the date. If you are able to
otherwise donate in any way to DWC, please contact the club President.
Volunteers
DWC has historically hosted approximately 1-2 ICWL meets each year. We will also
host one team dual tournament in January. We can not run these meets and tournament without
parent volunteers. We require parents to help set up, tear down, work at the snack bar and act as
timers, scorers and scorekeepers. We will send a volunteer sign-up sheet via email each week
before a home meet or tournament and ask parents to fill the required jobs for designated time
slots. If you do not select a preferred task and time slot, we will assign you to work where and
when needed. If you consistently fail to fulfill this requirement, we will politely remind you of
your obligation. Repeated failure to volunteer may result in expulsion of your child from the
program. In addition, if any parent is interested in coaching or serving in another capacity, please
contact the club President. We can always use help.
Communication
Our primary means of communication will be our website at
http://www.eteamz.com/downingtownthunder/. We will also communicate via email, so please
ensure the President has your updated email address. We will occasionally have parent meetings
before or after practice to discuss import issues, and you will be informed in advance via email of
the time and date of any such meeting. If you would like to communicate with the coaches or
volunteers, you can catch them after practice or use the email address provided above.
APPNEDIX 1
Match Scoring
TAKEDOWN: from a neutral position, one wrestler gains control over his opponent down on the
mat while the supporting points of either wrestler are inbounds... 2 points.
ESCAPE: when the defensive (down) wrestler gains a neutral position and his opponent has lost
control, while the supporting points of either wrestler are inbounds... 1 point.
REVERSAL: when the defensive (down) wrestler comes from underneath and gains control of
his opponent, either on the mat, or in a rear-standing position, while the supporting points of
either wrestler are inbounds, and control has been established... 2 points.
NEAR FALL: criteria for a near fall are when any part or both shoulders or both scapulae or the
defensive (down) wrestler are held within 4 inches of the mat or less, or when one
shoulder/scapula is touching the mat, and the other shoulder/scapula is held at an angle of 45
degrees or less with the mat, or when the defensive wrestler is held in a high bridge or on both
elbows.
NEAR FALL... 2 POINTS: when the Near Fall Criteria is met for a 2-second count.
NEAR FALL... 3 POINTS: when the Near Fall Criteria is met for a 5-second count
FALL/PIN: when any part of both shoulders/scapulae of either wrestler are in contact inbounds
with the mat for 2 seconds, a fall, or pin, is earned and the match is over.
TECHNICAL FALL: when a wrestler has earned a 15-point advantage over his opponent, a
Technical Fall has occurred and the match is over.
STALLING: one warning is given for stalling, and then penalties begin for subsequent calls: 1
point for the first and second penalty, 2 points for the third penalty, and disqualification for the
fourth penalty.
PENALTIES: penalties and warnings are cumulative throughout the match. Each infraction has
its specific penalty. The penalty for an illegal hold, technical violation such as locked hands
(except false starts (2) or incorrect starting position), unnecessary roughness and wrestler's
unsportsmanlike conduct in the match is awarding the opponent of the offender one match point
on the first and second offenses, and two match points on the third offense. A fourth offense shall
result in disqualification.
FLAGRANT MISCONDUCT: results in disqualification of the individual and immediate
removal from the premises. Any individual so disqualified in a tournament is not entitled to any
points that he has earned previously in the tournament.
APPENDIX 2
Downingtown Wrestling Club
Code of Conduct
As a parent, guardian or coach of a child who is being permitted to participate in the
Downingtown Wrestling Club, I agree that I will observe the following Code of Conduct. I
further understand that if I fail to observe this Code, or engage in any other acts that are
detrimental or injurious to the club, my child may be suspended or dismissed from participation
in the program.
1. Downingtown Wrestling Club and my child's coaches' shall ensure that the wrestlers on their
team, and wrestlers on other teams, are provided a positive atmosphere in which they can safely
learn and enjoy the sport of wrestling. Downingtown Wrestling Club and the coaches will
reinforce the importance of sportsmanship, and observance of the rules of the sport and I will
support the club and coaches in their efforts to implement these principles and instill these values
in the club's wrestlers.
2. All Downingtown Wrestling Club practices, meets and tournaments are drug and alcohol free
and the schools in Downingtown Area School District are tobacco free so there is no smoking
anywhere on the school district property. Any child, parent or guardian found in violation will be
subject to suspension or dismissal from the program.
3. Every member of the team is encouraged to voice support and encouragement for each child
and to applaud their performances, in an appropriate manner regardless of their team.
4. It is inappropriate to berate, use inappropriate language, direct verbal abuse toward, or engage
in heated or extended argument with any child, wrestler, coach, referee, team official, parent or
relative of any other wrestler. Any person who cannot conform to these requirements may be
suspended or dismissed from the event or from the program.
5. No person shall direct aggressive behavior or physical violence toward any person, coach or
official at a club-sanctioned event. Downingtown Wrestling Club shall exhibit a zero tolerance
policy and will employ any means necessary to enforce this including the use of police support.
6. Every person is expected to affirmatively support the coaches and officials in their efforts to
provide an organized and enjoyable experience for the children participating in our program.
7. Dual meet attendance is critical and each parent/guardian shall assure that their child is present
and on time for all dual meets which he or she is participating. If a child cannot be present or will
be late for a dual meet the parent shall notify the President via email or telephone to assure that
the coaches are informed sufficiently in advance for them to make appropriate plans. Parents shall
not tell coaches or rely on other parents or friends to convey attendance information to the club.
8. Parents are encouraged to communicate any observations, suggestions or concerns to the club
at a suitable time and place. Please refrain from distracting the coaches while other members of
our team are wrestling, as each child deserves the full attention and support of the coaches while
they compete. Concerns regarding the coaches can be directed to the President or any Board
member.
9. Kids are expected to be kids and to have fun but they must listen and be respectful to the
parents, coaches and officials. Each wrestler shall demonstrate good sportsmanship and must
shake hands with his/her opponent at the conclusion of each bout regardless of the outcome.
10. Where there is an officiating issue the coaching staff shall be the only ones to interact with the
referee. Parents shall refrain from challenging or questioning the calls from the official. If a score
or call is in question it shall be handled in accordance with the rules and the coach shall request a
conference with the referee at the scoring table. Coaches shall not question or discuss calls from
the corner but will do so with respect at the scoring table as required by the rules.
Each parent, guardian, coach, sibling and wrestler is an ambassador of our club and this code
applies at all times when you are representing our club weather it is a home dual meet or an
individual tournament. Team members are expected to conduct themselves in a way that will
reflect positively on our organization.
Match Etiquette







Your wrestler wants to have you there. It is important to him even if he doesn't say it.
Whenever possible, be there for him.
Do not expect your child to win every (or any) match. It is your duty as a parent to give
your child a big hug after every match, WIN or LOSE. If you cannot do that and winning
is more important to you than showing your child that you love him or her no matter
what, then disregard the previous point. Your child wants to win. It's more fun than
losing. But if your wrestler thinks that their losses are a bitter disappointment to their
parents, not just a learning experience for them, they will not enjoy or participate in
sports for long.
In most dual meet and tournaments, the coaches will set up in opposing corners during a
match. This offers a place for the wrestlers to look for guidance and minimize confusion
during the match.
Let the coaches coach your wrestler. It is your job as the parent to be your child's biggest
fan. Encourage them, listen to them, but be careful about suggesting ways that they can
improve their wrestling. Too many suggestions may make them feel that you are not
satisfied with them, or are disappointed with them. The coaches usually have an accurate
idea of the things your wrestler needs to learn, and is in a better position to teach your
child. Your job is to be their parent.
Refrain from cheering for your son or daughter from the opposing team's corner. It is
very distracting to the coaches to have an opposing parent yelling over them and they
deserve room to coach their wrestler. We expect the same when we are coaching. If the
coaches are not in opposing corners make adjustments to give them the room they need.
Avoid confrontations with other parents and opposing teams. Wrestling is a very
emotional sport and victory and losses are very personal and can evoke strong emotions.
Very nice people can be consumed in the moment and offend you or your celebrations
could offend them – please temper your emotions for the sake of the kids.
If you disagree with a coach's decision - do not question their actions during the match.
Your son or daughter will be distracted and it will undermine their confidence and their
ability to compete. After the match has concluded ask the coach for a moment to discuss
your concerns. Please remember the coaches are trying to the best of their abilities to help
your son or daughter have a good wrestling experience.

Coaches and parents should find a place to cheer from and stay put. Do not run around
the perimeter of the mat during a match it is distracting to the coaches, the wrestlers, the
officials and the other parents.