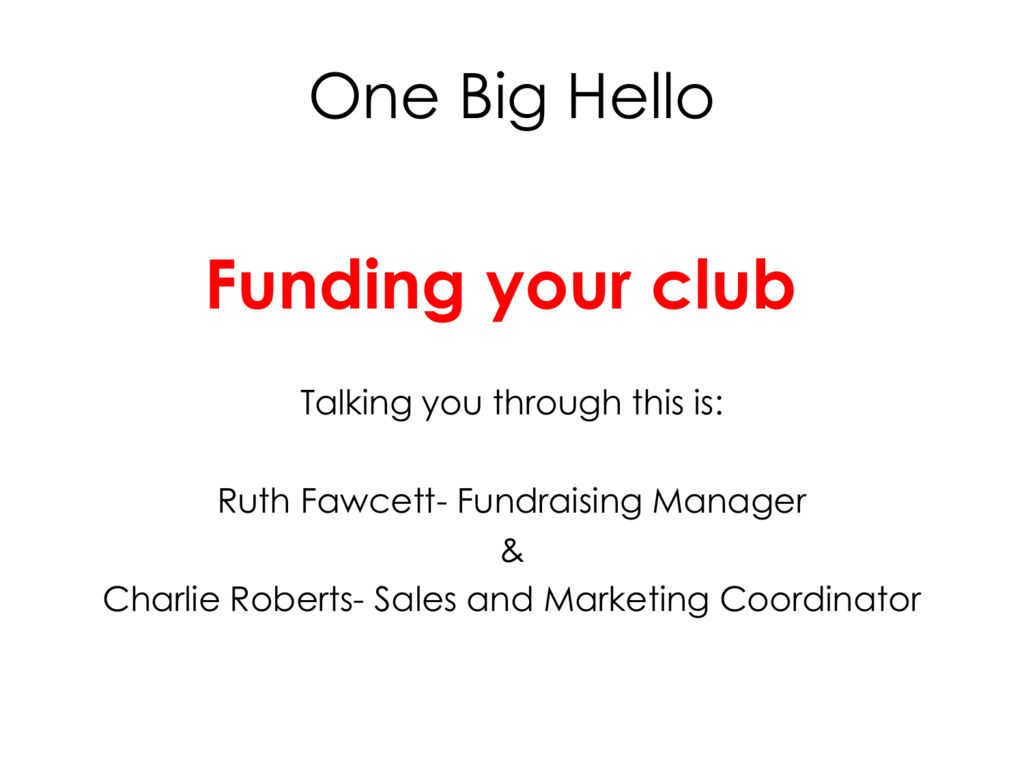 One Big Hello
Funding your club
Talking you through this is:
Ruth Fawcett- Fundraising Manager
&
Charlie Roberts- Sales and Marketing Coordinator
To get the grey matter working let's
see how well you know who is up to
what!
Question 1
Which University Cricket Club
raised £40k in 2014?
How you may ask yourself- by engaging
and utilising the alumni network
Question 2
Which Leeds University Union
society benefits from a school
outreach program?
It was our very own Womens' in Hockey
team
Question 3
Which major corporate finance
company sponsored a recent Dragons
Den Event at Leeds University Union?
KPMG
PWC
Deloitte
HSBC
How much has RAG raised in 2014?
A WHOPPING £277,018!
Hints and Tips - First and foremost they are human too!
Think before you approach them:
1. What do you want to achieve by working with them- remember no one likes a grab-a-lot.
2. What can you offer them- it's a 2 way street, ask them what their objectives are
3. Is their a link- 6 degrees of separation
Packages
How much do you want and will it cover costs?
Look at having tiers of packages
Be accommodating- key words bespoke and tailored
Is there any common ground between what you are doing and their company
Making it Happen
Do your homework- understand the company and know who you are going to see
Face to face is best – don't hide behind the key board be a real live person
Make an effort to build the relationship
Keep it up- don't get complacent .
•
Why not set up an alumni scheme for your Society? Consider membership schemes which could include
benefits such as; invites to events; free or reduced cost hoodies; regular newsletter; invites to socials etc.
•
Some clubs even have tiered schemes named Platinum/Gold/Silver (£75 for the year/£5 per month/£2.50
per month) for appropriate benefits.
•
Individuals can also donate via JustGiving – where they can donate online on a monthly or one-off basis.
You can also fundraise for sponsored events here (even 50/50 with other charities) and donate via text
too. Great for events!
Key tips:
 Why not put something on Facebook about what benefits people would enjoy?

Make sure you're keeping up to date with data protection

Consider an Alumni position on your board
•
Know your audience. Who are you trying to attract to your event and what would they be interested in
doing?
•
Venues downstairs want to help support your societies – ask them if you can strike a deal with them, for
example, free food for the first 10 people or a prize for your raffle
•
Set realistic goals but challenging targets.
•
Check out whether there are competing events on the day or time you have chosen. To give your event
special relevance, schedule its theme to coincide with special days. For example, have a St. Valentine's
Day card/bake sale, swim-a-thon on World Water Day.
•
Fundraising mechanisms at events could include; Auctions (art, silent, service); quiz night; raffle; bingo;
bottle tombola; BBQ
•
Consider opening up the event to non students too – is there an external society in Leeds who also has a
similar purpose
•
You could also consider splitting the profits 50/50 with another charity to help get more people there and
extra promotion!
•
Can anyone sponsor or match fund your events?
•
•
What is Enterprising?
Helping your club to create income to deliver the activities or services that you want
•
A good idea can sell itself. Brainstorm, research and test out your fundraising idea on friends, family and
colleagues. Would they be likely to buy your service/product?
•
What can you do in the Union or your Clubs to bring in funds? Consider outreach services? Making
and selling goods? Selling refreshments at events etc?
Keep expenses in check. Think about expenses and try to keep them in check to avoid any
disappointment about the final proceeds you're able to generate .
Key tips
•
•
•
We can help with a space to sell or market test your products
The opportunity for you to get expertise in catering, retail and many more areas
In some cases we can also help with Marketing and PR.