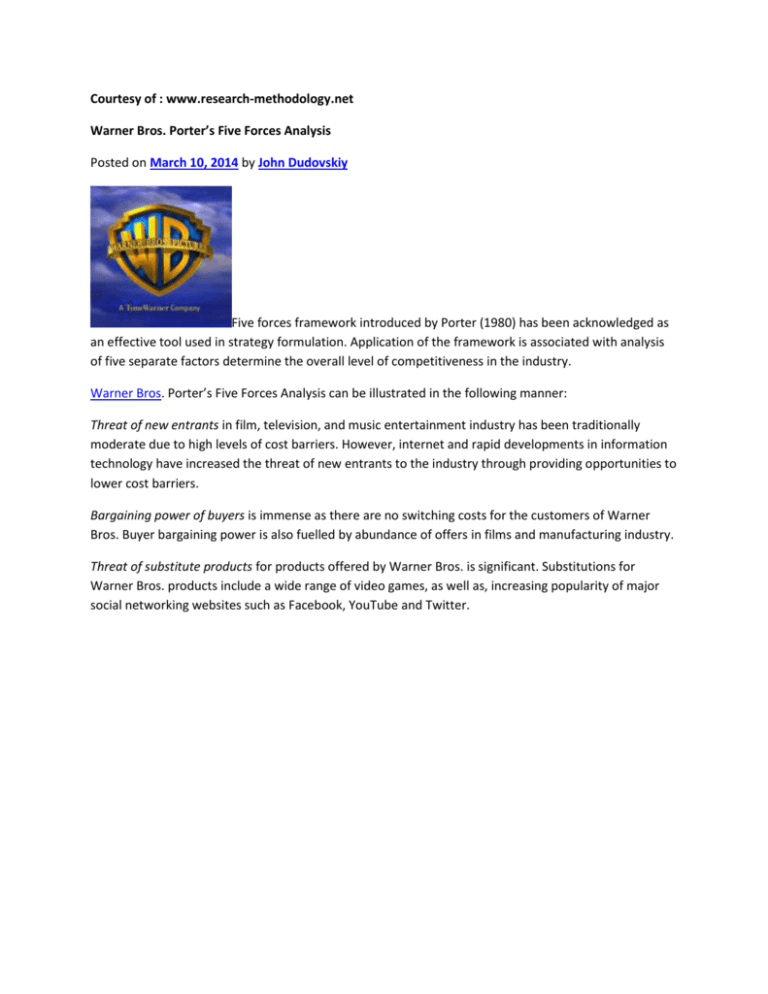 Courtesy of : www.research-methodology.net
Warner Bros. Porter's Five Forces Analysis
Posted on March 10, 2014 by John Dudovskiy
Five forces framework introduced by Porter (1980) has been acknowledged as
an effective tool used in strategy formulation. Application of the framework is associated with analysis
of five separate factors determine the overall level of competitiveness in the industry.
Warner Bros. Porter's Five Forces Analysis can be illustrated in the following manner:
Threat of new entrants in film, television, and music entertainment industry has been traditionally
moderate due to high levels of cost barriers. However, internet and rapid developments in information
technology have increased the threat of new entrants to the industry through providing opportunities to
lower cost barriers.
Bargaining power of buyers is immense as there are no switching costs for the customers of Warner
Bros. Buyer bargaining power is also fuelled by abundance of offers in films and manufacturing industry.
Threat of substitute products for products offered by Warner Bros. is significant. Substitutions for
Warner Bros. products include a wide range of video games, as well as, increasing popularity of major
social networking websites such as Facebook, YouTube and Twitter.
Bargaining power of suppliers is greater in films and entertainment industry compared to many other
industries. Due to the unique nature of this industry famous actors can be classified as suppliers at the
same time as serving as human resources.
According to this approach, the success of sequels of famous Warner Bros. franchises such as Lord of the
Rings, Batman, Harry Potter and Hangover is possible only through attracting A-list actors and actresses
who have great bargaining power.
Rivalry among existing competitors in global entertainment industry is intense and major companies
competing in the industry along with Warner Bros. include Paramount Pictures Corporation, The Walt
Disney Studios, Fox Filmed Industries and others.
This portal also contains SWOT and PESTEL analyses for Warner Bros.
Warner Bros. SWOT Analysis
Posted on March 6, 2014 by John Dudovskiy
Strengths
Warner Bros. has a solid financial position with USD 12 billion revenues generated during the year of
2012 alone with more than USD 1.2 billion operating income (Annual Report, 2012). Moreover, Warner
Bros. has produced a series of successful franchises such as The Lord of the Rings, Batman, Harry Potter
and Hangover that have immense contributions to the level of profitability of the company. Knowledge
and experiences associated with the production of these successful franchises can be specified as
strengths of Warner Bros.
The agreement of Warner Bros. with Netflix Inc. that allows the company to stream previous sessions of
shows' series shown on CW network can be added to the list of its strengths due to the associated
potentials for profit maximisation.
Weaknesses
Overdependence of Warner Bros. on the home market in the US is its major weakness in global
competition. US government debt issues and implications of this issue on consumer spending patterns in
the future increases the level of urgency of this weakness on long-term perspectives.
Moreover, recent damage to Warner Bros. brand image for being used for infringing Cat Meme
Copyright can be listed as weakness for the company that has to be addressed by senior level
management.
Opportunities
There is an attractive profit maximisation opportunity for Warner Bros. through introducing new
instalments to its successful franchises such as The Lord of the Rings, Batman, Harry Potter and
Hangover.
Expansion of digital distribution capabilities represents opportunity for Warner Bros. to strengthen its
role as a leader of technological changes in the industry. Moreover, the levels of Warner Bros. revenues
can be further increased through higher integration of product placement marketing strategy.
Threats
Business threats faced by Warner Bros. are diverse and they primarily include further decline of the
sales of DVDs due to the maturation of DVD format of entertainment, challenging economic conditions,
and piracy.
Furthermore, the threat of loosing more revenues because of piracy should not be underestimated,
because despite attempts for a numbers of years effective solutions have not been found yet for this
problem.
Declining popularity of US television programs represent considerable threat to Warner Bros. revenues
for long-term perspective and increasing levels of operational costs are additional challenges to be
addressed by the company.
Warner Bros. PESTEL Analysis
Posted on March 7, 2014 by John Dudovskiy
PESTEL analysis can be explained as "a checklist to analyse the political,
economic, socio-cultural, technological, environmental and legal aspects of the environment" (Rao et
al., 2009, p.115). The framework assists with analysis of the impact of each of these individual aspects of
external environment to be used in decision-making by senior management.
PESTEL analysis for Warner Bros. is illustrated on the following table:
Political
Economical

Political situation in the US and foreign markets

Impact of US foreign trade deficit issue

Censorship on media and entertainment in
emerging markets

Resign costs of advertising

Level of US unemployment

Inflation rate in the US

Changes in the US taxation system

Impacts of lobbying groups in film and
entertainment industry

Effects of industry pressure groups
Social
Technological

Value changes in the US and other market

Increasing popularity of 3D technology

Increasing influence of internet on social life

Maturation of films in DVD format

Changes in demographic challenges


Increasing importance of work-life balance
Emergence of innovative platforms to consume
entertainment products

Acceptance of same-sex marriages by increasing
numbers of states in the US
Ecological

Problems associated with global warming

Rising environmental concern of people globally

Increasing importance of eco-tourism and
related issues

Increasing importance of corporate social
responsibility (CSR)
Warner Bros. PESTEL Analysis

Increasing integration of IT in various stages of
film production

Technological breakthroughs in film production
Legal

Licensing issues with other organisations in the
industry

Problems related to intellectual property

Legal barriers to enter emerging markets

Changes in the US rules and regulations in
relation to films and entertainment industry.