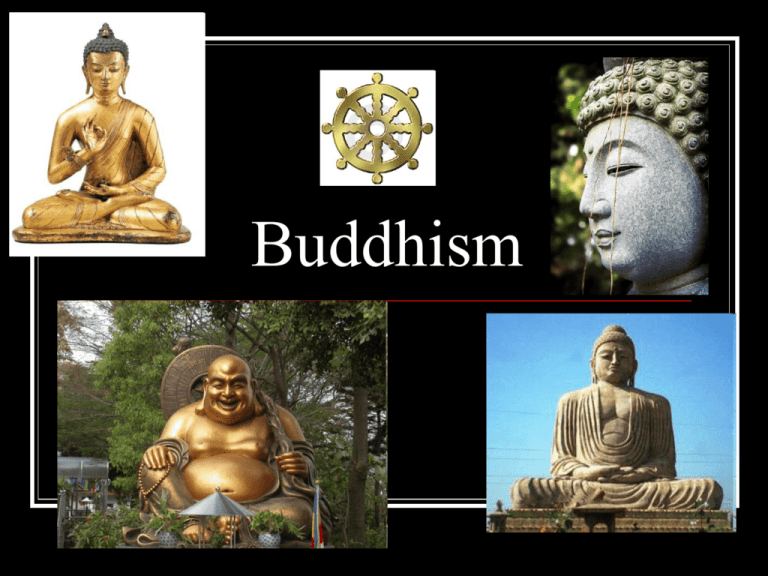 Buddhism
Founder: Siddhartha Gautama



Searched for wisdom and freedom from
suffering
Achieved enlightenment through 49 days of
meditation.
After enlightenment, he was known
as Buddah
Four Noble Truths – pg 69
What's the point?

You must follow the guidelines of the
Eightfold Path/Middle Way in order to reach
nirvana



Nirvana is perfect peace of mind and freedom
from worldly concerns
aka Enlightenment
This will end the cycle of reincarnation


http://www.dummies.com/howto/content/buddhism-for-dummies-cheatsheet.html
http://www.dummies.com/howto/content/figuring-out-the-philosophy-ofbuddhism.html
Monks and Nuns


Vow to remain unmarried, poor, and nonviolent
Try to spread the teachings of Buddah

Did not stick in India



Buddhists rejected the caste system
Hindus simply absorbed some Buddhist ideas but
never converted
Spread to other parts of Asia

Sri Lanka, Burma, Thailand, Sumatra, China,
Korea and Japan
Fun Facts 



The Buddha says there is no creator and that
questions on the origin of the world are worthless
Buddha teaches that the key to happiness is to
free yourself from all worldly goods and desires
Buddhists believe that all living things have
potential for spiritual growth. They do not kill
animals at all.

Buddhists cannot kill for meat but if the animal is already
dead, they may eat it.
Important Terms


Mahayana
Elephant Festival


The Buddha used the example of a wild elephant which,
when it is caught, is harnessed to a tame one to train. In
the same way, he said, a person new to Buddhism should
have a special friendship of an older Buddhist. To mark
this saying, Thais hold an elephant festival on the third
Saturday in November.
Stupa
Think

Answer the following questions on a
separate sheet of paper:



Compare and contrast Buddhism to Hinduism?
What will you go home and Google about
Buddhism? (You must pick something)
Are Buddhist monotheistic, polytheistic, or
nontheistic? Why?