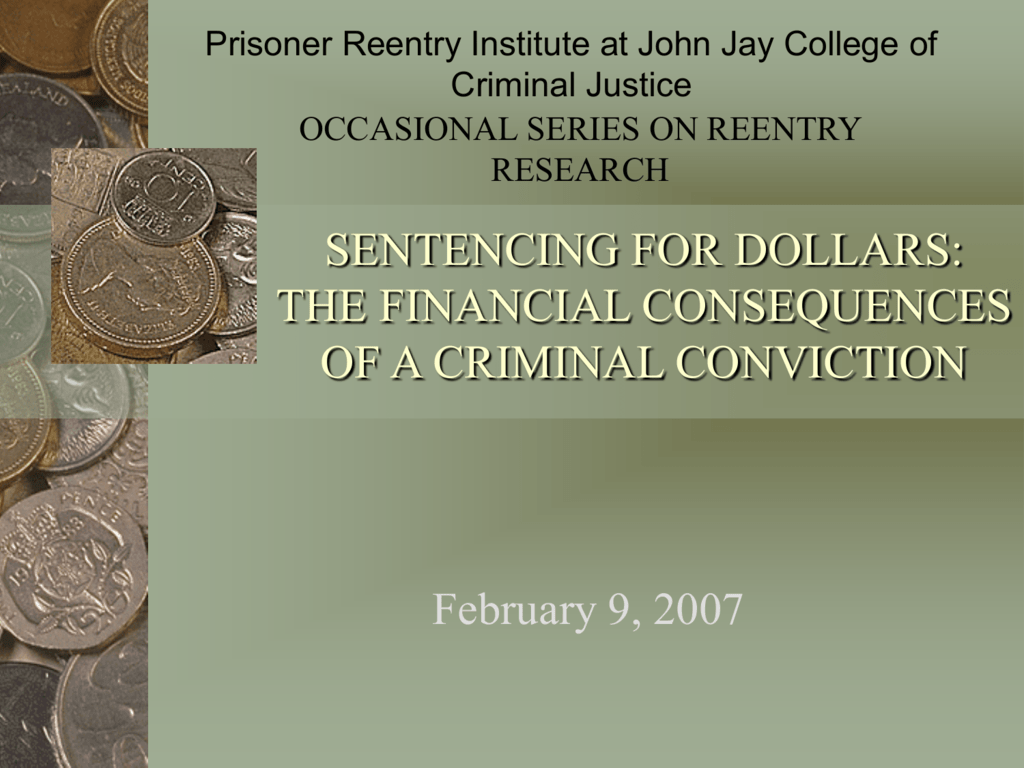 Prisoner Reentry Institute at John Jay College of
Criminal Justice
OCCASIONAL SERIES ON REENTRY
RESEARCH
SENTENCING FOR DOLLARS:
THE FINANCIAL CONSEQUENCES
OF A CRIMINAL CONVICTION
February 9, 2007
FOCUS OF PAPER
Financial consequences that are in the
nature of penalties:
•
•
•
•
Fines
Fees
Surcharges
Costs
•
•
•
•
Forfeitures
Assessments
Reimbursements
Restitution
FINANCIAL PENALTIES DRIVEN BY A
COMBINATION OF PURPOSES:
•
•
•
•
•
Punishment
Reparation
Cost-Recovery
Cost-Shifting
REVENUE
COMPETING INTERESTS
Defray some of the
costs of maintaining
the criminal justice
system
Financial burdens
threaten the successful
reintegration of people
returning to the
community
WHAT IS THE PROBLEM WITH BALANCING
THE COMPETING INTERESTS?
There is no balancing going on.
• Each new fee is viewed as a solitary cost.
• The cumulative impact of piling on each
new financial penalty is ignored.
• The road blocks to reintegration that are
created are not recognized.
LACK OF ATTENTION TO FINANCIAL
PENALTIES, AND THE DIFFICULTY IN A
CUMULATIVE ANALYSIS OBSCURE
IMPORTANT POLICY QUESTIONS ABOUT
HOW TO BALANCE THE INTERESTS IN:
•
•
•
•
Revenue generation
Individual accountability
Community reintegration
Public safety
OUR ARGUMENT
• The use of financial penalties has proliferated
• Their use as a revenue source makes it difficult to
restrain, and
• Each new fee is created in a vacuum and the
cumulative effect is not seen
• These two factors have prevented a reasoned
balancing of interests
• The people upon whom we place these financial
penalties can ill-afford to pay
• Financial penalties impede reintegration, are
counterproductive and undermine public safety
IN THIS PAPER WE WILL
• Illustrate the impact of financial penalty
• By placing an inventory of such practices in
the context of who is being asked to
shoulder the financial burdens
• In light of the policy issues at stake
• Using practices in the State of New York
PAROLEE FACTS
The parolee population is largely minority, poorly educated,
underemployed, and concentrated in urban New York
March 2004
Ethnicity
52% - Black
29% - Hispanic
18% - White
1% - Other
Sex
93% - Male
7% - Female
Age
Service Needs
81% - Drug Abuse
54% - Alcohol Abuse
46% - Unemployment
15% - Grade School Education Only
Residence
61% - Five Boroughs
7% - Long Island/Mt. Vernon
32% - Upstate
Median 35
Conviction Crime*
A-I Violent** and VFO Offenses 32% Drugs 46%
Other Violent 5%
Property 10%
Other 6%
*All conviction crimes reflect top charge.
**A-I violent offenses include Murder, Attempted Murder 1st, Arson 1st and
Kidnapping 1st. VFO's include other legislatively-designed violent felony offense.
NYS Division of Parole
ABILITY TO PAY –
NATIONAL PROFILE
• 80% of all felony-charged defendants are indigent
• 60% unemployment one year post-release
• 16% suffer mental illness (50% mental health
problems)
• 11% self-report a learning disability
• Stigma of a criminal history and race
discrimination diminish employment opportunities
and future earnings
• Facing legislatively created and increasing
statutory barriers to employment
CAN FAMILIES HELP SHOULDER
THE FINANCIAL PENALTIES?
• Comparative net worth – 2002
– Hispanic Household $7,932.00
– African American Household $5,988.00
– White Household $88,651.00
• Negative or zero net worth – 2002
– 32% of African American Households
– 26% of Hispanic Households
– 13% of White Households
Pew Hispanic Center
THREE GENERAL CATEGORIES
OF FINANCIAL PENALTIES
• Fines
• Surcharges, fees, costs and civil penalties
• Restitution
THE GROWING USE OF
FINANCIAL PENALTIES
New York State exemplifies this trend to create and
increase fees to generate revenue
• Mandatory surcharge
• Crime victim assistance
fee
• Designated surcharge
• Additional designated
surcharge
• Incarceration fee
• DNA databank fee
• Parole supervision fee
• Probation supervision fee
• Sex offender registration
fee
• Supplemental sex offender
registration fee
• Driver responsibility
assessment
• Disciplinary surcharge
This expansion has taken place without
any review of the cumulative effects the
fines, fees, surcharges and penalties
may have on a person who is
convicted, and his or her family.
DOING THE MATH:
The cumulative burden of financial
penalties
WHY LOOK AT THE
CUMULATIVE IMPACT?
• Problems emerge when new penalties are
enacted and old penalties are increased in a
vacuum.
• Viewed in isolation, financial penalties
appear to be:
– A good source of revenue
– A modest proposal
– A good way to shift costs
John, age 20, after refusing a chemical test, was convicted of Driving While Intoxicated, a class E
felony, and No Insurance, a misdemeanor. He was sentenced to 5 years probation. Restitution was
ordered for damage to a telephone pole. The financial consequences of his conviction will include:
Mandatory Fine of no less than $1,000 for Felony DWI Conviction
$1,000.00
Mandatory Felony Surcharge
$250.00
Crime Victim Assistance Fee
$20.00
Probation Supervision Fee ($30.00/month)
$1,800.00
Fee for Termination of License Revocation
$100.00
Surcharge for Vehicle and Traffic Law (VTL) Conviction
$25.00
Civil Penalty for No Insurance
$750.00
Civil Penalty for Chemical Test Refusal with Prior VTL §1192 Conviction Within 5 Years
$750.00
Court Ordered Installation of Ignition Interlock Device
$2,175.00
Driver Responsibility Assessment
$750.00
Restitution
$1,000.00
Surcharge for Collecting Restitution (5%)
$50.00
TOTAL
*This case example is derived from applicable law in New York State
$8,670.00
The Collection Business –
Enforcement of Financial Penalties
PAYING IN PRISON
• N.Y. State law provides for the collection of
these financial penalties from the "inmate's
funds."
• "Inmate's funds"
– Money brought to prison
– Money sent by family and friends to prison
– Money earned while in prison
N.Y. DOCS ENCUMBRANCE
SYSTEM
Directive No. 2788
• 20% from money earned while in prison
• 50% from money sent from outside prison
• If two encumbrances active:
– 40% from money earned in prison
– 100% from money sent from outside prison
NO SMALL SUM
The amount collected annually by DOCS
from "inmates' funds" for fines, fees and
surcharges:
$2.5 million
DISCIPLINARY SURCHARGES
Imposed by DOCS as a "mandatory
disciplinary surcharge"
• Developed as a revenue generating idea
• $5.00 assessed automatically for Tier II and
Tier III infractions
• Total collected between 1995-2003:
$3.5 million
PAYING ON PAROLE
• Executive Law §259-a(9)(a) provides for a
$30.00/month supervision fee
PAYING ON PROBATION
Executive Law §257-c:
"…every county and the city of New York, may
adopt a local law requiring individuals currently
serving or who shall be sentenced to a period of
probation upon conviction of any crime under
Article 31 of the Vehicle and Traffic Law to pay to
the local probation department…an administrative
fee of thirty dollars per month."
EXAMPLES OF COUNTY
IMPOSED FEES
•
•
•
•
•
Related to Probation
Drug Testing ($8.00/test)
Probation Pre-sentence Investigation Report
($300.00)
Electronic Monitoring ($8.00/day)
Supervision of Probationer (Non-DWI)
($30.00/month)
Victim Impact Panel ($30.00/session)
OPINION OF THE
ATTORNEY GENERAL
Opinion No. 2003-4
April 7, 2003
"We conclude that the state has evinced an
intent to preempt the area of probation
services and thus that a county may not
enact a local law imposing fees on
individuals requiring these services except
as specifically authorized by state statute."
SPONSOR'S MEMO TO S2842-A
JUSTIFICATION:
This legislation is necessary because of a recent
opinion of the New York State Attorney General
(2003-4), which stated that counties may not,
pursuant to their home rule authority alone, enact
local laws imposing administrative probation fees.
Approximately fifteen counties already have local
laws in place imposing many of these fees. This
legislation is necessary to codify local authority to
impose such local laws.
PUBLIC SAFETY IS A
PUBLIC GOAL
Parole and probation play a significant role
in reentry and public safety. They should be
properly funded from the general fund.
They should not be relegated to chasing
"fees" for revenue to support the valuable
work that they do.
ENDURING LIABILITIES:
Consequences of Non-payment
Civil collection remedies may be used to
collect fines, fees, surcharges or restitution
orders as they become civil judgments.
LONG-LASTING EFFECTS OF
CIVIL JUDGMENTS
• Show up on credit reports
• Increasing likelihood they will affect
prospects for employment
• Increased use of credit histories by
employers – almost doubled between 19962003
• Undermine ability to get a credit card, loans
(including education loans) housing or
mortgage
THE EXPLOSION OF FINANCIAL
PENALTIES: NEW YORK AND BEYOND
State of Washington
• Conditioning re-enfranchisement on payment of all
financial obligations
• Madison v. State of Washington – statute struck down
– denial of equal protection
• 10 states condition the right to vote on the full payment of
fines, fees, restitution and other costs
State of Georgia
• Clinch County Sherriff collecting for room and board in
jail without any statutory authority to do so
• Williams v. Clinch County – consent decree – Repay
$24,000.00
UP-FRONT FEES FOR
INDIGENT DEFENSE
• Imposed in 27 jurisdictions
– 24 states
– 3 counties
MORE STATES AT WORK
State of Texas
• Arrest fee
• Warrant fee
• Failure to appear



Time Payment fee
Restitution installment fee
Judicial fund court costs
State of Colorado
• Booking fee
• Home release fee
State of Massachusetts
• "Safety fee" – 1/13/07 announced by Governor Deval Patrick
THE NEED TO EXERCISE
RESTRAINT
"Imprisonment, corporal punishment, and even
capital punishment cost a state money; fines are a
source of revenue. As we have recognized in the
context of other constitutional provisions, it makes
sense to scrutinize governmental action more
closely when the state stands to benefit.
Justice Antonin Scalia
Harmelin v. Michigan
COERCIVE AND COUNTER - PRODUCTIVE
COLLECTION PRACTICES
• Threaten denial of a Certificate of Relief
from Disabilities
• Threaten denial of early release from parole
or probation
• Threaten reporting to credit agencies
• Denial of the right to vote
• Employment opportunities diminished by
filing civil judgment
• Threaten denial of a travel pass
The obsession with financial penalties as
a revenue bonanza has not only proven
counterproductive but has made some
units of government revenue hungry,
pushing the outer limits of lawful conduct.
POLICY CONCERNS
•
•
•
•
Public safety
Danger of net-widening
Government dependence on such "fee" revenue
Reentering penniless, with few prospects for
employment, and no way to pay
• Restraint is difficult to exercise when it comes to
revenues and a marginalized target
• Imposing financial penalties that serve to maintain
a permanently disadvantaged population
RECOMMENDATIONS
• Jurisdictions should develop a comprehensive
inventory of what financial penalties exist and
how they accumulate
• Provisions that exempt indigent people from
certain financial penalties should be reviewed and
clarified
• Prohibit the enactment of local laws that impose
additional financial obligations on individuals as a
result of a criminal conviction
NEW YORK STATE BAR ASSOCIATION
RECOMMENDATIONS
A. Consolidate all financial penalties into one
fee
B. Amend C.P.L. §420.35(2) to allow for
waiver of certain financial penalties
C. Impose a moratorium on all new financial
penalties and the increase of existing
penalties, and consider the filing of a reentry impact statement for any new
legislation imposing financial penalties
FLORIDA
Final report of the Governor's Ex-Offender Task Force
November 2006
Recommendations:
7. That FDC (Florida Department of Corrections)
increase family contact and reduce financial
strain on inmates' families through:
–
Development and implementation of forms and
procedures that allow for modification of child
support at reception or shortly thereafter to reflect the
inability to pay while incarcerated and to avoid the
accumulation of unpayable arrears.
CONCLUSION
The legislature has embraced, the policy
goal of reintegration:
■ In 2006 Penal Law §1.05(6) was amended to
add a new goal to sentencing in New York:
"the promotion of their successful and
productive reentry and reintegration back into
society."
ASPIRATIONAL GOALS REQUIRE
CHANGES IN EVERYDAY PRACTICE:
• It is time to confront our attraction to financial
penalties head on
• We need to de-emphasize "revenue enhancement"
as a criminal justice policy goal
• Focus on stimulating, encouraging, and improving
the chances for people returning home to live lawabiding, fulfilling and productive lives
• Public safety is a community goal and public good
• As such, the cost should be borne by the public
EFFECTIVE REENTRY POLICIES
ARE COST-EFFECTIVE
• Decreasing financial penalties will improve reentry
results
• Successful reintegration results in significant long-term
cost-savings
• The public will derive long-term benefits from its
financial investment in reentry
• The limited and short-sighted revenue producing effects
of financial penalties pale in comparison to the longterm cost savings and promotion of public safety that
can be realized by smart reentry policies.