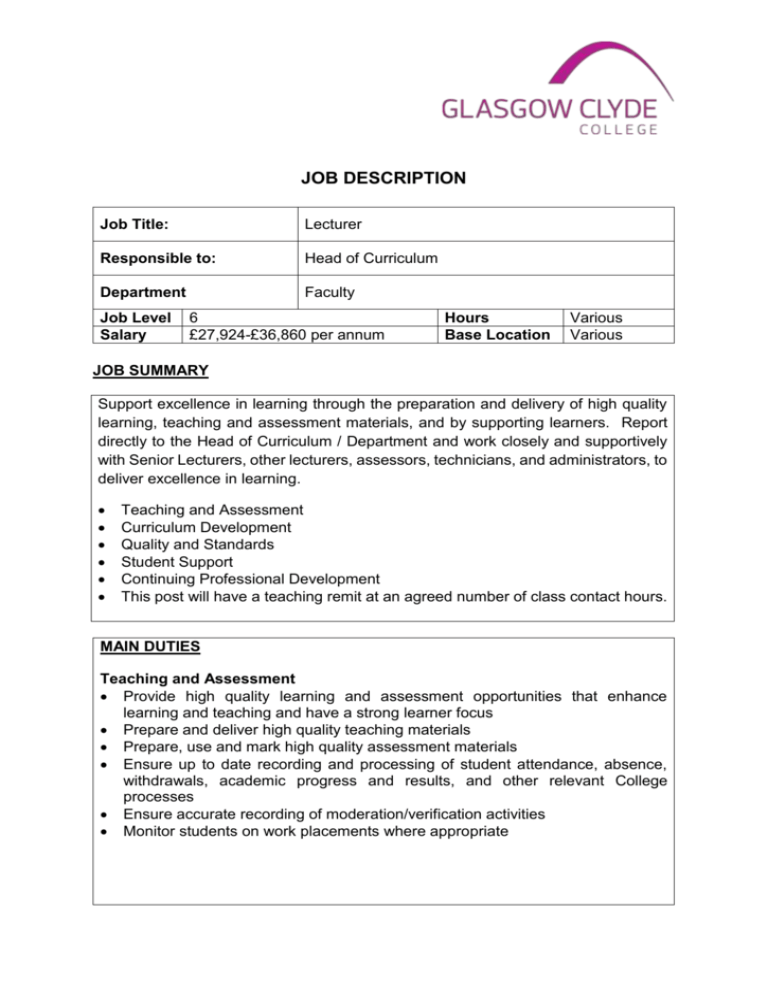 JOB DESCRIPTION
Job Title:
Lecturer
Responsible to:
Head of Curriculum
Department
Faculty
Job Level
Salary
6
£27,924-£36,860 per annum
Hours
Base Location
Various
Various
JOB SUMMARY
Support excellence in learning through the preparation and delivery of high quality
learning, teaching and assessment materials, and by supporting learners. Report
directly to the Head of Curriculum / Department and work closely and supportively
with Senior Lecturers, other lecturers, assessors, technicians, and administrators, to
deliver excellence in learning.






Teaching and Assessment
Curriculum Development
Quality and Standards
Student Support
Continuing Professional Development
This post will have a teaching remit at an agreed number of class contact hours.
MAIN DUTIES
Teaching and Assessment
 Provide high quality learning and assessment opportunities that enhance
learning and teaching and have a strong learner focus
 Prepare and deliver high quality teaching materials
 Prepare, use and mark high quality assessment materials
 Ensure up to date recording and processing of student attendance, absence,
withdrawals, academic progress and results, and other relevant College
processes
 Ensure accurate recording of moderation/verification activities
 Monitor students on work placements where appropriate
Curriculum Development
 Work with others to develop new approaches to teaching, making optimum use
of learning technologies
 Ensure that the curriculum is relevant and up to date; contributing to the
development of elements of provision
Quality & Standards
 Where appropriate, contribute to student selection and recruitment processes
and advise potential learners
 Lead and contribute to internal moderation and verification groups
 Where appropriate participate in team teaching and learning observations.
(implementation in partnership with EIS)
 Contribute to School and Faculty self-evaluation and operational planning
 Promote student employability skills
Student Support
 Enhance retention and achievement by providing high quality subject support to
learners
 Undertake a Guidance Tutor role as appropriate
 Contribute to learner induction as required
Continuing Professional Development
 Ensure that skills and knowledge are kept up to date, by undertaking regular
Continuing Professional Development, including industrial placements, and
where appropriate, the Professional Development Award for teaching, within a
specified timescale
Relationships
 Work closely and supportively with Head of Curriculum / Department, Senior
Lecturers, other lecturers, technicians, and administrators, to deliver excellence
in learning
Support and advise students appropriately
 Attend and take part in meetings and working groups as appropriate
 Work with employers, schools and universities
 Advise on health and safety and resource issues specific to the curriculum area
GENERAL RESPONSIBILITIES










Operate as a member of the School team, offering constructive challenge,
specialist advice and the highest professional standards
Undertake projects as directed by the line manager
Proactively collaborate with internal and external partners
Keep abreast of current developments relevant to the department
Actively participate in on-going training and development activity and the Staff
Development Interview process
Respect the confidentiality of matters relating to learners and other members of
staff
Exercise a duty of care for their own health and safety and that of others who
may be affected by their actions
Promote and encourage Equality & Diversity in all aspects of College operations
Understand and comply with the requirements of the Data Protection Act and the
Freedom of Information Act
Undertake other duties appropriate to the scope and grading of the post
STRUCTURE DIAGRAM
Level 3
Director of Facuty
Level 4
Head of
Curriculum /
Department
Level 5
Level 6
Senior
Lecturer
Lecturer
PERSON SPECIFICATION
LECTURER
Attributes & where evidence for these will be sought
Education, Qualifications & Training
(Evidence will be sought from your Application for Employment)
SCQF Level 8 or relevant professional equivalent in the specialist area,
or significant relevant experience in the specialist area*
SCQF Level 9 and above
TQFE or D32/33/34 or A1/V1 Awards
Other relevant teaching qualification
Experience & Knowledge
(Evidence will be sought from Section 8 of the "Application for
Employment" form and by interview questions).
Good knowledge of one or more curriculum areas
Experience of developing innovative teaching practice
Good understanding of quality standards
Where appropriate significant industrial experience within the curriculum
area*
Teaching experience in FE/HE/schools *
Experience of developing teaching materials
Familiarity with internal verification processes
Skills
(Evidence will be sought as part of the interview process)
Evidence of appropriate IT skills*
Essential
Desirable
√
√
√
√
√
√
√
√
√
√
√
√
Excellent oral and written communication skills
√
Good interpersonal skills
√
Well organised with the ability to use own initiative
√
Prepared to develop own skills and qualities through staff development,
specific training and self evaluation
Circumstances
(Evidence for this will be sought by Interview Questions)
√
Could be requested to take evening and /or twilight classes
√
Travel between college campus sites may be required
√
This profile will be reviewed continuously and adapted to meet the changing needs of the college.
* Applicants with a disability will be interviewed if they meet the minimum
criteria for the post.