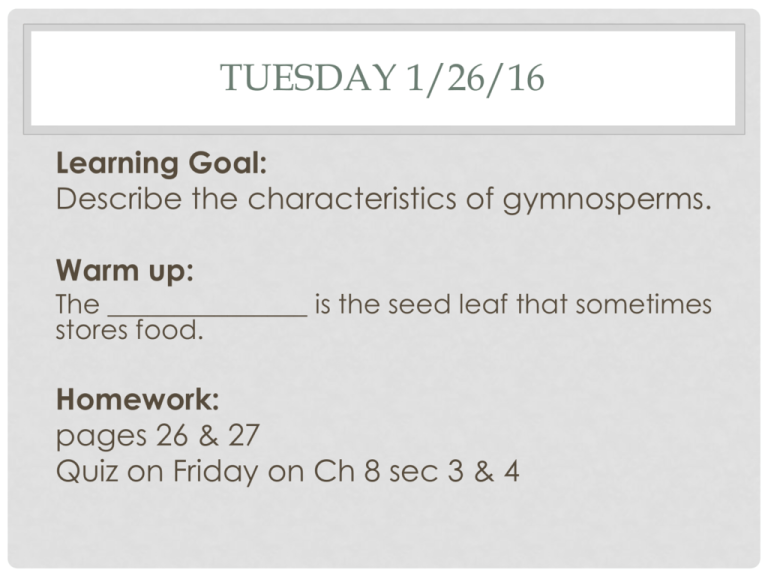 TUESDAY 1/26/16
Learning Goal:
Describe the characteristics of gymnosperms.
Warm up:
The _______________ is the seed leaf that sometimes
stores food.
Homework:
pages 26 & 27
Quiz on Friday on Ch 8 sec 3 & 4
Warm up:
The _______________ is the seed leaf that sometimes
stores food.
• cotyledon
CHAPTER 8 SECTION 4
GYMNOSPERMS
GYMNOSPERMS
• A seed plant that produces naked seeds
• Not enclosed by a protective fruit
• Many gymnosperms have needle-like or
scale-like leaves, and deep-growing root
systems
• Oldest type of seed plant
CYCADS
• Grow mainly in tropical and
subtropical areas
• Look like palm trees with cones
• Cone can grow as large as a
football
CONIFERS
• Cone-bearing
• Largest and most
diverse group of
gymnosperms
• Most keep their
needles year round
GINKGOES
• Only one species exists today, Ginkgo
biloba
• Chinese and Japanese cared for it in
their gardens
• Planted along city streets because they
can tolerate air pollution
GNETOPHYTES
• Live in hot deserts and in tropical
rain forests
• Trees, shrubs, and vines
REPRODUCTION OF GYMNOSPERMS
• Cones: reproductive structures in most
gymnosperms
• Males cones
• Produce tiny grains of pollen (the male
gametophyte)
• Later become sperm cells
• Female Cones
• Ovule: female gametophyte
• Contains egg cell
• Develops into seed
Gymnosperm
Reproduction
After
fertilization, the
seed develops
on the scale of
the female
cone
Pollen falls from
male cone onto
female cone
Sperm cell and
egg cell join
together in an
ovule on the
female cone
POLLINATION
• Transfer of pollen
from male
reproductive
structure to female
reproductive
structure
• Wind often carries
the pollen
FERTILIZATION
• Once pollination occurs, the ovule
closes and seals in the pollen
• Sperm cell and egg cell are inside
each ovule
• The egg is fertilized and develops into
the embryo
SEED DEVELOPMENT
• Female cones remain on tree while
seeds mature
• Can take up to 2 years
• Male cones usually fall off tree after
they shed their pollen
SEED DISPERSAL
• When seeds mature,
scales open
• Wind shakes seed
out of cone and
carries them away
• Only a few seeds will
land in suitable place
Page
275
WRAP UP
• What are two characteristics of a
gymnosperm?