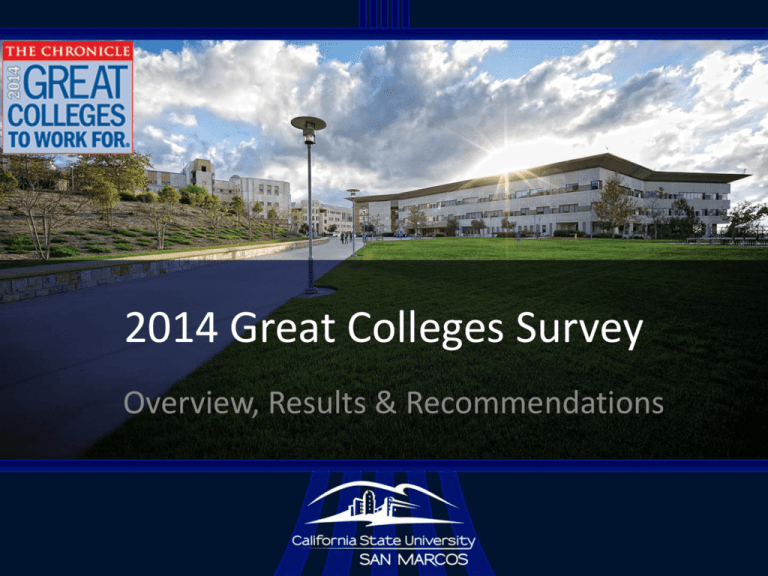 2014 Great Colleges Survey
Overview, Results & Recommendations
Task Force
•
Veronica Anover,
Professor, Modern Language Studies
•
Cathy Baur
Associate Vice President,
Communications
•
Annie Macias
Director of Business Operations,
University Corporation
•
Kimber Quinney,
Civic Learning Faculty Director
•
Sandra Carrillo
Financial Aid Advisor
•
Steve Ramirez
Project Manager
•
Travis Gregory
Associate Vice President, Human
Resources & Payroll Services
•
Jay Rees
Web Services Lead & ETC Lead
•
Kamel Haddad
Vice Provost, Planning and Academic
Resources
Laurie Schmelzer
Student Services Professional, CSM
•
Michelle Hinojosa
Director, Human Resources and
Payroll, UARSC
Laurie Stowell
AY 14/15 Academic Senate Chair
Professor, School of Education
•
Bhavisha Talsania
Research Analyst
•
•
•
Marilyn Huerta
Communications Specialist, CEHHS
•
Stephen Tsui
Associate Professor, Physics
•
Justin Lewis
Director, Resources and Operations
•
Jennifer Williams
Deputy Chief of Staff & Director,
Campus Climate
AGENDA





Presentation of 2014 Survey Results
Role of the Task Force
Recommendations
Feedback
Wrap Up, Questions, Comments
WHY WE ARE HERE
• Review the campuswide survey results
• Share top ten opportunities for
improvement
• Discuss and gather feedback on draft
recommendations developed by task
force
• Task force will use your feedback to
finalize recommendations presented to
the Executive Council
SURVEY OVERVIEW
Survey Instrument
–
–
–
–
–
60 core belief statements
12 additional statements
17 item benefits satisfaction component
12 demographic questions
3 open-ended questions
Methodology
• Online survey administered March 31, 2014 – April 15, 2014
Response Rates
• Overall response rate: 35% - 468/1344
Benchmark
• 2014 Honor Roll >10,000 Enrollment - Great Colleges to Work
For Program
Top Ten Statements
1. I understand how my job contributes to this institution's mission.
2. This institution actively contributes to the community.
3. I am proud to be part of this institution.
4. We are good citizens/stewards in our local community.
5. The institution takes reasonable steps to provide a safe and secure
environment for the campus.
Top Ten Statements
6. I am given the responsibility and freedom to do my job.
7. I have a good relationship with my supervisor/department chair.
8. People at CSUSM understand and value the benefits of a diverse
workforce.
9. This institution's benefits meet my needs.
10.My supervisor/department chair supports my efforts to balance my work
and personal life.
AREAS OF SUCCESS
• Faculty and staff report a strong sense of connection to
and pride in the mission of the University. There is also a
heightened sense of enthusiasm given the youth and
growth of the institution.
• Faculty and staff very much appreciate the ability to make
a difference in the lives of students and in the
community/region. Similarly, they appreciate the
commitment to being a diverse and inclusive community.
• Faculty and staff report high degrees of job fit and
appreciate the flexibility and autonomy they have as well
as the benefits and the support for work/life balance.
AREAS OF SUCCESS
• Faculty and Staff report having good relationships with
and high regard for their supervisors and senior leaders.
They also report a need for greater consistency and
enhanced managerial/leadership skills, specifically those
regarding communication, performance management and
accountability.
• While there is a strong sense of community within many
departments, the strength of that camaraderie does not
consistently translate to strong cross-functional
collaboration or a sense of alignment across the
University.
Bottom Ten Statements
1.
I am paid fairly for my work.
2.
My department has adequate faculty/staff to achieve our goals.
3.
Issues of low performance are addressed in my department.
4.
Promotions in my department are based on a person's ability.
5.
Changes that affect me are discussed prior to being implemented.
Bottom Ten Statements
6.
Our recognition and awards programs are meaningful to me.
7.
There is regular and open communication among faculty, administration
and staff.
8.
Our orientation program prepares new faculty, administration and staff to
be effective.
9.
Faculty, administration and staff are meaningfully involved in institutional
planning.
10. Senior leadership communicates openly about important matters.
AREAS FOR IMPROVEMENT
• Resource constraints particularly those regarding staffing
and compensation are pain points for many faculty and
staff.
• Faculty and staff would like to see greater communication
from and with senior leadership, as well as a greater sense
of alignment across senior leadership.
• Both faculty and staff express a need for improved
communications. There is a desire for more transparency
regarding the rationale with which decisions are made
and an interest in greater participation in those decisions
which directly impact their work.
AREAS FOR IMPROVEMENT
• Staff express a desire for additional training, professional
development and career opportunities.
• For many, there are concerns regarding accountability,
especially as related to the consistency of
policies/processes and the inability to deal with low
performers and/or conflict.
Division Actions
Each campus division…
• Reviewed the Survey Results
• Developed Division Action Plans
Division Action Plans are posted:
http://www.csusm.edu/greatcollege/divisions/
The Division Action Plans served to
inform the task force in developing its
list of recommendations.
RECOMMENDATIONS
Communication & Respect
1. Conduct focus groups to better understand and identify
concerns surrounding communication and respect
(transparency, trust, efficient and effective processes, and
living our values) and explore strategies to properly assess
and address those concerns. Incorporate findings into the
strategic plan for each division and link back to the Culture of
Leadership and our university's Mission, Vision, and Values.
RECOMMENDATIONS
Compensation and Benefits
2. Develop a Total Compensation Philosophy for the
university (which includes considerations for appropriate
market medians, internal and external equity, and our
geographical location).
3. Develop a total compensation tool for all employees which
includes salary, benefits and retirement. Provide Industry
benchmarks.
4. Conduct an equity assessment for all employees using
both internal and external benchmarks (along with other
Total Compensation Philosophy provisions), and remedy
inequities identified utilizing various existing mechanisms
such as IRPs, reclassifications, bonuses, etc. (independent of
pending job offers).
RECOMMENDATIONS
Appreciation
5. Conduct focus groups to assess what type of recognition
and awards programs will be meaningful to employees and
utilize the feedback to establish new recognition programs.
6. Develop a mechanism to assess existing recognition
programs and share best practices.
RECOMMENDATIONS
Talent Development & Management
(Performance Management & Professional
Development)
7. Develop leadership training courses for all MPPS (to be
completed within the first 6 months of appointment or
launch of the program). A part of that training should include
a "recognition and rewards" section covering compensation,
in-range salary promotions, reclassifications and bonuses in
order to support the employees they supervise.
8. Develop centrally-funded formal mentorship program(s)
for all employees.
9. Establish a centralized pool for professional development
and encourage the use of the Employee Training Center.
RECOMMENDATIONS
Talent Development & Management
(Performance Management & Professional
Development)
10. Revamp new employee orientation/onboarding program
and expand "buddy" program from the MPP Onboarding
Program to all employees. Ensure formal orientation plans
are in place within each division for new and existing
employees.
11. Identify professional development plan/curricular
pathway for developing leadership skills or expertise for
career advancement.
12. Reassess and compile recommendations to revise the
performance evaluation form(s) and process.
FEEDBACK & NEXT STEPS:
Great College website
• Website survey open until COB 10/9
• Task force will review feedback and rankings to
determine which 3-5 recommendations to
move forward to the Executive Council (Oct.)
• Additional communications/follow up/timeline
• On-going communications plan
QUESTIONS?