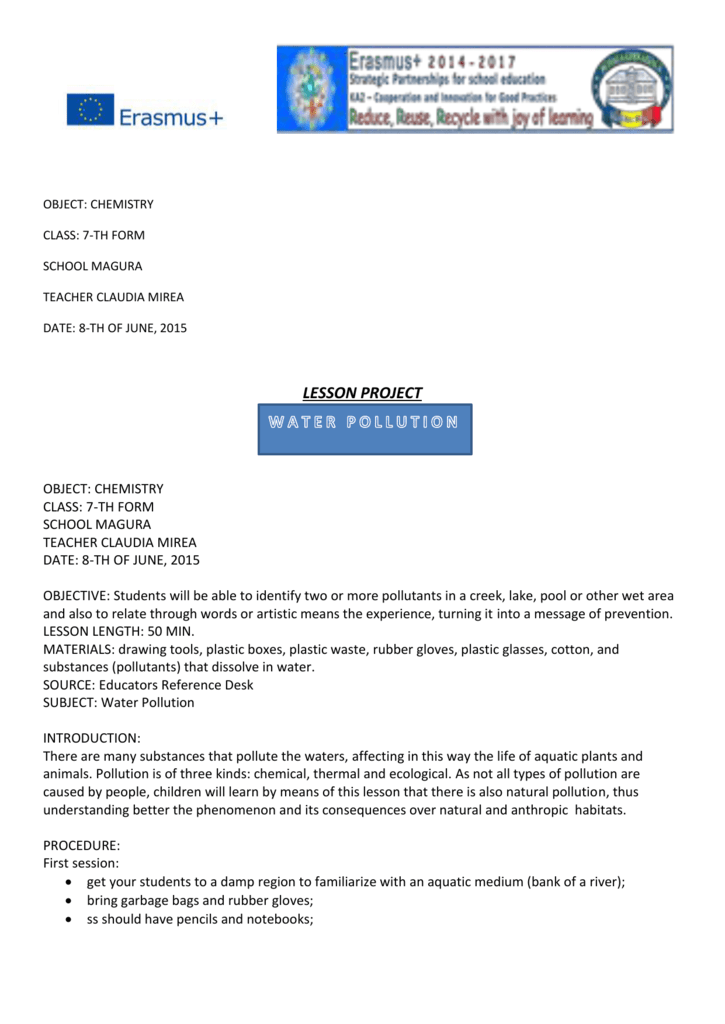 OBJECT: CHEMISTRY
CLASS: 7-TH FORM
SCHOOL MAGURA
TEACHER CLAUDIA MIREA
DATE: 8-TH OF JUNE, 2015
LESSON PROJECT
OBJECT: CHEMISTRY
CLASS: 7-TH FORM
SCHOOL MAGURA
TEACHER CLAUDIA MIREA
DATE: 8-TH OF JUNE, 2015
OBJECTIVE: Students will be able to identify two or more pollutants in a creek, lake, pool or other wet area
and also to relate through words or artistic means the experience, turning it into a message of prevention.
LESSON LENGTH: 50 MIN.
MATERIALS: drawing tools, plastic boxes, plastic waste, rubber gloves, plastic glasses, cotton, and
substances (pollutants) that dissolve in water.
SOURCE: Educators Reference Desk
SUBJECT: Water Pollution
INTRODUCTION:
There are many substances that pollute the waters, affecting in this way the life of aquatic plants and
animals. Pollution is of three kinds: chemical, thermal and ecological. As not all types of pollution are
caused by people, children will learn by means of this lesson that there is also natural pollution, thus
understanding better the phenomenon and its consequences over natural and anthropic habitats.
PROCEDURE:
First session:
 get your students to a damp region to familiarize with an aquatic medium (bank of a river);
 bring garbage bags and rubber gloves;
 ss should have pencils and notebooks;



make up groups of four or three pupils;
each group collects as many polluting sources as possible, while one student draws the sources;
after 5-7 min ss wil meet and share what they've found;
give ss bags and gloves to gather waste and put it into bins;
Second session:
 for five min recap the most important knowledge about pollution;
 discuss various methods by which people can prevent pollution, write them on board, asking ss to
think of a logo;
 every subsequent piece of creation will be joined by the chosen logo;
 have your ss figure out solutions to aforementioned environmental problems;
 make up an exhibition of drawings to stimulate ss avoid polluting;
 explain ss that even clean water contains pollutants;
 warn ss that many types of pollutants cannot be detected by our senses, yet they are very harmful
to our body;
 brainstorm solutions to preserve water safe and clean (5 min).
Assessment:




Whenever you have a chance, go out with ss and clean the area.
Keep an environment diary to reflect the degree of pollution.
Alert the authorities/press if it is necessary.
Make posters to boost awareness of community.