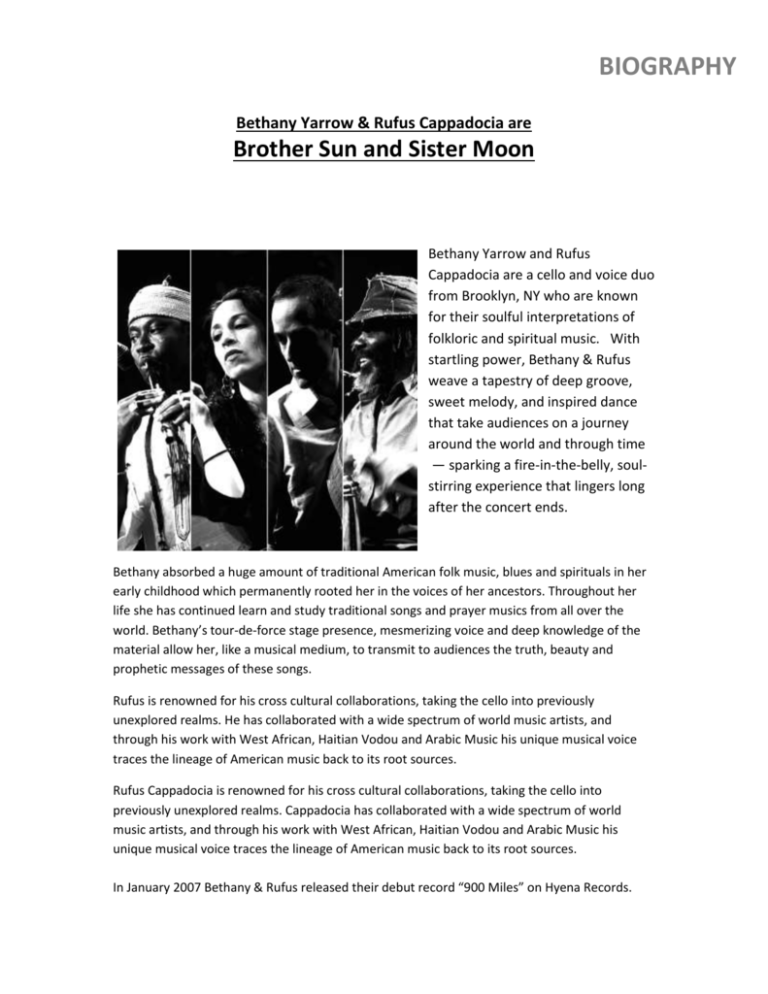 BIOGRAPHY
Bethany Yarrow & Rufus Cappadocia are
Brother Sun and Sister Moon
Bethany Yarrow and Rufus
Cappadocia are a cello and voice duo
from Brooklyn, NY who are known
for their soulful interpretations of
folkloric and spiritual music. With
startling power, Bethany & Rufus
weave a tapestry of deep groove,
sweet melody, and inspired dance
that take audiences on a journey
around the world and through time
— sparking a fire-in-the-belly, soulstirring experience that lingers long
after the concert ends.
Bethany absorbed a huge amount of traditional American folk music, blues and spirituals in her
early childhood which permanently rooted her in the voices of her ancestors. Throughout her
life she has continued learn and study traditional songs and prayer musics from all over the
world. Bethany's tour-de-force stage presence, mesmerizing voice and deep knowledge of the
material allow her, like a musical medium, to transmit to audiences the truth, beauty and
prophetic messages of these songs.
Rufus is renowned for his cross cultural collaborations, taking the cello into previously
unexplored realms. He has collaborated with a wide spectrum of world music artists, and
through his work with West African, Haitian Vodou and Arabic Music his unique musical voice
traces the lineage of American music back to its root sources.
Rufus Cappadocia is renowned for his cross cultural collaborations, taking the cello into
previously unexplored realms. Cappadocia has collaborated with a wide spectrum of world
music artists, and through his work with West African, Haitian Vodou and Arabic Music his
unique musical voice traces the lineage of American music back to its root sources.
In January 2007 Bethany & Rufus released their debut record "900 Miles" on Hyena Records.
The press was universally positive. The UK Guardian called the CD "Intensely musical … a splash
of sunlight between the grey cracks of mediated culture"; others called the disc "incredibly rich"
–Jazz Times; "inventive and haunting" – Buffalo News; "intimate and of great beauty" –
Geotheque; and "...transcendent" –Le Nouvel Observateur. For the duo, it was a great triumph…
not just personally, but for the genre of folk music. "It was so rewarding to get folk music out of
the box of the usual expectation of voice and strummed guitar and turn a whole other kind of
audience on to these old songs.", says Rufus. "It was like putting American folk music back into
the context of the folkloric traditions of the world."
In 2009, after their return from the Festival Daoula in Bamako, Mali, Bethany & Rufus expanded
their group formation to include Yacouba Moumouni (Niger) and Haitian Percussionist 'Bonga'
Jean-Baptiste. The expanded group came into being on the occasion of the 10th anniversary of
their Label Daqui. Yacouba was appearing with his ground breaking group from Niger, Mamar
Kassey, on the same stage as Bethany and Rufus and joined them for one of their songs. The rest
is the kind of magic chemistry that can never be planned.
The following summer the expanded group was invited to perform at Les Nuits Atypiques and
while doing a promotional spot on Radio France for the festival they were invited to perform on
the Live a FIP radio series in March of 2009 that was released as a Live CD September 10 2009 as
a co-production with Radio France and Daqui Records.
It was in the process of rehearsing for the Live a FIP recording that the group really came into
focus. Individually all of the members of the group have been instrumental in expanding the role
of traditional forms in their respective musics: Bethany draws from the many songs that her
father (Peter Yarrow, of Peter, Paul & Mary) collected as part of the seminal folk movement of
the 60s. Yacouba has dug deeply into the folkloric Hausa, Djerma, Peul and Songhai traditions of
Niger and Bonga is the descendant of a very rich lineage of Vodou ceremonial drumming and
song. Bonga has also traveled extensively through Haiti collecting and learning the different
manifestations of Haitian song and folklore. Rufus has literally re-invented the voice and range
of the cello and is noted both for his astonishing collaborations with folkloric artists from around
the world, as well as his improvisation based solo cello repertoire and critically acclaimed CD
Songs for Cello (Daqui Records). It is with this background that all four musicians have come
together to create a sound that, although based around the song forms of American traditional
music, reaches back to a common root that has inspired everyone involved.
Currently just finishing their next studio album "Trouble in The Land," Bethany & Rufus continue
to their global collaborations and music journey. "There's a spirit and history alive inside the
music we're making," says Bethany. "It's like there is something else that is pushing us along –
something that needs to be done and wants to be heard. There is a very beautiful and magical
element of destiny in all this. It is awe inspiring to walk this road of folk music and follow the
voices of your ancestors." She laughs, "It definitely keeps us honest and humble!"
BIO FOR RUFUS CAPPADOCIA:
"I've studied a lot of different musical vocabularies," Rufus Cappadocia explains. "And I've
played with musicians literally from around the world. But, in the end, music all comes down to
a single source. You can be pulled this way or that, but essentially it all converges on the same
location. Every doorway leads back to one place." He pauses before adding with a laugh,
"I guess you could say my whole life has been an attempt at getting to that place." Meet cellist
Rufus Cappadocia, a multi-lingual musician, performer, composer and recording artist
of incredible range and diversity. From the modalities of Middle Eastern, West African and panEuropean folk forms to blues, rock and jazz along the way, adding elements American
roots, Mediterranean textures, and Caribbean percussion for good measure, Cappadocia's
effortless and natural embrace of all music is awe-inspiring.
A native of Hamilton, Ontario, Cappadocia picked up his first cello at the age of three, but to call
him a prodigy is to miss the point. "I've always had a problematic relationship with my
instrument," he muses. "It's been the essential means of expression for me, but the
standard career paths it can lead you down leave a lot to be desired." Cappadocia realized early
on that the strictures of classical music couldn't come close to capturing the soaring sounds he
heard in his head. "The first time I ever heard a walking bass line, something stirred deep
inside. When I heard B.B. King's 'The Thrill Is Gone' for the first time, I actually wept. It was like
suddenly discovering that I hadn't been alone all that time."
Cappadocia moved to Montreal to attend McGill University, where he found the ethnomusicology section in the library, discovering everything from the Pygmy chants of the West
African rain forest to vintage Bulgarian folk recordings. "It was a tremendously productive time,"
he enthuses. "I was learning Hendrix and Coltrane riffs note-for-note. I got deeply in
the city's progressive jazz scene and developed and built a solid-body five string electric cello, so
I could hold my own with other electric instruments. Eventually I'd hook it up to a battery
powered amp and play on the streets and in the subway stations."
Leaving school, Cappadocia relocated to Europe, where his busking landed him in Southern
France and, eventually, Spain, where he was first exposed to the mix of Romish and Arabic
influences that reached their apotheosis in Flamenco. "I used it all," he says. "The slapping
techniques on the guitar; the way the dance steps carried the rhythms. It was all part of a search
for something, even if I didn't know exactly what I was looking for."
That search would subsequently lead him to New York where he set up a more or less
permanent base, intent, in his words, "on playing with as many different musicians as I could. If
my travels had taught me anything, it was the value of playing with other artists." In short order
Cappadocia joined the multi-faceted jazz ensemble, The Paradox Trio, though the nomadic artist
was embraced by virtually every artist and musical community he sought out, including such
widely assorted musicians as Celtic pioneer Seamus Eagan and master Haitian drummer
"Bonga" Jean-Baptiste with the Vodou Drums of Haiti; musical polymath Ross Daly, who was
instrumental in introducing Cappadocia to Middle Eastern and Balkan music; Vishal Vaid, a
virtuoso Indian Ghazal vocalist and guitarist David Fiuczynski, with whom he formed the Eastern
Modal fusion group, Kif.
Add to this list such marquee names as Aretha Franklin, Odetta, Cheick Tidiane Seck, and Vernon
Reid, former guitarist of Living Color – all of whom Cappadocia has worked with – and his
reputation as a world-class artist with a world-spanning musical reach makes perfect sense.
And, like that list, it's a reputation that continues to grow as the cellist forges new alliances in
the most unlikely musical domains.
Which, in the final analysis, is the whole point. "I look back on everything I've been doing for the
last twenty years," Cappadocia concludes, "and can see the way it's all linked and how it circles
back to the beginning. With Songs For Cello, I've returned to solo performance again. It's all live,
with an emphasis on the intuitive. Those are the things I've learned how to do through all
my explorations and collaborations. Even as I've incorporated these experiences, it brings me
back to the basics and it's the same with the music. Eastern modal traditions; Hendrix riffs; the
blues and folk music; it's all one source that you keep tapping into in different ways."
It's a lifelong quest that had made Rufus Cappadocia a master of music's universal language, in
all its astounding diversity.
Cappadocia plays a five-string cello and an eight-string quartertone guitar, both of his own
design. He performs regularly with the Bethany and Rufus Roots Quartet (USA / Niger / Haiti),
Bonga Jean-Baptiste's Vodou Drums of Haiti (Haiti), Peter Bethany & Rufus (USA) Ilham featuring
Gaida Hinawi (Syria), Vishal Vaid Ghazal Ensemble (India), Paradox Trio (USA / Macedonia) and
Stellamara (USA) as well as his Unacompanied Solo Performances.
BIO FOR BETHANY YARROW:
Every now and then, an artist comes along who defies one's ability to classify them as they
transcend labels, genres, and expectations. Bethany Yarrow is the epitome of such an artist as
she mesmerizes music lovers across the board. With a powerful voice full of soul and
emotion, she reaches straight into the heart of the listener taking them on a journey across
time, continents, and cultures. "Folk music is like a train that you get on," says Bethany. "If you
let it, it will take you on the most amazing ride… . It is traditional music that roots me -- but that
doesn't mean that I have to stay in one place. It means that I can explore and incorporate the
other musics of the world without losing sight of where I come from…
Bethany is best known as one half of the dynamic duo Bethany & Rufus that she formed with
ground breaking cellist Rufus Cappadocia. "In 1999 I heard Rufus playing with the Paradox Trio
at The Knitting Factory in NYC," recounts Bethany. "I thought he was an amazing musician and I
needed a bass player for a gig. He told me that I should hire him, so I did. Eventually, we started
experimenting as just a duo. His groove is incredible and the combination of the 5 string cello
and voice was so simple, real and beautiful that we started to just focus on that. Now it's 15
years later and we are still experimenting," she adds with a laugh.
As the daughter of the folk icon (Peter Yarrow of Peter, Paul & Mary), Bethany grew up
surrounded not only by folk music, but also deeply influenced by her father's belief in music as a
way of bringing people together -- of reaching into their hearts and dissolving prejudices
to create a common humanity. Some of her earliest childhood memories are of marches and
rallies... of people singing together in an open hearted way that is unusual in today's world.
"I now realize how formative that was for me," says Bethany, who continues to be a passionate
activist especially around issues of climate justice, and the honor the earth movement. "These
songs remind me where I come from and, like a compass encoded into my DNA, show me the
way forward. Once I had that root experience of music in my own culture then I began to
experience the musical spirit messenger inside of root traditions from other cultures in Africa,
the Carribean, Brazil, as well as Native American music. Now it sometimes feels like it is all
one song, one long woven braid of musical memory."
Yarrow also made a documentary film in South Africa about the women in the townships
outside of Cape Town during apartheid. "Mama Awethu!," was an award-winning film which
aired nationally on PBS and won numerous awards at film festivals around the world including
the Sundance, Berlin, Human Rights Watch, and Bombay Film Festivals.
Although Bethany put film making aside many years ago, she recently revisited to her cinematic
roots to help with the filming of the feature documentary "The Grandmothers Speak: For the
Next 7 Generations" a film about the Council of the 13 Indigenous Grandmothers (for which she
and Rufus also contributed to the film score).
"That was such an important film for me to help make", says Bethany. "All the prophecies say
that it is time for the grandmother's to speak and for ancient wisdom to show us the way
forward. In the same way, I am listening to the wisdom inside of our own folkloric musical
legacy. These are the songs that changed a Nation many times over. They will always be there
for us when we need them again. I am just keeping the flame lit, my lamp trimmed and burning,
as the Reverend Gary Davis would say..."
BIO FOR YACOUBA MOUMOUNI:
Yacouba Moumouni is a singer and flautist, leader of the jazz-ethnic band from Niger, Mamar
Kassey. Moumouni is probably the best known Nigerien musician outside the country, and is
much beloved in his home country.
Born in 1966 in a small sahel town some 125 miles from Niamey, Moumouni (born: Yacouba
Moumouni Alzouna) herded cattle with his family until his father died when he when he was 10.
Falling out with his brother, he ran away to the capital, where he lived on the street for two
years until his talent attracted the attention of a music teacher, and he was taken on as an
apprentice. Mastering the traditional flute, he joined the Ballet National of Niger and then
formed Mamar Kassey, an eight man group featuring Moumouni and guitarist
Abdallah Alhassane. Together they have toured West Africa, Europe, and the United States, and
have become the most popular musical group in Niger.
With his melodic Fulani flute playing and soft-spoken vocals in the Songhai or Peul language,
Moumouni has helped to preserve the musical traditions of Niger. He had his first break after
meeting vocalist Absatou Dante, the sister of Dante Alhassane , the director Ballet National du
Niger, in 1979. For the next seven years, Dante exposed him to the musical traditions of Niger
and taught him the intricacies of Nigerian flute playing. After playing with Harouna Marounfa's
band, in 1986 Yacouba accepted an invitation to join traditional band Zongo. Together with
the group, he toured and performed in Korea, Libya, Algeria, and West Africa.
Transferring to Orchestre Takeda, the house band at the musical academy Centre de Formation
et de Promotion Musicale (CFPM), in 1990, Yacouba was mentored by the group's director and
lead guitarist, Abdoulaye Alhassane. He remained with the band for five years. Together with
other CFPM musicians, including Ahlassane, Yacouba formed Mamar Kassey in 1995. The band's
debut album, Alatoumi, released in 1999 on the French Daqui label, was followed by DenkeDenke.
BIO FOR BONGA JEAN BAPTISTE:
Gaston Jean-Baptiste, known as "Bonga", is a musical virtuoso who has been performing and
studying traditional Haitian drum, dance and song since the age of seven. He began playing
drums in his family's peristil in his hometown of Croix-des-Mission in La Plaine, an area of Haiti
known for culture and history.
Bonga is regarded as a master of the Afro Haitian drum, sought-after for his extensive repertoire
of pan-African rhythms. A dynamic performer, accompanist, session player and educator, Bonga
works on stage, in the recording studio, and in educational settings. He is one of the few
drum experts and craftsmen outside of Haiti who continues to build traditional drums using
techniques that are centuries old.
As a core member of the seminal Haitian roots bands, Boukman Eksperyans and Foulà, Bonga
was invited to the U.S. in the '90s when musicians were becoming a strong voice for the Haitian
people. Since then, Bonga has continued to play solo and in ensemble and at numerous
worldwide venues. He is a featured performer with Peter Yarrow, Grace Jones, Dan Zanes and
Urban Tap, to mention a few. His drums opened the NY premiere of the Rolling Stones "Voodoo
Lounge" tour and he is prominently featured on recordings by Wyclef Jean and Salif Keita.