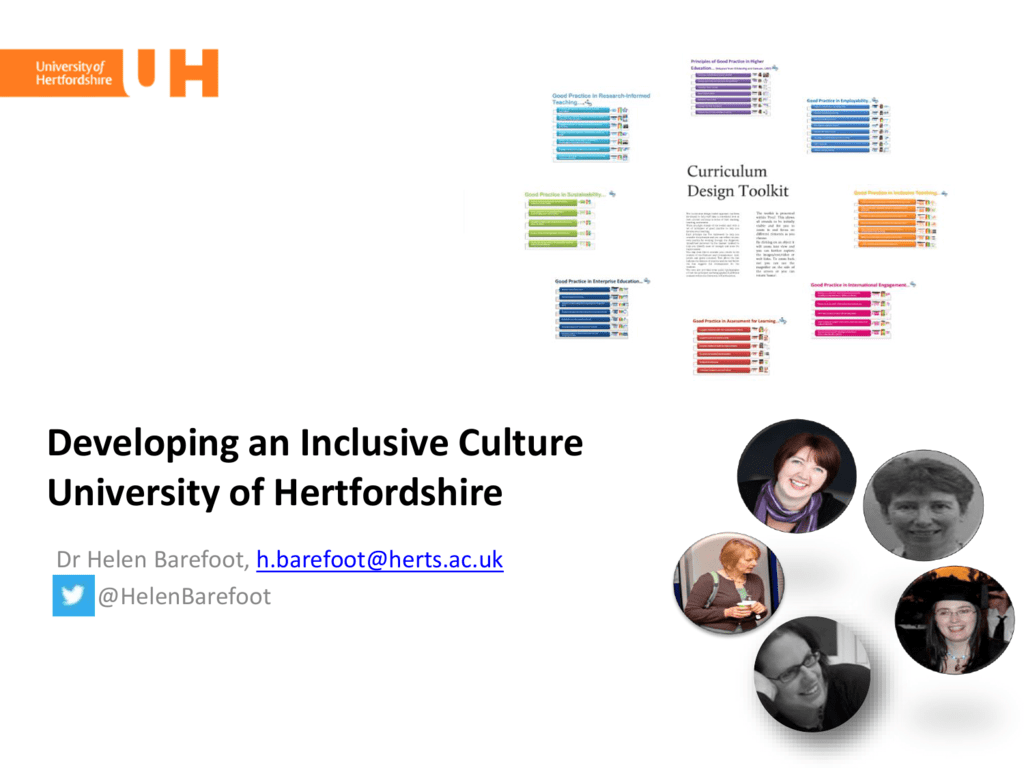 Developing an Inclusive Culture
University of Hertfordshire
Dr Helen Barefoot, [email protected]
@HelenBarefoot
Introduction
•
•
•
•
•
•
•
•
Developing an inclusive culture
The Curriculum Design Toolkit
Developing the Inclusive Teaching strand
User opinions
Case Study
Communication
University of Hertfordshire Graduate Attributes
Conclusions
What is inclusive teaching?
Inclusive teaching in higher education refers,
to the ways in which pedagogy, curricula and
assessment are designed and delivered to
engage students in learning that is meaningful,
relevant and accessible to all. It embraces a view
of the individual and individual difference as the
source of diversity that can enrich the lives and
learning of others. (Hockings, 2010)
Developing an Inclusive Culture
project
Inclusive
teaching strand
of curriculum
design toolkit
Case studies
Communication
(eg. social
media/activities)
Curriculum Design Toolkit
Principles and questions
Diagnostics
Features and consequences
Hints, tips and quick ideas
Case studies
Inclusive Teaching
The Toolkit Approach
• Principles and questions
– Research informed principle statement with subsidiary questions that
a tutor can ask of their curricula
• Diagnostics
– Excel spreadsheet to allow completion of the questions driving the
principles in a simple, easy to use format
• Features and consequences
– Descriptors of what the curricula might look like if there is limited /
some / lots of the feature within the principle
– Colour coded for quick use, but to be considered in context of all other
teaching
• Hints, tips and quick ideas
• Case studies
Developing the toolkit with staff and
students
Toolkit Development
http://tinyurl.com/7gmmmnu
Activity
Considering the Principles for Good Practice in Inclusive Teaching,
identify something within your own work that meets a principle and
share this with the person next to you.
Evaluating the experience of using the
inclusivity toolkit
I had not considered
religious holidays or
observance periods in my
curriculum … I have looked
up Ramadan dates for 2013
(9th July – 7th August) and
find that this falls within the
current semester … I will be
more aware that some
students might be tired or
find concentration difficult
during periods of fasting
I have not included any group work in my current
curriculum but am considering doing so. Small
cross-cultural groups could help to enhance
students understanding of diverse backgrounds
and engender respect.
I had little knowledge of performance and feedback
data, let alone how I could make use of it. Moreover, I
gained an increased awareness of the 'Hidden
Curriculum' and its potential effects on BME
students… As part of my Sociology module we now
engage in active discussion on social issues regarding
race, ethnicity, gender, disability in relation to sport
along with the ideas of Bourdieu's 'cultural capital'.
To particularly support International students; prior to the course I will publish a
glossary of terms on Studynet and include these in the initial tutorial quiz. I will
encourage students to collaborate, adding terms throughout the course.
Evaluating the experience of using the
inclusivity strand of the toolkit
I have learned a great deal from the
students sharing their perspectives.
I enjoy working with students from
varied backgrounds and
exchanging information about their
experiences and knowledge of their
countries
I will alternately
allow self-selection
and allocated
groups, asking my
module team to do
the same
Language difficulties experienced by international students
particularly concern me. 'Wordy' exam questions can be
difficult to read and digest under time pressure. When I
have written the exam paper I will consult with colleagues
to identify potential problems and pre-empt this issue.
Cookery practical
sessions are inclusive
to all diverse
groups i.e. using case
studies which include
patients of different
ages, genders,
religious / cultural
beliefs, multicultural
and social economic
backgrounds and
physical/psychological
/ mental abilities.
The Curriculum Design Toolkit is an excellent source to improve one's own individual practice.
Even as a newcomer to academia and given my limited role in curriculum design, it has
allowed me to reflect critically on my own practice identifying many strengths and
weaknesses
Building understanding of the BME
attainment gap to inform the Equality
Objectives
Staff and student demographics
Staff ethnicity
Student ethnicity
BME
White
BME
White
Unknown/
refused
Unknown/ref
used
Student Challenges
Inclusive environment
I manage the
learning environment
to enable all students
to participate fully.
I use group activities
to facilitate students'
understanding of
how working with
people of diverse
backgrounds
enriches their own
learning.
Provides
environments
for effective
learning for
all
I structure my
teaching activities to
enable all students to
share their values and
beliefs within a
culture of mutual
respect and dignity for
all.
Facilitating Group Work
o Students often enter a tutorial
room which is set up in lines and
arrange themselves in friendship
groups of like people
Tutor's desk
o And if the room is set up
for group work students
will usually sit with their
friends
Tutor's desk
Inclusive group work
4
3
4
3
5
2
1
1
4
1
5
2
2
2
3
5
3
1
2
1
3
5
4
4
5
5
4
3
1
2
Tutor's desk
•Set first task in pairs e.g. checking understanding of previous
seminars
•Set next task in 3s and give people roles in the group
Observations and Outcomes
 High levels of interactivity: the most
vibrant of classes taught;
 Pace of learning increased: students
more productive outside their
friendship groups;
 Expectations raised - impact on
attitude and performance?
 Very positive relationship between
students and tutor;
 Students began to relate to each
other differently and take notice of
previously 'overlooked' individuals;
 Average individual coursework
result 55% Cohort average 49%.
" The structure of the
tutorial is good because
we are allocated to
different groups each
week, and it allows us to
mix in with different
people with different
backgrounds and ideas."
BME Success Project at UH
Conference
Top Tips to support BME student
success
• Learn student names
• Invite participation from all
students
• Manage student groups to move
students beyond friendship groups
• Assess your own racial or cultural
biases
• Consider opportunities for
students to be inspired by BME
role models (e.g. guest lecturers,
video clips or interviews)
• Whenever possible, use
anonymous marking
Recent data
Communication
Communication
Communication
Theo Gilbert :
Compassion-focussed
pedagogy for small group
seminar discussions
Communication
Communications
#BMESuccess
How do you communicate an inclusive
culture?
University of Hertfordshire
Graduate Attributes
•
•
•
•
•
Professionalism, employability and enterprise
Learning and research skills
Intellectual depth, breadth and adaptability
Respect for other
Social responsibility
Graduate Attributes
• Respect for others The University promotes selfawareness, empathy, cultural awareness and
mutual respect. Our graduates will have respect for
themselves and others and will be courteous,
inclusive and able to work in a wide range of cultural
settings.
• Social responsibility The University promotes the
values of ethical behaviour, sustainability and
personal contribution. Our graduates will
understand how their actions can enhance the
wellbeing of others and will be equipped to make a
valuable contribution to society.
What did our project do?
The University embraced the challenge of
improving the culture and celebrating diversity
and the project enabled us to inform the
University's equality objectives.
NSS comments
The international
student society is large
and I meet and help new
international students
like myself
It is a very conducive
environment for learning and is a
good mix of people from all walks
of life
… due to the university being
very ethnically diverse it is a
great to make new friends
from different countries and
cultural backgrounds…
Group work where you
socialize with people in your
courses, over three years you
really bond and help each
other out
Equality characteristics – more work
to do
October 2010 : Employment / Education (Further & Higher)
Protected characteristics
• Age
• Disability
• Gender assignment
• Marriage/civil partnership
• Pregnancy/maternity
• Race (including caste)
• Religion or belief or not
• Sex
• Sexual orientation
NSS comments
I do not feel socially comfortable when I
am in a class, I am always afraid of
participating, afraid of being laughed at
(this happens mostly from local students).
A more friendly and social form of lecture,
would give the aid peoples confidence,
creativity and communication skills more.
The 'school like' layout of desks and facing
towards a board does not provide an
adequate setting for our creative and ever
evolving course.
I do not enjoy
student 'culture'
and often feel
lonely.
Social integration of students
is very poor
Course group not 'gelling'
well, an obvious cultural
divide.
Useful resources
•
University of Hertfordshire Curriculum Design Toolkit Inclusive Culture project work
•
Guidance on teaching in racially diverse classrooms on Harvard's website (The Derek Bok
Centre for Teaching and Learning): TEACHING IN RACIALLY DIVERSE COLLEGE
CLASSROOMS
•
Guidance on many aspects associated with inclusive teaching from Sheffield University's
Centre for Excellence in Inclusive Teaching (including case studies plus hints and tips)
http://www.shef.ac.uk/lets/projects/inclusivelandt
•
The Open University's guidance on Inclusive teaching
http://www.open.ac.uk/inclusiveteaching/index.php
•
The Higher Education Academy's weblinks to Inclusive Teaching
http://www.heacademy.ac.uk/resources/detail/subjects/psychology/Teaching_practice_i
ssues_Accessibility_and_Inclusive_Practice
Useful references
•
Aguirre, A Jr and Martinez, R (2002) Leadership Practice and Diversity in Higher Education:
Transitional and Transformational Frameworks. The Journal of Leadership Studies 8(3): 5362
•
Baez, B (2000) Diversity and it's Contradictions. Academe 86: 43-47
•
Bourke, B. (2010) Experiences of black students in multiple cultural spaces at a
predominantly white institution, in Journal of Diversity in Higher Education, vol.3, no.2,
pp.126-136
•
Ellis, S.J. (2009) Diversity and inclusivity at university: a survey of the experiences of
lesbian, gay, bisexual and trans (LGBT) students in the UK, in Higher Education, vol.57,
no.6, pp.723-739
•
Hockings, C. (2010) Inclusive learning and teaching in higher education: a synthesis of
research. Evidence Net. Higher Education Academy. Accessed via
www.heacademy.ac.uk/evidencenet Dec 2013
•
Holloway, S. (2001) The experiences of higher education from the perspective of disabled
students, in Disability and Society, vol.16, no.4, pp.597-615
•
May, H (2010) Towards an Inclusive Culture: Engaging Students in Institutional
Enhancement. Presentation accessed via www.heacademy.ac.uk Dec 2010
•
May, H and Bridger, K (2010) Developing and embedding inclusive policy and practice in
higher education. York: Higher Education Academy.