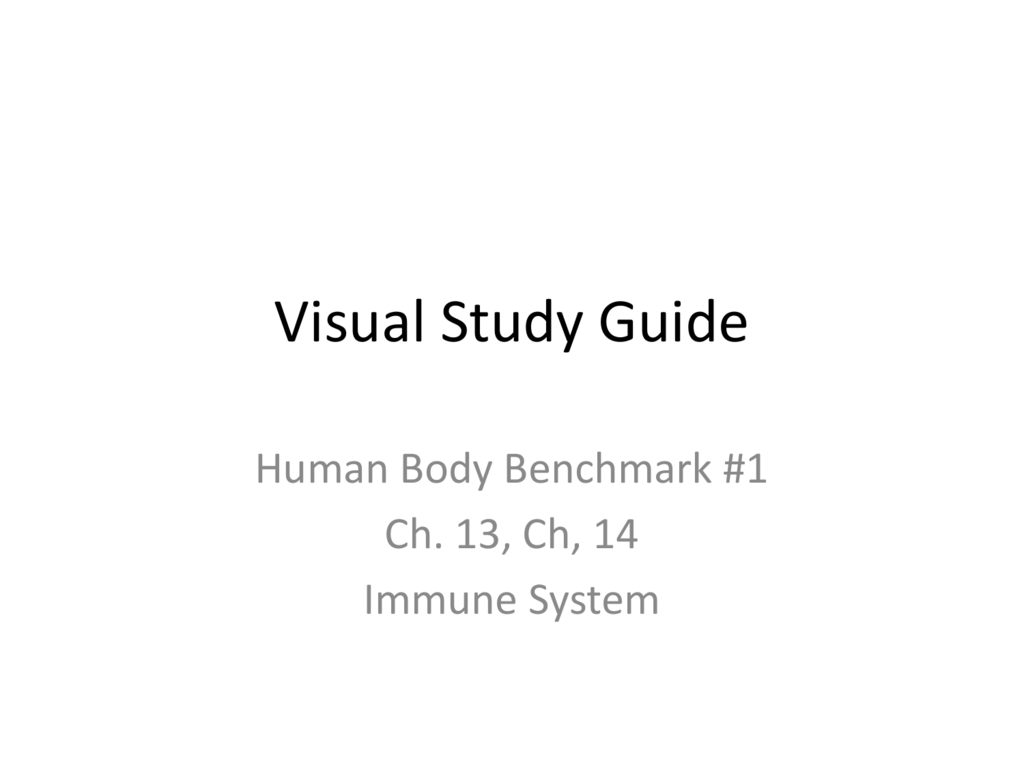 Visual Study Guide
Human Body Benchmark #1
Ch. 13, Ch, 14
Immune System
Name the Organ System~
Cell* Tissue*Organ
Cell *Tissue *Organ
Which System? What Organs?
Homeostasis
• Describe situations
when the body must
rely on homeostasis.
• What are signals the
body gives you when
you have not
maintained
homeostasis?
3 types of Muscle Tissue
Involuntary
Voluntary
Movable Body Joints
Name 4 types of Joints
Demonstrate their actions
• Explain how the joints
move.
• What are the differences
between them?
Muscular System
How do muscles work?
Levers in the body
Identify the class of each lever
And explain how you know
Demonstrate lever actions in the
body and explain the lever system
CIRCULATORY SYSTEM
On a diagram of the Heart:
Oxygen? Carbon dioxide? Blood?
• Identify the right and left
sides of the heart
• Know the name and
function of each of the 4
chambers
• Identify the septum, valves,
and aorta and describe their
functions
• Describe the two loop
system blood takes through
the body
Circulatory System: Blood Pressure
What is it? What causes it?
How do we measure it?
Respiratory System
Crash Course Video
• http://www.youtube.com/w
atch?v=9fxm85Fy4sQ
• Watch this 11 minute video
that gives you information
about both the respiratory
system and the circulatory
system.
*Explain the process of gas exchange.
*Describe functions of Respiratory
System.
*Describe the differences between
breathing and respiration.
Immune System
Which specialized white blood cells
does the system depend on?
• Describe the role of the TCell.
• Describe the role of the BCell.
• How does HIV disrupt the
immune system? What
specialized cell does it
target in the body and why
is that a bad thing?