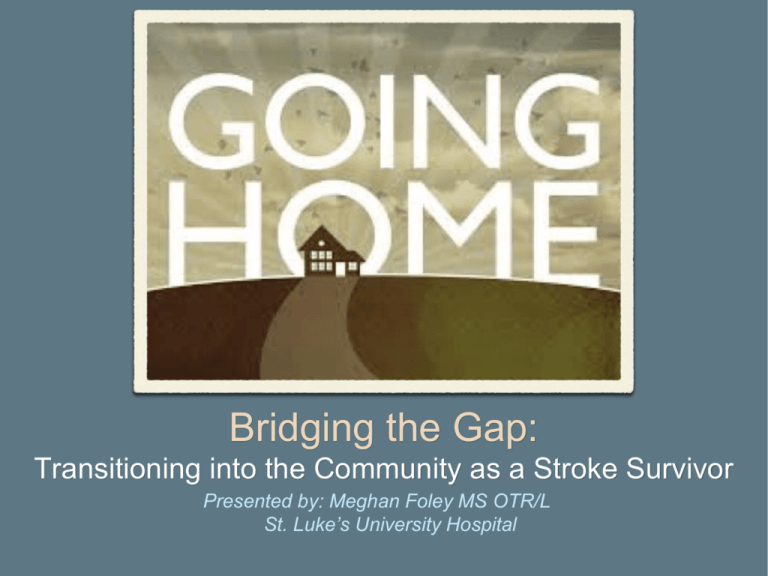 Bridging the Gap:
Transitioning into the Community as a Stroke Survivor
Presented by: Meghan Foley MS OTR/L
St. Luke's University Hospital
Objectives
All clinicians will be able to identify community
resources that are appropriate for patients based
upon their co-morbidities, secondary diagnoses and
deficits.
Understand the different types of community
resources and identify at least four of these resources
that will allow patients to age in place.
Identify at least two benefits for returning home
with community resources
Statistics
Stroke is the leading cause of long term disability in the United
States
25% recover with minor impairments
40% experience moderate to severe impairments that require
special
care
10% require care in a nursing home or other long-term facility
Approximately 14% of stroke survivors experience a second stroke
in
the first year following a stroke (Statistics, 2014).
Citation
Citation
Lifeline Medical Alert
"One out of three older adults (those aged 65 or older) falls
each year" (cdc.gov)
Lifeline offers a way for older individuals to SAFELY age in
place
Website provides Ebooks, Ebrochures
Lifeline Medical Alert
Home Safe
Standard
Home Safe Alert
Go Safe
Response App
Features and
Benefits
Help at the press of a button
in and around your home
Maximum protection in and
around your home
Maximum protection at home
and on the go
Convenience for
smartphone users
Where it Works
In and around your home
In and around home
Anywhere with AT&T service
Anywhere with
smartphone
What is Included
 Pendant
 24/7 Access response
center
 Communicator Unit
 Pendant
 24/7 Access response
center
 Communicator Unit
• Mobile Button Pendant
 24/7 Access response center
 Communicator Unit
Automatic
detection of falls
No
Yes
Yes
No
Location
Capabilities
Home Location on file
Home Location on file
6 locations
Phone's GPS
$44.95/month
One time button purchase of
$149.00
$54.95/month
$13.95/month
Pricing
$29.95/month
 Application
 24/7 Access
response center
Neuro-Ophthalmology
"Approximately 30% of all stroke patients have visual impairment" (Marek & Antle).
Neuro- Ophthalmologists provide treatment and diagnosis for individuals who experience the
following due to brain or nervous system disorders:
• Abnormal eye movements (ophthalmoparesis or nystagmus)
•
•
•
•
•
•
•
•
•
•
•
•
Visual Loss Diplopia
Eye movement disorders
Visual acuity loss
Visual Field loss
Intracranial lesions affecting the visual pathway
Ischemic optic neuropathy
Migraine and related visual complaints
Optic disc swelling
Optic neuritis
Other optic nerve problems
Pupillary abnormalities
Unexplained vision loss
Penn State Hershey Eye Center
William A. Cantore, M.D.
Phone: 717-531-5690 or 800-292-3332
Penn Neuro-Ophthalmology
Dr. Liu at HUP call 215-662-3606
Dr Shindler or Dr. Tamhanker at Scheie Eye Institute
call 215-662-8100
*for general appointments call 1800-635-7780
patients seen within two weeks
Support Groups
Stroke Club: held every 2nd Monday of the month at St.
Luke's Bethlehem Campus on CW 4th floor in the rehabilitation
gym 3:30-4:30pm. For more information call: 484-526-1991
Caregiver Support Group: 3rd Saturday of each month at
11:00am in the Comfort Zone at St Luke's Warren Campus.
For more information call: 908-859-6722
Depression Support Group: 2nd and 4th Tuesday every
month at 5:30-6:45pm in Priscilla Payne Hurd Education
Center Rm 112 at St Luke's Bethlehem Campus
"Nearly 30% of stroke patients develop depression, either in the
early or in the late stages after stroke" (Paolucci).
Tobacco Cessation Programs
St Luke's Tobacco Program
Mercy Suburban Program
- Personalized Quit Plan
- Follow Up Telephone Counseling
- Nicotine replacement therapy
- Ways to cope with stress and nicotine cravings
- Techniques to use to help prevent relapse
Philadelphia, PA
St. Luke's Community Health
1530 8th Avenue Suite 102
Bethlehem, PA 18018
484-526-2100
Monday - Friday
St. Luke's Care Now - Jim Thorpe
1104 North St.
Jim Thorpe, PA 18229
484-526-212
Tuesday Mornings
Nesquehoning Family Health Center
108 West Catawissa St.
Nesquehoning, PA 18240
484-526-2120
Tuesday afternoon
St. Luke's Family Health Center
1501 Lehigh Street
Allentown, PA 18103
Thursdays
- Seven session program
1)
2)
3)
4)
5)
6)
7)
Understanding addiction
Behavior change strategies
FDA medication options
Coping with urges
Stress
Healthy Lifestyle choices
Relapse prevention
* Registration Required: Call 610-270-8390
"The risk of ischemic stroke in current smokers is
about double that of nonsmokers after adjustment
for other risk factors" (Marek & Antle).
Seniors Helping Seniors
A unique program where seniors provide services to other
seniors in their community
2 – 3 hour weekly check-in
Services: companionship, light housekeeping, cooking,
gardening, grooming/dressing, transportation, medication set
up, Alzheimer's and Dementia care, shopping, and overnight
stays
Locations
Seniors Helping Seniors Lehigh Valley
Phone: 610-253-3232
Seniors Helping Seniors Luzerne County
Phone: 570-472-0200
Seniors Helping Seniors Western Montgomery and Upper
Bucks County
Phone: 610-334-4276
Adult Day Programs
Sarah Care Day Program
Day program
Provide transportation to and from the
day program
Evaluated quarterly by the director of
nursing for a change in daily
functioning
Restorative nursing program available
Other Adult Day Centers
YMCA Bethlehem
Monday-Friday 8:00am-5:00pm
Adult 60+ years old
Must arrange their own
transportation
Crafts, pet therapy, music
therapy
Location
3893 Adler Place
Building B suite 180
Bethlehem, PA 18017
Care Institute of Technology Easton, Pa 610-258-2857
AMS Caregivers Emmaus, Pa 610-966-7033
Third Street Alliance: Easton, Pa 610-258-6271
Palmerton Hospital: Palmerton, Pa 610-826-1162
Lifespan Adult Day Center: Quakertown, Pa 215-536-6016
Westminster Village: Bethlehem, Pa 610-867-4660
The Comfort Zone @ Warren Hospital Phillipsburg, NJ 908-859-6797
Transport Services
LantaVan
Shared ride transportation
program that services
Lehigh and Northampton
counties
Door-to-door service
Angel Flight
Free air transportation for
children and adults with medical
conditions who need to get to
treatment far from home
65+ pay 15% of fare
If have Medical Access card
eligible for MA reimbursable
services
Mon-Sat 5:30am-7pm and
Sun 7am-7pm
For more information call:
610-253-8333
Must be medically stable and
able to board an aircraft
For more information visit:
http://www.angelflighteast.org or
call 610-940-1717
Adaptive Driving
Good Shepherd Adaptive Driving Program
- To qualify for the program individuals must be seizure free for 6 months, have state required
vision quality, and be medically stable
- A team of therapists, certified driver rehabilitation specialist and assistive technology
professionals work with individuals who are older to obtain and maintain their drivers
license
1) Clinical Assessment
2) Behind the Wheel
3) Van Evaluations
4) Transportation Evaluations
5) Training
6) Educations
* Report sent to your physician, workman's compensation, prescription for adaptive
driving
Robert & Marian Edwards Center Good Shepherd Center
850 South 5th St.
Allentown, PA 18103
Phone: 1-888-44-REHAB (73422)
Mobility Works
- Provides vehicle adaptations such as hand controls, wheelchair lifts, and transfer seat
* Mechanical Hand Controls, Spinner Knobs, Electronic Hand Controls
Location: 6475 Ruch Rd Bethlehem, PA 18017
Website: http://www.mobilityworks.com/mechanical-hand-controls.php
Driving Assessments
AAA Senior Driving
• Self Rating Tool: 15 questions self evaluation driving assessment to examine
driving performance
• Interactive Driving Evaluation: Online access, to Roadwise Review exercises in
the privacy of your home to see if visual, mental and physical conditions affect your
driving skills and driving abilities.
* FREE , CONFIDENTIAL self-evaluation based on both accuracy and speed of
responses
Website: http://www.roadwiseonline.org/#GSMMSplash3
• Professional Assessment: is organized into two categories:
1) Driving Skills Evaluation: in-car evaluation of your driving abilities
and a recommendation regarding any further specialized drivers' training
2) Clinical Driving Assessment: identify underlying medical causes of any
driving performance deficits and offer ways to address them
*Cost is approximately $100 to $200. Additional training sessions $75150/hr
*Contact your local AAA office for more information
Medication Management
Approximately 30 percent of hospital admissions of older adults are drug related, with more than 11 percent
attributed to medication nonadherence and 10–17 percent related to adverse drug reactions (ADRs) (Marek &
Antle).
Pill Organizer Boxes- Weekly set up of medications
Several types of organizers (AM/PM, morning, noon, night, bedtime)
Talking Pill Boxes: visually impaired
Large print prescription bottles- visually impaired
Simply label pill boxes
Set alarms as reminder to take medications
Automatic Refill of Medications
In a study of elderly patients at 15 days post hospitalization, 27 percent had not filled their new prescriptions.
Patients who participated in programs that provided pharmacy delivery and refill reminders had fewer adverse
drug events and higher compliance than those who did not. (Marek & Antle).
CVS Ready Fill
- Create an account online or in store
- Automatic Refill of medications
- When medication runs out, CVS calls the doctor for a refill prescription
**Offer medication delivery
Wallgreens Pharmacy
- Automatic Refills
- Free Shipping or Pick Up in the store
Medication Assistance
Programs voluntarily developed by manufacturers
Financial assistance eligibility determined by each company
Many require a prescription
Private insurance, Medicaid or Medicare may disqualify individuals from this program
Requirements for medication assistance programs:
PACE: Income for single: $14,500 or less for married couple $17,700 or less
PACENET: income for single $14,500-$23,500 for married couple $17,700-$31,500
- Must be 65 years and older
- PA resident for 90 days
Copies of the full directory of participating companies may be obtained by writing to:
Pharmaceutical Manufacturer's Association
1100 15th Street NW
Washington, DC 20005
OR
Email State Representative Steve Samuelson at: ssmauels@pahouse.net
Mobility and Transfers
Beasy Board
Lift Chair
Transfer Board
Hoyer Lift
Sit to Stand
Transfer Disc
Stair Glide
Ramp Companies
Amramp
Northeast Accessibility
- Specializes in modular steel
wheelchair ramps, stair lifts, vertical
platform lifts, free-standing lifts, pool
lifts, and portable showers
- Specializes in entrance ramps, stair
lift and wheelchair lift installations,
bathroom modifications, ceiling lifts,
and electric scooters
- Option to rent ramps
- Free on site consultation
-Portable ramps are ideal for
thresholds or as vehicle ramps
- 48 hour set up
- Also offer home safety evaluations
Contact: 1-888-715-7598
http://www.amramp.com
Contact: 570-253-7700
http://www.northeastaccessibility.com
Portable
Shower
Types of Ramps
Ceiling
Lifts
Portable
Ramps
Vertical
Wheelchair
Ramp
Portable
Car
Ramp
Good Shepherd Wheelchair Clinic
• Third Friday of each month 8am-12pm
• Free service which offers wheelchair repairs: tightening, adjustment or
evaluations for needed repairs
• No appointments necessary
Location:
Harry C. Trexler Center for Assistive Technology, Good Shepherd
Health & Technology Center, 850 S. Fifth Street, Allentown
Sip and Puff
Tilt and Space
Stand up wheelchair
Good Shepherd Seating and
Positioning Clinic
RJ Foundation Mobility Center
Seating/Positioning completed by therapy staff
Evaluation includes: MMT, ROM, coordination, strength, and sensation. Balance transfers and am
Computerized pressure mapping to identify appropriate pressure relief system (cushions)
Not vendor specific
The primary doctor is given the results of the assessment
Various wheelchairs and seating systems are available to trial to determine the best seating system:
Location:
Harry C. Trexler Center for Assistive Technology
Good Shepherd Health & Technology Center
Good Shepherd Plaza
850 South 5th St.
Allentown, PA 18103
Contact:
Phone: 610-776-3517
Bathing and Toileting
Bath Lifts
Shower Chair
Drop Arm Commode
Toilet Tongs
Grab Bars
Shower Mat
Raised Toilet Seat
Toilet Aid
Dressing and Grooming
TED donner
Sock Aid
Dressing Stick
Toothpaste Holder
Button Hook
Reacher
Long Handled Comb
Elastic Shoelaces
Eating and Cooking
Universal Cuff
Built Up/Angled Utensils
Can Opener
Cutting Board
Nosey Cup
Pot Stabilizer Scoop Dish
Meals On Wheels
•
•
•
•
•
•
•
Sliding Scale payment based on income
Meals Monday-Friday
Weekend package available
Grocery shopping service available
Frozen Meals option
No Age Limit! Do not have to be home bound!
Varying diets available- including dysphagia levels
Contact:
Lehigh County 610-398-2563 or 215-679-6949
Northampton County 610-691-103
Schuylkill County 570-668-6954 or 570-621-7201
Online Grocery Shopping
Weis Markets: Place order online at www.weismarkets.com
Select from one of two store locations:
Cedar Crest Blvd Allentown, PA
Crawford Drive, Bethlehem, PA
*associates load groceries for carside pickup
Giant: Peapod- in store pickup or delivery
ShopRite: in store pickup or delivery
Walmart Grocery: Delivery to your door, Choice of delivery
times
Adaptive Leisure
Page Turner
loom
Card Holder
Knitting
The Strong Arm Fishing Pole
Adaptive Shotgun
Head Pointer
Sports Adaptations
• Adaptive Yoga: increased energy, flexibility, improved posture, pain
management and increased tone and strength. Offered at Sojourn Adult Day
Program and Joyful Noises
• Bicycling: Recumbent Bicycling
• Bowling: ramps
• Golfing: adaptive golf carts with swivel seats (allows almost a full stance and
free swing
Adaptive Skiing
Jack Frost/Big Boulder call 570-443-8425 extension 2503. Adaptive
lessons on weekends only.
Camelback Mountain lessons and state of the art equipment call Jeff
McGinnis at the Pennsylvania Center for Adapted Sports, 215-7655118
Adaptive Swimming
Sofao: adaptive swimming flotation chair equipped for individual with
significant immobility. Features: hip, chest and head straps for proper
positioning.
Transfer Chairs
Lifevests
Silver Sneakers
1 out of 5 people 65 or older is eligible for a SilverSneakers membership
as part of a Medicare Advantage or Medicare Supplement Health plan
Over 12,000 gyms nationwide
Membership Includes:
- Access to fitness equipment, pools and saunas
- Access to HealthwaysFIT.com to help you track your health progress
- Health education seminars and other events
45-60 minute classes focusing on ROM, flexibility, strengthening, coordination,
agility and endurance
Home Exercise Programs available
FLEX program
Classes offered in community parks, recreation centers, and older adult living
centers
line dance and Latin dance, indoor and outdoor boot camp, walking groups
Steel Fitness in Bethlehem, Bethlehem YMCA, Planet Fitness in Allentown, Hanover
Township Community Center
BOOM program: advanced fitness program for the active adult
Fast pace, intense exercise programs
** Currently NOT offered in Pennsylvania
https://www.silversneakers.com/
Pet Care
Critter Care Plus
- In Home Pet Sitting
Services offered include:
Dog Walking
Plant care
Newspaper/Mail pick up
Contact:
Fountain Hill: 610-867-8780
Allentown: 610-797-5150
Easton: 610-253-9778
No Worries Pet Sitting
-In Home Pet Sitting
Services offered include:
Dog Walking
Litter Box Care
Bathing
Nail Trimming
Overnight Sitting
Medication Administering
Injections
Pet Transportation
Contact:
NJ 908-319-3324
PA 484-725-4650
Vocational Rehabilitation
"Nearly one third of all strokes occur in individuals under the age of 65. Of those, 1 of 2
survivors will return to a full or part time job" (stroke.org)
Pennsylvania Office of Vocational Rehabilitation, or OVR, provides vocational
rehabilitation services to help persons with disabilities prepare for, obtain, or maintain
employment
Individual Plans of Employment (IPE) are developed (objectives, responsibilities, and
services
OVR customers receiving Social Security benefits for their disability (SSI, SSDI) are
exempt from OVR's Financial Needs Test
Trained professional vocational counselors that serve 67 counties
Blind/Visual and Deaf/Hearing deficit services
Allentown
45 N. Fourth Street
Allentown, PA 18102
610-821-6441
Reading
3602 Kutztown Rd Suite 200
Reading, Pa 19605
610-621-5800
Wilkes Barre
300 G Laird Street
Wilkes-Barre, Pa 18072
570- 826-2011
Resources
"Adaptive Lessons." Adaptive Lessons. N.p., n.d. Web. 15 Jan. 2015. <http://www.jfbb.com/adaptive-lessons.html>.
Adaptive Program." Pennsylvania Skiing. N.p., n.d. Web. 15 Jan. 2015. <http://www.skicamelback.com/pennsylvania-skiing.aspx>.
"Angel Flight East." Angel Flight East. N.p., n.d. Web. 14 Jan. 2015. <http://www.angelflighteast.org/>.
"Family Empowerment: Adult Day Services Center." YWCA Bethlehem:. N.p., n.d. Web. 14 Jan. 2015.
<http://www.ywcabethlehem.org/family_empowerment/day_care.php>.
"Fountain Hill, PA Pet and Animal Sitting." Pet and Animal Sitting Fountain Hill, PA Care Plus. N.p., n.d. Web. 14 Jan. 2015.
<http://www.crittercareplus.net/>.
"Hand Controls, Electronic Driving Systems and Other Driving Aids." Hand Controls for Vans. N.p., n.d. Web. 14 Jan. 2015.
<http://www.mobilityworks.com/mechanical-hand-controls.php>.
"LANtaVan." Lehigh and Northampton Transit Authority. N.p., n.d. Web. 14 Jan. 2015. <http://www.lantabus.com/lantavan/>.
Marek KD, Antle L. Medication Management of the Community-Dwelling Older Adult. In: Hughes RG, editor. Patient Safety and Quality: An
Evidence-Based Handbook for Nurses. Rockville (MD): Agency for Healthcare Research and Quality (US); 2008 Apr. Chapter 18. Available from:
http://www.ncbi.nlm.nih.gov/books/NBK2670/
"Meals On Wheels | Delivering a Meal and a Smile….." Meals On Wheels. N.p., n.d. Web. 14 Jan. 2015. <http://www.mealsonwheelspa.org/>.
"Neuro-ophthalmology." Neuro-ophthalmology. N.p., n.d. Web. 14 Jan. 2015.
"Neuro-Ophthalmology." - Penn State Hershey. N.p., n.d. Web. 14 Jan. 2015.
<http:/www.pennstatehershey.org/web/eyecenter/patientcare/services/neuro>.
"Northeast Accessibility::optimizing Personal Mobility Potential." Northeastaccessibility. N.p., n.d. Web. 15 Jan. 2015.
<http://www.northeastaccessibility.com/>.
"OUR TIPS." No Worries Pet Sitting. N.p., n.d. Web. 14 Jan. 2015. <http://www.noworriespet.com/>.
Paolucci, Stefano. "Epidemiology and Treatment of Post-stroke Depression." Neuropsychiatric Disease and Treatment. Dove Medical Press, n.d.
Web. 14 Jan. 2015. <http://www.ncbi.nlm.nih.gov/pmc/articles/PMC2515899/>.
"Philips Lifeline." Lifeline. N.p., n.d. Web. 14 Jan. 2015. <https://www.lifelinesys.com/content/>.
Resources et al.
"Programs and Services." SarahCare of the Lehigh Valley Programs and Services Comments. N.p., n.d. Web. 14 Jan. 2015.
<http://sarahcare.com/lehighvalley/programs-and-services/>.
"Returning to Work After a Stroke." Stroke.org. N.p., 16 July 2014. Web. 15 Jan. 2015. <http://www.stroke.org/we-canhelp/survivors/living-stroke/lifestyle/returning-work-after-stroke>.
"Senior Driver Expo." SeniorDriving.AAA.com. N.p., n.d. Web. 14 Jan. 2015. <http://seniordriving.aaa.com/>.
"Seniors Helping Seniors Lehigh Valley." At Home Care. N.p., n.d. Web. 14 Jan. 2015. <http://seniorcarelehighvalley.com/>.
"Shepherd Center." Seating and Wheelchair Clinic. N.p., n.d. Web. 14 Jan. 2015. <http://www.shepherd.org/patientprograms/outpatient-clinics/seating>.
"SilverSneakers.com." SilverSneakers.com. N.p., n.d. Web. 14 Jan. 2015. <https://www.silversneakers.com/>.
"SOFAO." Spokes'n Motion. N.p., n.d. Web. 14 Jan. 2015. <http://www.spokesnmotion.com/sofao?form=139>.
"Statistics." Internet Stroke Center Stroke News. N.p., n.d. Web. 13 Jan. 2015. <http://www.strokecenter.org/patients/aboutstroke/stroke-statistics/>.
"St. Luke's - Tobacco Cessation Treatment Center." St. Luke's -. N.p., n.d. Web. 14 Jan. 2015. <http://www.slhn.org/HospitalsLocations/Tobacco-Cessation-Treatment-Center>.
"Stroke Rehabilitation Information." : National Institute of Neurological Disorders and Stroke (NINDS). N.p., 13 Mar. 2014. Web. 14 Jan.
2015. <http://www.ninds.nih.gov/disorders/stroke/stroke_rehabilitation.htm>.
"Stroke Facts." Centers for Disease Control and Prevention. Centers for Disease Control and Prevention, 18 Aug. 2014. Web. 13 Jan.
2015. <http://www.cdc.gov/stroke/facts.htm>.
"Vocational Rehabilitation Services." Vocational Rehabilitation. N.p., n.d. Web. 14 Jan. 2015.
<http://www.dli.state.pa.us/portal/server.pt/community/vocational_rehabilitation/10356>.
"Wheelchair Ramps and More..." Amramp Makes Life Accessible. N.p., n.d. Web. 15 Jan. 2015. <http://www.amramp.com/>.