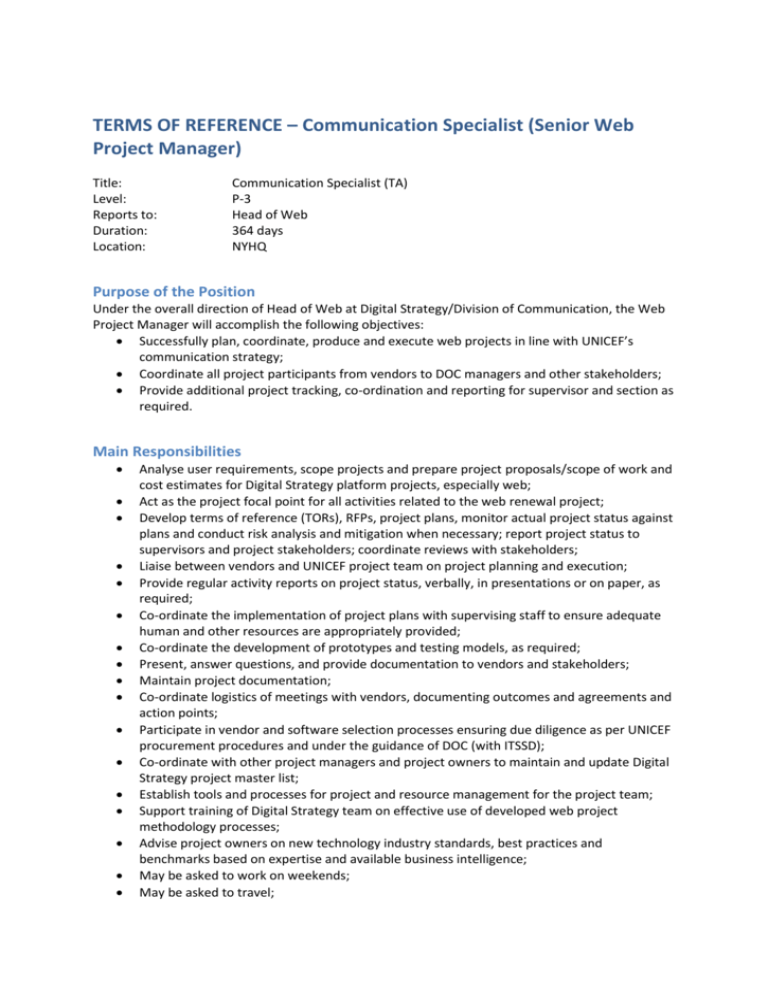 TERMS OF REFERENCE – Communication Specialist (Senior Web
Project Manager)
Title:
Level:
Reports to:
Duration:
Location:
Communication Specialist (TA)
P-3
Head of Web
364 days
NYHQ
Purpose of the Position
Under the overall direction of Head of Web at Digital Strategy/Division of Communication, the Web
Project Manager will accomplish the following objectives:
 Successfully plan, coordinate, produce and execute web projects in line with UNICEF's
communication strategy;
 Coordinate all project participants from vendors to DOC managers and other stakeholders;
 Provide additional project tracking, co-ordination and reporting for supervisor and section as
required.
Main Responsibilities

















Analyse user requirements, scope projects and prepare project proposals/scope of work and
cost estimates for Digital Strategy platform projects, especially web;
Act as the project focal point for all activities related to the web renewal project;
Develop terms of reference (TORs), RFPs, project plans, monitor actual project status against
plans and conduct risk analysis and mitigation when necessary; report project status to
supervisors and project stakeholders; coordinate reviews with stakeholders;
Liaise between vendors and UNICEF project team on project planning and execution;
Provide regular activity reports on project status, verbally, in presentations or on paper, as
required;
Co-ordinate the implementation of project plans with supervising staff to ensure adequate
human and other resources are appropriately provided;
Co-ordinate the development of prototypes and testing models, as required;
Present, answer questions, and provide documentation to vendors and stakeholders;
Maintain project documentation;
Co-ordinate logistics of meetings with vendors, documenting outcomes and agreements and
action points;
Participate in vendor and software selection processes ensuring due diligence as per UNICEF
procurement procedures and under the guidance of DOC (with ITSSD);
Co-ordinate with other project managers and project owners to maintain and update Digital
Strategy project master list;
Establish tools and processes for project and resource management for the project team;
Support training of Digital Strategy team on effective use of developed web project
methodology processes;
Advise project owners on new technology industry standards, best practices and
benchmarks based on expertise and available business intelligence;
May be asked to work on weekends;
May be asked to travel;

Perform other duties as may be assigned.
Minimum Qualification












Advanced university degree in journalism, communication, public relations, social sciences,
management, project management, information technology or other relevant field; or
equivalent professional work experience, combined with a first university degree in a related
discipline.
At least 5 years working experience in interactive digital media communication
Experienced in technology and creation of websites; web-savvy is an absolute requirement
Prior project management experience working on website/software development projects
Degree or certification in Project Management a plus
Experience working on enterprise-level web projects with localisation and multiple users and
groups
Experience working with various project management methodologies
Experience producing multimedia and/or video projects a plus
Experience working with content management a plus
Must have strong people skills and be a good diplomatic communicator
Must be very well organized and detail oriented
Experience with work in a non-profit organization a plus
Competencies






Has highest level communication skills, including engaging and informative formal public
speaking.
Ability to analyze potentially conflicting numerical, verbal and other data from a number of
sources to produce tightly written, compelling and accurate press materials.
Anticipates and actively tracks media reporting, constantly seeking new opportunities for
advancing UNICEF`s mission
Consistently achieves high level results, delivering tasks on time and with great attention to
getting it right.
Creates and encourages a climate of team working and collaboration in a multi cultural
environment
Actively nurtures good relationships with people across all organizational levels and
boundaries, with the press, and with partners.
UNICEF is a smoke-free environment.
UNICEF is committed to diversity and inclusion within its workforce, and encourages qualified female
and male candidates from all national, religious and ethnic backgrounds, including persons living
with disabilities, to apply to become a part of our organization.
Closing date is Monday 21 April 2014.
Applications should be sent to: blancourt@unicef.org. When sending to this mailbox, please ensure
that the position you are applying for is quoted on the subject line.
The Personal History Form (P11) in MS Word format can be downloaded from our website at
http://www.unicef.org/about/employ/index_53129.html.
Please note that acknowledgement of application will be extended only to short-listed candidates.