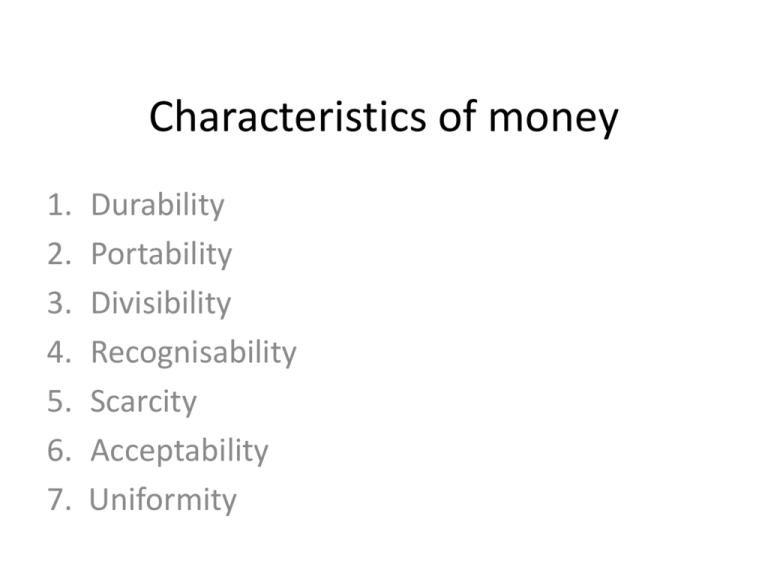 Characteristics of money
1.
2.
3.
4.
5.
6.
7.
Durability
Portability
Divisibility
Recognisability
Scarcity
Acceptability
Uniformity
Functions of money
•
•
•
•
Medium of exchange
Standard of value
Store of value
Standard of deferred payment
'Retail Banking'
• A mass-market banking in which individual
customers use local branches of larger
commercial banks as a one-stop shop for as many
financial services as possible .
• Services offered include savings and checking
accounts, mortgages, personal loans, debit/credit
cards and certificates of deposit (CDs).
• – it refers to the dealing of commercial banks
with individual customers, both on liabilities
and assets sides of the balance sheet. Fixed,
current / savings accounts on the liabilities
side; and mortgages, loans (e.g., personal,
housing, auto, and educational) on the assets
side, are the more important of the products
offered by banks.
retail banking sector is characterized
by 3 basic characteristics:
• Multiple products (deposits, credit cards,
insurance, investments and securities)
• Multiple channels of distribution (call center,
branch, internet)
• Multiple customer groups (consumer, small
business, and corporate).
'Central Bank'
• The institution responsible for
overseeing the monetary system for a
nation (or group of nations).
Eg
• National Bank of
Kazakhstan
• The European Central
Bank.
Functions of a Central Bank
• Implementation of monetary policy.
• Controls the nation's entire money supply.
• The Government's banker and the bankers' bank
("Lender of Last Resort").
• Manages the country's foreign exchange and gold
reserves and the Government's stock register;
• Regulation and supervision of banks.
• Setting the official interest rates- used to manage
both inflation and the country's exchange rate.
• The tax revenue storing bank.