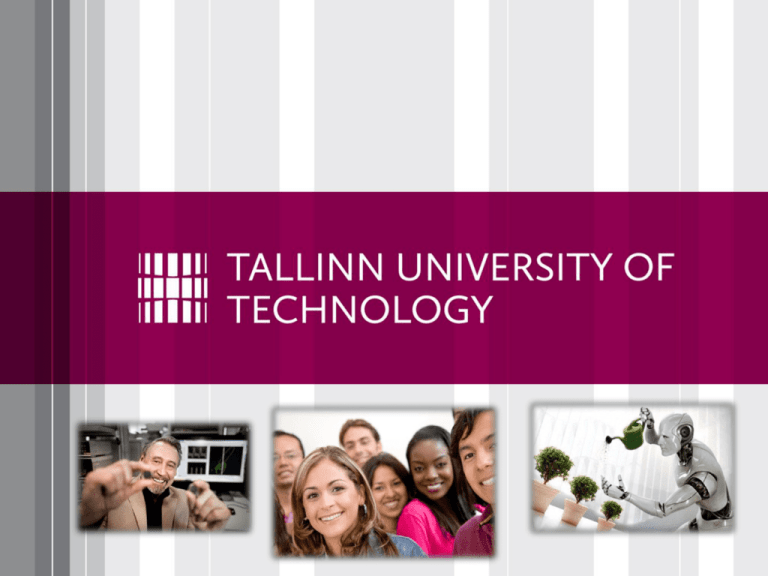 Tallinn University of Technology
TALLINN TECH
• Public university (1918)
• Leading university in the
field of technology in Estonia
• Modern, Innovative and
international
• ~14 000 students
Science
Teaching
• ~2000 employees
• International programmes,
faculty and staff
Innovation
iTUT
international + innovative
• Developing international programmes
• Recruiting talented international students
• Collaborating with top universities of the world
(Stanford, Berkeley, KTH, Aalto, NTNU, Fudan, Jao
Tong, Politecnico di Torino, Politecnica de Valencia)
• Representations in Silicon Valley and Shanghai
• About 900
international students
• About 250 outgoing and
300 incoming exchange
students per year
Campus university (53ha)
Faculties and colleges
1. Civil Engineering
2. Mechanical Engineering
3. Power Engineering
4. Information Technology
5. Chemical Engineering and
Materials' Technology
6. Natural Sciences
7. Social Sciences
8. Tallinn School of Economics
and Business Administration
•
4 regional colleges
•
9 faculty research centers
Programmes taught in English
• 19 full degree programs in English:
• 3 Bachelor programs (180 ECTS, 3 years)
• 16 Master programs (120 ECTS, 2 years)
BACHELOR PROGRAMMES:
1. International Business
Administration
2. International Relations
3. EU Law
Master programmes in English
1. Industrial Engineering and Management
2. Environmental Management and Cleaner Production
3. Health Care Technology
4. Work and Organisational Psychology
5. International Business Administration (MBA)
6. Finance and Economic Analysis
7. International Relations and European-Asian Studies
8. Master in Law
9. Law and Technology
10. Technology Governance
11. Communicative Electronics
12. Computer and System Engneering
Joint master programmes
With the University of Tartu
13. Software Engineering
14. Cyber Security
15. Materials and Processes of
Sustainable Energetics
With the Estonian Art Academy
16. Design & Engineering
NEW! Master's programmes
Starting from 2013
Faculty of Information Technology
• e-Governance Innovation:
Technology and Services
Faculty of Social Sciences
• Public Administration
Faculty of Chemical and Materials Technology
• Technology of Wood and Plastic
Exchange studies at TUT
•
•
•
•
Students from the EU, but
also from USA, Mexico,
Canada, Russia, Korea,
Singapore and China
400 Erasmus agreements
with more than 200
different universities
50 Bilateral agreements
outside of EU
About 300 incoming
students per year
TUT offers:
Intensive Language and Culture Courses
• 3 week intensive orientation
programme in August
• Group of 16 students
• 60 hours of language
lessons
• Lots of trips and excursions
• Fun and relaxed
atmosphere
• Best part of the exhange
experience
TUT offers:
EUROPEAN INNOVATION ACADEMY
• Europe – Estonia – Tallinn
• Importance of innovation in business
environment
• Principles of innovation management in
organizations
• Multimedia and interactive courseware
• Unique innovation laboratory built up to support
intensive training.
• WWW.INNOVATIONACADEMY4U.COM
• January 21.-27.01.2013
TUT offers:
MeKTory! @ TUT
Modern Estonian Knowledge Transfer
Organisation for You!
•
•
•
Integration of study and practice
STUDENTS – PROFESSORS – ENTERPRISES
Students, supervised by professors put their
knowledge into practice in order to create
prototypes and launch start up companies.
Business Model
Mobile & Media Services
Design & Products
ESTONIA: Positively surprising
• Great location for
exchange studies
• Highly developed IT, Skypeland, E-stonia, Start Up
Capital of the world*
• Peaceful, organized and
innovative European
country
• International community
• English language widely
spoken, wide range of
study options in English
• Good value for money
*Titled by Wired Magazine, August 2011
Student
Life
•International Office
We take good care of our exchange students
•IC Club – Student tutors, various events
•ESN Tallinn - trips, games, competitions, parties
•Student organisations - culture club, folk dance,
choirs, film club, student theatre and many more
•Sports Center – Attendance for free! Gym,
aerobics, basketball, volleyball, table tennis etc.
THANK YOU!