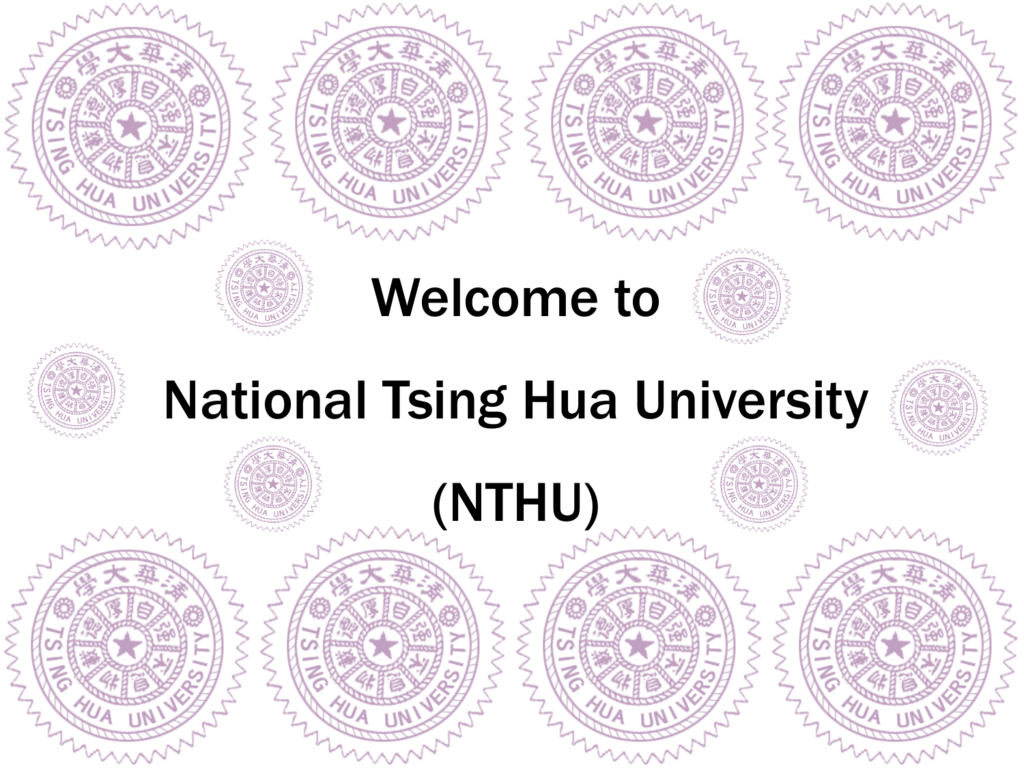 Welcome to
National Tsing Hua University
(NTHU)
Q1: If I have any doubts, who should I ask?
A1: Academic Affairs: Division of Enrollment and Division of
International and Continuing Education
Contact Ms.Lai, Ext.5137
Student Affairs: Office of Overseas Chinese and Foreign
Students
Contact Ms. Tseng, Ext.4703
Q2: What is the responsibility of the Office of Overseas
Chinese and Foreign Students?
A2: The Office of Overseas Chinese and Foreign Students takes cares
of all foreign student's affairs, such as visa applications,
scholarship applications and medical services, etc. For further
questions, please contact:
Tel: 002-882-3-5715131 ext 4703 Ms. Tseng
Fax: 002-882-3-5714147
Office hour: 8:00-12:00, 13:00-17:00
Email-address: [email protected]
WWW: http://faculty.nthu.edu.tw/~ocfso
Visitor Visa
Resident Visa
Resident Visa
ARC
(Alien Resident Certificate)
Resident Visa Application
Documents Required
ARC application, extension and
visitor visa extension
1. Visa Application Form
(2 copies)
2.
Passport
3.
Two Photos
4.
Student ID Card (original
and copied)
5.
Fee: NT$ 3,000.
ARC application
1. ARC Application Form
2. Passport
3. One Photo
4. Student ID Card
(original and copied)
5. Fee: NT$ 1,000
ARC extension
1. ARC
2. Passport
3. Student ID Card
(original and copied )
Fee: NT$1,000 (one year)
Bureau of Consular Affairs
3F, 2-2, Chi Nan Rd. Sec 1., Taipei
Tel: 02-23432888
Hsin Chu City Police Bureau
1, Chung Shan Rd., Hsin Chu
03-5224168 Ext. 2122
Q12. If you need leave Taiwan temporary,
A12. Please apply for a re-entry at Hsin Chu City Police Headquarter
with the following documents:
1. ARC
2. Passport
3. Student Card (the original and the copied one)
Q16. Is there any scholarships offered?
A16: The Ministry of Education offers The General Scholarship to the
Foreign Students in NTHU. The guidelines are posted on the
website: http://my.nthu.edu.tw/~ocfso/
Q17. Are there any activities that particularly belong to foreign
students?
A17: Sure!We will have the welcome party, Christmas Party and Farewell
Party for the foreign students.
Q18. What is the Association of Foreign Students?
A18. Every foreign student is a member of the Association. The
Association helps foreign students involved in the new and
unfamiliar environment. Here you can meet new friends and
Resident Visa
ARC Holder
Visitor Visa Holder
(Alien Resident Certificate)
Foreign Student Insurance
National Health Insurance
Q14. Questions Related to Medical Insurance
A14. 1. Two kinds of medical insurances are offered: Foreign Student
Insurance and National Health Insurance. Foreign students with ARC
who have stayed in Taiwan for more than four months are required to
enroll in National Health Insurance. The new arriver will be covered by
Foreign Student Insurance after the registration day.
2. The office of Oversea Chinese and Foreign Student will transfer
the medical insurance to National Heath Insurance (NHI) for Students
staying in Taiwan for more than four months. The premium of Foreign
Student Insurance is NT$1,180 for four months and of Nation Health
Insurance is NT$604 per month. These costs are itemized on the tuition
bill.
3. The foreign student insurance covers clinic visit and
hospitalization. The cost of medical service will be reimbursed to the
beneficiaries after the submission of receipts to the insurance company
via the Office of Overseas Chinese and Foreign Students.
4. The National Health Insurance covers clinic visit, hospitalization
and child birth. These medical services are provided by NHI contracted
health care provider.
5. Foreign students transferred from other university or
organization need go the office of Overseas Chinese and Foreign
Students to transfer their insurance registration from old institution to
A Brief Introduction to:
National Tsing Hua
University
NTHU's three main branches:
I. Administration 行政
II. Educational Program教學
III. NTHU's Culture & Traditions 清華文化
Life Science
Nuclear Science Building I
Building
Hsiang Szi Lake
Nuclear Reactor
Building
Shui Mu
Student Center
Humanities and Social
Science Building
Food Court
Biological Science and
Technology Building
Auditorium
Library
Engineering and System
Student Union Center
Science Building
Fen Yun
Engineering Building
I Building
Administration Center
Computer &
Cheng Kung Lake
Communicatio
n Center
Materials Science
Center
Mei Memorial
Garden
Physics Building
Electrical Engineering &
Kun Ming
Lake
Computer Science
Building
Greensward
Bus Stop
Chemistry Building
OCSFO
Materials Science &
Chemical Engineering
Technology Building
Building
Educational Program 教學
In general, there are seven colleges in our campus, which
are as the followings:
1.College of science (理學院) :
2.College of Engineering (工學院)
3. College of Nuclear Science (原子科學院)
4.College of Humanities & Social Science (人文社會學院)
5.College of Life Science (生命科學院)
6.College of Electrical Engineering & Computer Science (電機
資訊學院)
7.College of Technology Management (科技管理學院)
NTHU's Culture & Traditions
I. Greensward 大草坪
a. You can see it once you enter the campus.
b. There are a flagpole and a big round clock.
c. It's a great spot for tourists, for the following reasons.
1. It's relaxing.
2. Picnic.
3. Fly kites.
d. NTHU student also like this spot because it allows them to
organize extracurricular activities.
II. Mei Memorial Garden
a. It is to memorize President Mei.
b. When winter comes, the white plum
blossoms.
III. Shui Mu Student Center
a. Restaurants: provide breakfast,
lunch and dinner.
b. Grocery Store: sells daily supplies.
c. Comic Store: rents comic books,
novels, DVDs, and so on.
IV. Fen Yun Building
a. Coffee Shop: a good choice for afternoon tea.
b. Book Store
c. Restaurants: provide lunch and dinner.
V. Food Court
a. Grocery Store: sells daily
supplies
b. Restaurants: provide
breakfast,
lunch and dinner.
VI. Computer & Communication Center
a. Provides campus-wide computing and communication services for
teaching, research and administration.
b. Functions:
1. Installation and maintenance of a campus-wide computer
network for accessing the TANET and Internet.
2. Provision of various network services.
3. Installation and maintenance of an e-mail system.
4. Provision of various telephone services.
5. Development and maintenance of a computerized
administration system of the NTHU.
6. Provision of computer rooms, a network teaching room
and a distant learning room.
c. Provides supports for distant learning and extension programs.
VII. For athletes, the university also provides gymnasium, track and
field, basketball courts, baseball field, swimming pool, volleyball
field, badminton and tennis court.
VIII. Guest House I
It's like a small hotel that is available to
host the NTHU students' relatives.
IX . Campus Guard
A. Functions:
1. Security
2. Motorcycle Certificates
X . Auditorium
a. Holds big assemblies, such as
inaugural and graduation ceremonies.
b. Offers location for big activities, such
as professional performances and
concerts.
XI. Arts Center
a. Fulfills the artistic needs of the university community and
offers art-related courses as General Education.
b. Their focuses are:
1. Visual arts
2. Performance arts
Tsing Hua Night Market
Taiwanese Food
Japanese Sushi
Korean Food
Catholic Church
Christion Church
Bakery House
Starbuck Coffee
Campus Bus Stop
Chemistry Building (Start)
General Building II
Student Union
Student Dormitories
Nuclear Science and Technology Development
Center
Humanities and Social Science Building (End)
陽明山國家公園
Yangmingshan
雪霸Sheipa
Tai Chung
Taipei
Hsin Chu
Hsin Chu Country
Hua Lian Country
玉山
Yushan
太魯閣Taroko
Penghu Islands
(Pescadores)
Kao Ksiung
墾丁Kenting
Hsin Chu Science Park
Industrial Technology Research Institute
NTCU
Green Island
National Parks are
1.cultural/historic areas. These are areas
where development and visitor use are
limited to those which preserve important
prehistoric sites,monuments of historic
value,and lifestyles of indigenous people.
2.significant scenic areas. These are areas
possessing significant natural features
which¡Aif destroyed,cannot be restored.The
areas¡Atherefore,shall be strictly protected
from development.While the public shall be
allowed to enjoy the scenic beauty of the
areas,physical impacts must be kept to a
minimum.
3.ecological protection areas. These are areas
of unique ecological value. Biotic
communities in these areas shall be
carefully protected from development,and
access to these areas shall befor scientific
research only.
-Lunar New Year (Jan or Feb)
-Lantern Festival ( Feb)
-Dragon Boat Festival (June)
-A Carnival for Ghosts (August)
-Mid-Autumn Festival (Sep)
Taipei Lantern
Festival
HsinChu Science Park is the center of
Taiwan's science field area. Many
people dream of working here as it is
one of Taiwan's most important areas.
Industrial Technology Research
Institute (ITRI) is a non-profit R&D
organization engaging in applied
research and technical service. It was
founded in 1973 by the Ministry of
Economic Affairs (MOEA) to attend to
the technological needs of Taiwan's
industrial development
Hsinchu downtown is the center of
Hsinchu, where Hsinchu's train station
is located as well as many shopping
centers.
Hsin Chu City Police Bureau
1, Chung Shan Rd. Hsin Chu.
Tel: 03-5224168 Ext. 2122
National Chiao Tung University
(NCTU) is located besides
NTHU. As well as NTHU,
NCTU is an University that
excels in Educations.
- Formosan Aboriginal Cultural Village
- JanFuSun Fancy World
- Leofoo Village
- Taiwan Folk Village
- Water Parks
- Yamay Resort
Aquariums: National Museum of Marine Biology and Aquarium
Zoos/Botanical Gardens﹔
- Shou Shan Zoo
- Taipei Zoo
- Taiwan Herbal Botany Garden
Taipei is not only the capital of
Taiwan, but a very adventurous
place. Taipei has a wide variety of
attraction places, many temples,
night markets, hang outs, shopping
and it has a very convenient way of
transportation, which is the MRT
(Mass Rapid Transit System).
Kenting is located at the tip
of Taiwan. It is a very nice
place to go for vacations in
summer time. One can enjoy
the sun, as well as the beach.
Alishan is located in Chiayi
and it is famous for and its
attractions are its mountain
rail, forest, sea of clouds,
sunrise and sunset glow.
Guan Wu is located
between Hsin Chu and
Miao Li. It is located deep
in the mountains and it is
surrounded by nature. It is a
very delightful place to go
hiking by day and watch the
stars by night.
TaiDong is famous for its
night market. TaiDong is a
small quiet city, but once the
night market starts, it is a
place full of people and life.
Taichung is the third largest
metropolitan area in Taiwan.
It is a center of culture and
education. Taichung is an
attractive city due to its
commercial district,
abundant cultural activities,
and the warmth of its
residents.
A Brief Note on Dormitory
Network
A Brief Note
on
Dormitory Network
How to connect to internet in
dormitory?
Step1
• Prepare both hardware and software
required. Know your MAC address, Room
number and the network port.
The method of finding your MAC address steps by
steps:
• For Windows95/98/ME:
Click [Start] button -> click [Run] -> enter winipcfg (OK)
->Adapter Address is your MAC address
For WindowsNT/2000/XP:
• Click [Start] button -> All Programs -> Accessories -> Command
Prompt ->
• Type the following line in the Command Prompt:
• Ipconfig /all
• Your MAC address display as Physical address
•
Step3: Registration
•
a. Go to學生宿舍網路管理系統
(http://dormnet.cc.nthu.edu.tw/)
b. Click 網路申請/異動
•
C.Fill in the registration form
Step4: Find the setting of your port:
• In the學生宿舍網路管理系統
(http://dormnet.cc.nthu.edu.tw/)
• Click 【公告事項】→ IP/寢室對照表
• Find your room and the IP / Gatway /
SubNet Mask of your port
Using Port C, Room 316, Dorm.
Cheng as an example:
Step 4: Setup your IP/ SubNet Mask / Gateway /
a.
DNS
Server:
Click [Start] -> Control Panel -> Network
b.
Choose your NIC and highlight Internet Protocol (TCP/IP)
and Click the 'Properties' button
c.
Check / set the following:
.Use the IP address that belonging your port:
And then enter your IP / Subnet mask / Gateway
Connections > Right Click 'Local Area Connection , select 'Properties'
d. .Use the following DNS server addresses:
NTHU DNS servers are 140.114.63.1 and 140.114.64.1
The figure is as follow:
How to connect to WWW?
Step1. set up your Browser and
Proxy Server
Using Internet Explorer as example:
• Open Internet Explorer
• Click Tools -> Internet Options -> Connections Tab ->
Click LAN settings
• Check Use automatic configuration script
• address: http://oz.nthu.edu.tw/proxy.pac
The figure is as follow
• If you want manual configuration:
Proxy Server : proxy.nthu.edu.tw
Port: 3128
• For detail, please refer to Computer and
Communication Center:
http://oz.nthu.edu.tw/proxy/
NTHU Email Service
• Email address is define as following format:
login [email protected]
• Undergraduate student: the login ID start with
u
• Graduate student: the login ID start with g or d
• For example:
The UG student with student number 910362,
his email address is [email protected]
•
The setting for most email client (Netscape,
Outlook,
etc):by School
Student can useMozilla,
the webmail
client provided
URL: http://webmail.oz.nthu.edu.tw
• Use your OZ account to login
How to input Chinese?
•
•
•
•
•
•
Step1. Install the New Phonetic IME(新注
音輸入法)
Control Panel -> Regional and language
Options->Language->
Click Install files for East asian Languges
Press Detail->Add
Choose Input Language as Chinese[Taiwan]
Choose Keyboard layout/IME as Microsoft
New phonetic IME 2002a
Then you can use Chinese phonetic to input
Chinese.
The figure is as follow
Then you can use the IME Pad by
writing the word by your mouse.
FAQ
Q.: How to change my OZ password
A.:1. Go to http://oz.nthu.edu.tw/, click 線上服
務篇 and then線上更改OZ帳號密碼.
2. Using passwd command in OZ workstation
(advanced user only).
Q.: Where can I find more FAQ or
how-to?
A.:1. http://oz.nthu.edu.tw
2. ask your question in the board
nthu.ccc in 楓橋驛站.
Q.: Where can I select courses /
register / find course info. online?
• A.:國立清華大學課務組
http://my.nthu.edu.tw/~curricul/web/index.htm
修課 授課 資料查詢系統
http://hope.cc.nthu.edu.tw/login_stu/index.html
Notice:
• The courses selection & registration system and
OZ work station are 2 different systems. You
cannot use OZ account to login
• You cannot set PROXY server in your browser
when doing course selection. Please use automatic
configuration or disable PROXY server setting.