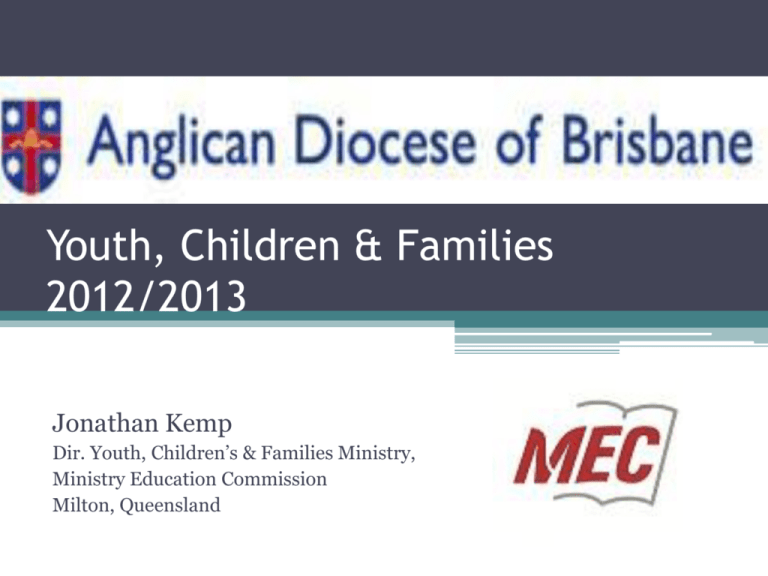 Youth, Children & Families
2012/2013
Jonathan Kemp
Dir. Youth, Children's & Families Ministry,
Ministry Education Commission
Milton, Queensland
Outline:
• YCF Structure
• YCF Staff
• YCF Strategy:
▫
▫
▫
▫
▫
Events
Camps
Partnerships
Communication
Training, Resourcing and Formation
YCF Structure
• Based at MEC at Milton.
• Liaise with all Commissions / agencies /
parishes / other denominations et al.
• Peak body: YCF Advisory Board (EDs of MEC
and PMC, clergy, youth workers, school
chaplains, YCF team, youth) which meets 2-3
times per year.
YCF Staff
Ministry Education Commission YCF team:
•
•
•
•
Mr Jonathan Kemp (Director, YCF Ministry) FT
Mr Jonathan Sargeant (RE, Chaplaincy) FT
Ms Fiona Hammond (Special Projects / Education) 0.4
Mr Nathan Haywood (Dio. Camps Coordinator) 0.2
YCF Strategy
Events
Camps
Partnerships
Communication
Training, Resourcing
& Formation
• Aligns with Diocesan and MEC strategies
• We aim to assist the parishes and agencies of the Church
to evangelise and disciple people, from birth to young
adulthood, in order to develop their maturity as
Christians within the Anglican tradition.
Strategy: Events
•RISE: Brookfield in May 2012: more than 70
people attended.
•RISE II: 1 June 2013
Milton
Resourcing +
Inspiring +
Sharing =
Enabling
• Equipping Anglicans for effective YCF
ministry in parishes and on camps.
Events: RISE in 2013+
• Kept as an annual Diocesan day (Saturday 1
June at Milton).
• Can also be made a regional event (on a smaller
scale)
• Ideally, Camp Leader training and Child
Protection Policy training held simultaneously.
• www.aycf.org.au/events/rise-day-2013/
Strategy: Events
• August 2012: ASSN
(Anglican Schools
Student Network)
conference
(ASC/MEC)
Strategy: Events
• November 2012:
Saturation day,
• Wet'N'Wild Water
Park
• (c. 100 attendees)
• To be held again at
Wet'N'Wild on
Saturday 9 Nov 2013.
• Open to YGs, kids, camp
Reunions, Anglican schools,
Etc.
Strategy: Camps
• (New) Primary Ichthus
• (Jan.2013; Jan 2014)
• 29 campers, 15 leaders
Strategy: Camps
• Emmaus retreat
• (March 2013)
• Young adults
• Coolum
• 22 campers, 15 leaders
(up 400%)
• Overseen by "Emmaus
Executive" (meets monthly)
• Reunion: 18/5 Chermside
Strategy: Camps
•
•
•
•
Junior Ichthus
(September 2013/14)
Near Springbrook
52 campers / 15 leaders
Strategy: Camps
•Senior Ichthus
•30 June – 6 July
•28 campers / 15 leaders
•Near Peregian Springs
•Overseen by "Ichthus
Management Group" which
meets monthly.
Strategy: Partnerships
• GFS have offered grants of up
to $500 per parish per year for
a group.
• Up to $2000 per parish per
year for a special, one-off
project.
• Have been widely taken up,
largely thanks to our
promotion of the grants.
• Have indicated they will
support our camping program
strongly in 2013.
Strategy: Partnerships
• In return, we support GFS
Cathedral day (kids' activities
etc. on Thursday 3 October)
• AYCFAB supported
GFS/Kidsplus+ groups as the
preferred kids' club model in
parishes.
• Fiona and I are presenting at
the GFS leaders weekend at
Bribie on 25 May.
• We will also explore other
forms of support.
Strategy: Partnerships and Projects
JK Committees:
• QCMN (ecumenical / SU)
• MC&F Reference group
• Connect 2 Church
• E-Lent / Word Up project
• Vocations Task-group
• ALEC (ASC)
JS Committees:
• RENEW (Chair)
• QCT RE&Chap Commission
• ASRED (ASC)
• REAC (Qld govt)
• ALEC (ASC)
• We are working with or have
worked with:
• Anglicare (Social Justice)
• UCA / LYQ / RC
• ASC
• ABM et al...
Strategy: Communication
• New website: www.aycf.org.au
• Events calendar (two-way communication)
• Downloadable resources for every kind of YCF
group
• YCF group directory
• Picture Galleries
• Camp rego forms
• Blogs and blog roll
• Contact details
• And more...
Strategy: Communication
Social Media:
•Facebook Page: c.240 Likes
•AYCFAB decided against Twitter.
•(NB: Social Media policy for AYCF / parishes
in place.)
Strategy: Communication
• Focus
• Wednesday Weekly
• Regular newsletters to
Parishes and contacts
(providing links to our
Website).
Strategy: Training, Resourcing and
Formation
• Visit parishes, schools and agencies for
preaching / consulting / problem-solving...
On topics including:
• Youth Ministry
• Children's Ministry
(inc. Messy Church)
• Families Ministry
• Employing YCF Ministers
• Social media/networking
(new Social Media Policy)
Strategy: Training, Resourcing &
Formation
• Bring It! A regular bi-monthly meeting for
youth ministers and leaders of youth groups in
the Diocese, with guest speakers, free pizza, etc.
Strategy: Training, Resourcing and
Formation
• We encourage parishes to employ a YCF
minister (FT/PT/Casual) and we advise on all
steps of the process, in liaison with Diocesan
HR.
• JK currently working on new Parish Regulation
for YCF Minister Appt Process.
• We are seeking formal pathways to forming YCF
Ministers (SFC / partnership with other
denomination or group?)
Summing up: MEC's 2013 YCF Ministry
Events
Camps /
Conferences
Partnerships
Communication
Resources,
Training
and
Formation
RISE day
Primary
Ichthus
GFS grants
Aycf.org.au
updates
Parish
workshops
Bring it!
meetings
Junior Ichthus
ASC
seminars
Facebook
Page
On-call
consultancy to
all
Saturation
day
Senior Ichthus
QCMN
Focus content
Grad clergy
training
GFS kids'
events
Emmaus
Other
committees
Wed Weekly
updates
YCF Minister
pastoral care
and advice
YCF
newsletters
Regional
visits
Messy Church ASSN
Going for Growth in 2013 and beyond
• What factors might prevent us from achieving
growth in Youth, Children's and Families
Ministry?
Staffing comparison of YCF Ministries:
Lutheran YQ
Catholic YCM
Anglican YCF / RE
Director (FT)
YM Coordinator (FT)
Director (FT)
Leadership trainer (FT) Yth Min Development
officer (FT)
RE/Chaplaincy (FT)
Young Adult Ministry
coordinator (0.6)
2 Children's Ministry (inc.
RE)
(0.8 + 0.6)
Special projects /
Education (0.4)
Business Manager (FT)
Yth Min Admin (FT)
Camps Coordinator
(0.2)
Administrator (FT)
Children's Min Admin
(0.8)
4.6 FTE
5.2 FTE
2.6 FTE
Gaps and Weaknesses
•
•
•
•
No administrative support at MEC
No Children's Ministry expert on staff
Not much explicit Young Adult ministry (yet)
No obvious study / formation pathway for lay
YCF Ministers in this Diocese
• YCF Minister appointment process requires
streamlining in light of shared HR services, etc.
• Web problems: on-line rego and payments?
• No official access to bulk parish emails
"Investment Drives
Growth"
• Is Youth, Children's and Families Ministry a
strategic priority for the Diocese in 2013 and
beyond?
Growth Strategy: Finance
• Use GFS Grants
• Fundraising Appeal Dinner (project proposal
now underway)
• "Youth Ministry Fund"? (cf Melb. Dio; BushMF)
• Aim for 10% profit from each AYCF activity or
event?
• Promote YCF as a key to Diocesan growth in
order to achieve more budget share?
Growth Strategy: Events
• Young Adult Events (proposed)
▫ "Faith on Tap" / "Food 4 Thought"
 Sherwood AFL Club? (Michael Stalley)
 St John's College UQ?
 Southbank / West End?
▫ Emmaus Groups – Deanery/Region-based
• SN@P nights – Wynnum, Bardon, Clayfield...
• Youth form of 'Bible 360' (proposed)
• Encourage more parishes to try "Messy Church"
Growth Strategy: Camps
• Same camps but with more campers?
▫ Emmaus – building links with Cursillo
• More camps?
▫
▫
▫
▫
▫
▫
▫
Young Adult camp (distinct from Emmaus)?
Music Camp project (proposed)
Social Service (Fix-it) camp?
Social Justice (We:Gen) camp?
ABM Mission trips / pilgrimages (in 2014)
Study Camps (huge in Sydney but LYQ say no)
Family camps
More camps? (continued)
• Bring back Regional Youth Conferences
(RYCons) and/or Qld Ang Yth Conf (QAYC)?
• Stay over at Brookfield? Tents at Pointro?
• Schoolies Week? (see ASC)
• Gap Year / Year 13 options? (see ASC/ABM)
Growth Strategy: Partnerships
• GFS/ABM – as above
• QCMN – Kids' Games / Forums
• Anglican Schools – RaVE classes visiting youth
groups? Student leadership training conducted
by AYCF instead of being outsourced.
• Unis – see Young Adult ministry / transitions.
• Shared training days with UCA et al?
• Links with other Dioceses? (Rockhampton, NQ,
Grafton)
• NYMC – Tweed Heads, October 2013
Growth Strategy: Communication
• Social media as above
• Newsletters / email as above
• Promote exceptionally good examples of AYCF
ministry?
• YCF promotional materials available in
Cathedral and Universities (Chaplaincy Centres
and Colleges)
• YCF promotions at Anglican school fetes?
Growth Strategy: Training, Resourcing
and Formation
• Improved appointment process for YCF Lay
Stip. Ministers (at draft v.6 now)
• Create formation/training and career path for
YCF Ministers
• Encourage parishes to employ YCF Ministers
• More regional training / networking days, esp.
in Western region.
• Specific training with Sudanese and other
migrant congregations? (COGS / Matthew Hale
Lib)
Growth Strategy: Training, Resourcing
and Formation
• Within parishes, focus on Transition periods for
young people:
▫ Primary School  High school
▫ High school  Uni/work
• "Apprentices Guild" for upper primary, to follow
Sunday school and retain this age group (cf.
QCMN "Here2Stay" project)
Where will Growth come from, if not
from Youth, Children and Families?