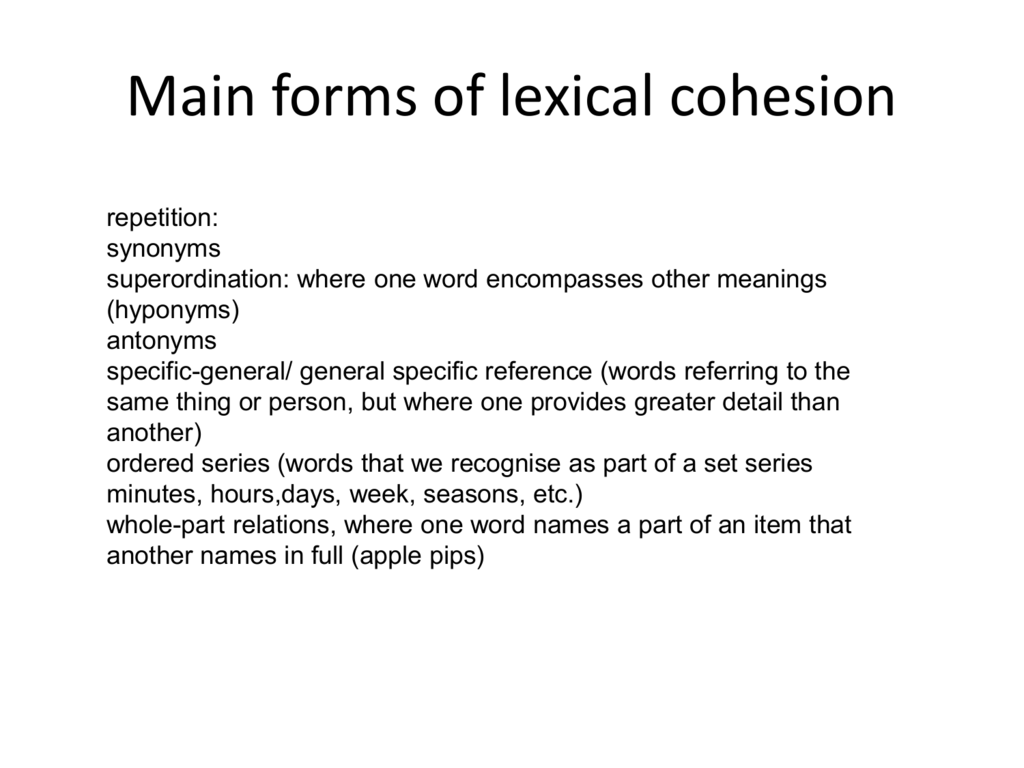 Main forms of lexical cohesion
repetition:
synonyms
superordination: where one word encompasses other meanings
(hyponyms)
antonyms
specific-general/ general specific reference (words referring to the
same thing or person, but where one provides greater detail than
another)
ordered series (words that we recognise as part of a set series
minutes, hours,days, week, seasons, etc.)
whole-part relations, where one word names a part of an item that
another names in full (apple pips)
Grammatical Cohesion
These are the grammatical words (function) words that are used to link
sentences across an entire text.
The basic kinds are:
Reference - this tells the reader that they can only make complete sense
of the word or structure they are looking at if they look somewhere else in
the text to complete the information.
Words can reference forward (cataphoric) or backward (anaphoric) in a
text.
Another form of reference is exophoric (this refers to something outside
the text, often this is readers themselves – as in the case of 'you' or in the
case of the imperative).
The opposite of this feature is known as endophoric when all reference is
to items or referents strictly within the text.
Main grammatical reference words
Pronouns: (including 'there')
Deictics: (e.g. demonstrative pronouns) words that indicate or point out
something present in the context.
comparative reference (comparison, comparatives, superlatives)
substitution this where the writer substitutes one item for another (hissing plume
deluge).
Ellipsis, in other words missing something out. Surprisingly this can actually
help texts cohere because readers themselves fill in the gaps.
conjunctions. As their name suggests, these are in a way the most explicit
joining devices of a text. The two basic types are co-ordinating conjunctions,
which join clauses of equal rank (and, so, but) and subordinating
conjunctions, which join clauses of unequal rank (although, until, when,
whether, etc) as.
Lexical cohesion: repetition
These are the elements that inspired
the
of the hotel of Ruairí and his
wife Marie-Thérèse, which is an
incredibly
and
hotel.
/
The
was hard to spot
among the
cluster of the
, the
, and a few
,
as it is perfectly camouflaged by a
limestone façade – a long, low
that is more like an Andy
Goldsworthy creation than a
.
antonyms
A
but
hotel set among the stone walls of
Inis Meáin is helping to bring new life to this Aran
island[…]
These are the elements that inspired the look of the
hotel of Ruairí and his wife Marie-Thérèse, which is an
incredibly simple and
hotel. The building
was hard to spot among the village cluster of the pub,
the shop, and a few cottages, as it is perfectly
camouflaged by a limestone façade – a long, low
building that is more like an
than a hotel
Semantic field:
,geology,
The
.
are all
: thousands of dry stone
tiny, empty
, most
by
people long gone, and a few still
by the
island's diminishing population of around 200.
Other expansive
of
, too
to
the
when
was
created from
and
, still boasts
filled with rare, wild
.
John looked out of the window. He thought he
saw a shape in the bushes. Could it be a fox?
Mark had told him about the foxes. However,
nobody had seen one for ages.
coherence
Identify the cohesive devices
Define cohesive devices used in
headline of above article
Rio's Olympic face-lift reveals relics of
notorious 19th-century slave market.
Archaeologists say find
is once-bustling harbour
Ruins will be incorporated
Into new tourism centre.