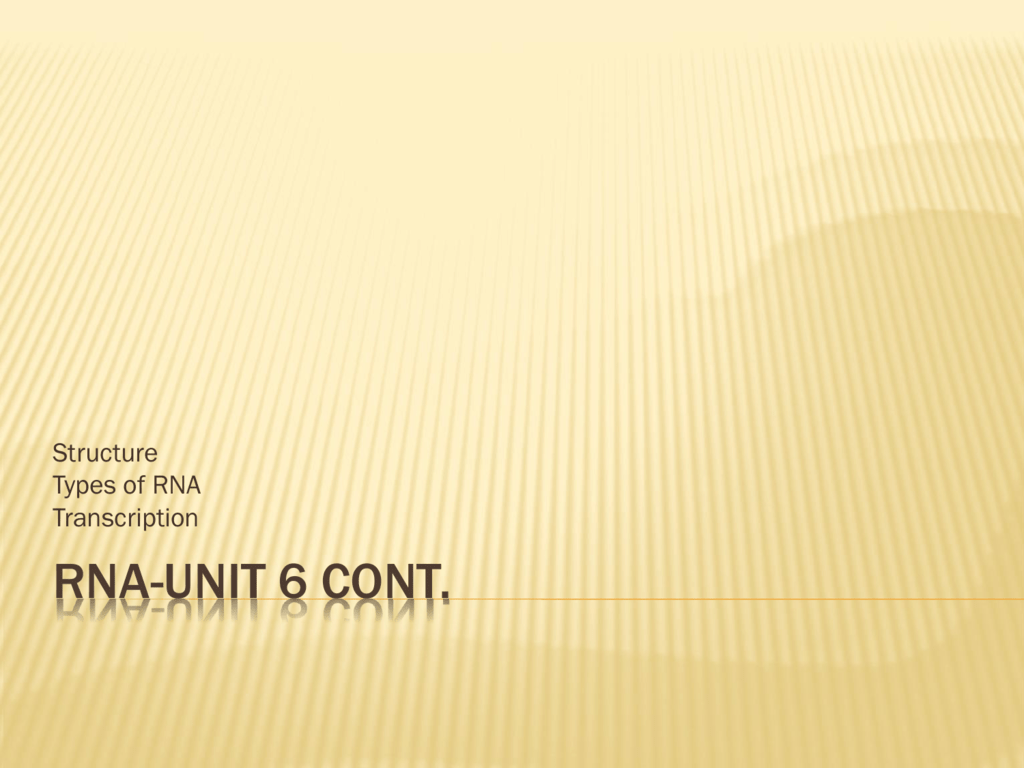 Structure
Types of RNA
Transcription
RNA-UNIT 6 CONT.
RNA

=RiboNucleic Acid
STRUCTURE

Polymer
 Single

stranded
Monomers
 Nucleotides
RNA NUCLEOTIDES

Monomers made of 3
parts each:
 Phosphate
Group
 Ribose Sugar
 1 of 4 nitrogen bases
 C,
A, G, and U!
 U = Uracil
 No Thymine!
URACIL
Pyrimidine-why?
 Pairs with adenine

COMPARE RNA TO DNA
3 TYPES OF RNA
1. Messenger RNA (mRNA)
 "Records"
information from the DNA in the nucleus
and transports it out of the nucleus to the
ribosomes
3 TYPES OF RNA
2. Transfer RNA (tRNA)
 Delivers
amino acids to site of protein synthesis
(ribosomes)
3. Ribosomal RNA (rRNA)
 Helps
with ribosome structure; function not entirely
understood

We will not go into detail on these second 2
until next week!
WHY IS MRNA IMPORTANT?



DNA is at risk of
being damaged if it leaves
the nucleus
The info in DNA is copied
into mRNA
mRNA is able to leave nucleus
and travel to ribosomes
(site of protein synthesis)
WHY IS TRNA IMPORTANT?

It brings amino acids to ribosomes to form
protein strand.
HOW DO WE GET MRNA FROM DNA?

Transcription
4
Steps (similar to replication)
What is different between
transcription and
DNA replication?

STEPS OF TRANSCRIPTION
1. DNA is "unzipped" (HELICASE)
2. Match correct nucleotides according to base
pair rules
*On only one side of the DNA (RNA POLYMERASE)
*U's not T's!
STEPS OF TRANSCRIPTION
3. Bonding-covalent bonds form between sugar
and phosphates
*Why don't the hydrogen bonds remain?
4. Transcription occurs until a "stop sign" is
reached and the mRNA strand is complete
Transcription Animation
GENETIC CODE - TRANSLATION
3 Nitrogen bases represents 1 CODON = 1
AMINO ACID
 64 possible codons

3
"stop" codons
 61 code for amino acids (20 possibilities)
 1 codes to start = AUG = methionine

Code is universal – codons represent the same
amino acid in all organisms
CODON DECODER
CODON CHART
Use your codon chart to answer the following:
 1. How many different codons code for valine?


2. The codon CGU is for which amino acid?

3. What are the codons for the three "stops"?

4. What are the first 3 amino acids for this
strand of mRNA?