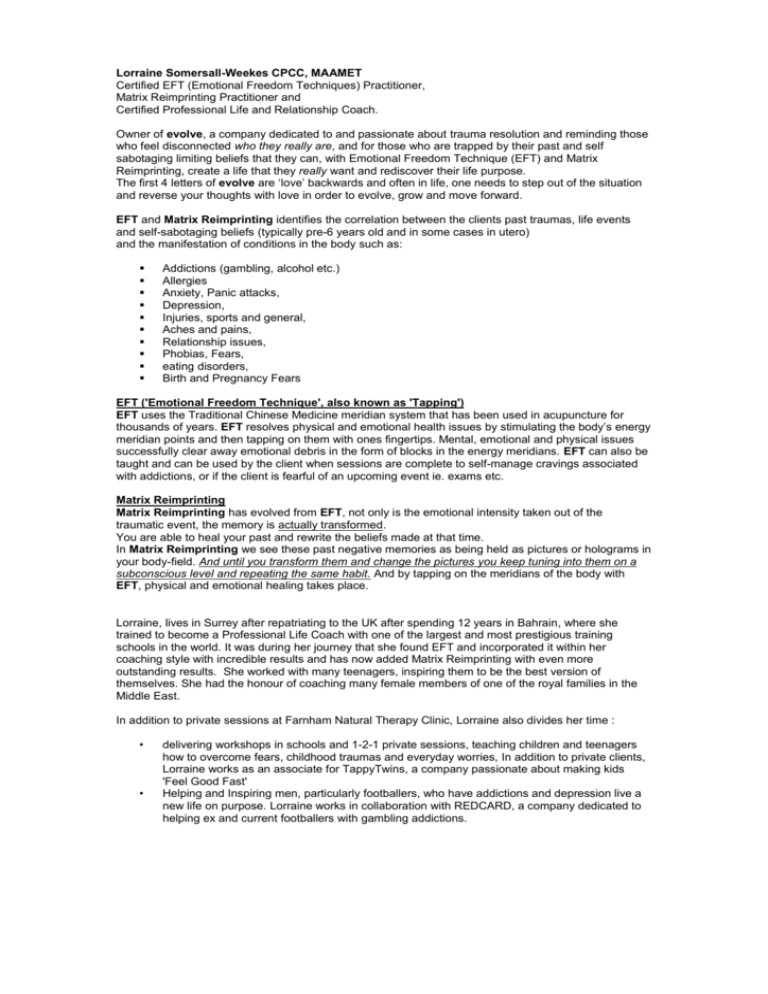 Lorraine Somersall-Weekes CPCC, MAAMET
Certified EFT (Emotional Freedom Techniques) Practitioner,
Matrix Reimprinting Practitioner and
Certified Professional Life and Relationship Coach.
Owner of evolve, a company dedicated to and passionate about trauma resolution and reminding those
who feel disconnected who they really are, and for those who are trapped by their past and self
sabotaging limiting beliefs that they can, with Emotional Freedom Technique (EFT) and Matrix
Reimprinting, create a life that they really want and rediscover their life purpose.
The first 4 letters of evolve are 'love' backwards and often in life, one needs to step out of the situation
and reverse your thoughts with love in order to evolve, grow and move forward.
EFT and Matrix Reimprinting identifies the correlation between the clients past traumas, life events
and self-sabotaging beliefs (typically pre-6 years old and in some cases in utero)
and the manifestation of conditions in the body such as:










Addictions (gambling, alcohol etc.)
Allergies
Anxiety, Panic attacks,
Depression,
Injuries, sports and general,
Aches and pains,
Relationship issues,
Phobias, Fears,
eating disorders,
Birth and Pregnancy Fears
EFT ('Emotional Freedom Technique', also known as 'Tapping')
EFT uses the Traditional Chinese Medicine meridian system that has been used in acupuncture for
thousands of years. EFT resolves physical and emotional health issues by stimulating the body's energy
meridian points and then tapping on them with ones fingertips. Mental, emotional and physical issues
successfully clear away emotional debris in the form of blocks in the energy meridians. EFT can also be
taught and can be used by the client when sessions are complete to self-manage cravings associated
with addictions, or if the client is fearful of an upcoming event ie. exams etc.
Matrix Reimprinting
Matrix Reimprinting has evolved from EFT, not only is the emotional intensity taken out of the
traumatic event, the memory is actually transformed.
You are able to heal your past and rewrite the beliefs made at that time.
In Matrix Reimprinting we see these past negative memories as being held as pictures or holograms in
your body-field. And until you transform them and change the pictures you keep tuning into them on a
subconscious level and repeating the same habit. And by tapping on the meridians of the body with
EFT, physical and emotional healing takes place.
Lorraine, lives in Surrey after repatriating to the UK after spending 12 years in Bahrain, where she
trained to become a Professional Life Coach with one of the largest and most prestigious training
schools in the world. It was during her journey that she found EFT and incorporated it within her
coaching style with incredible results and has now added Matrix Reimprinting with even more
outstanding results. She worked with many teenagers, inspiring them to be the best version of
themselves. She had the honour of coaching many female members of one of the royal families in the
Middle East.
In addition to private sessions at Farnham Natural Therapy Clinic, Lorraine also divides her time :
•
•
delivering workshops in schools and 1-2-1 private sessions, teaching children and teenagers
how to overcome fears, childhood traumas and everyday worries, In addition to private clients,
Lorraine works as an associate for TappyTwins, a company passionate about making kids
'Feel Good Fast'
Helping and Inspiring men, particularly footballers, who have addictions and depression live a
new life on purpose. Lorraine works in collaboration with REDCARD, a company dedicated to
helping ex and current footballers with gambling addictions.