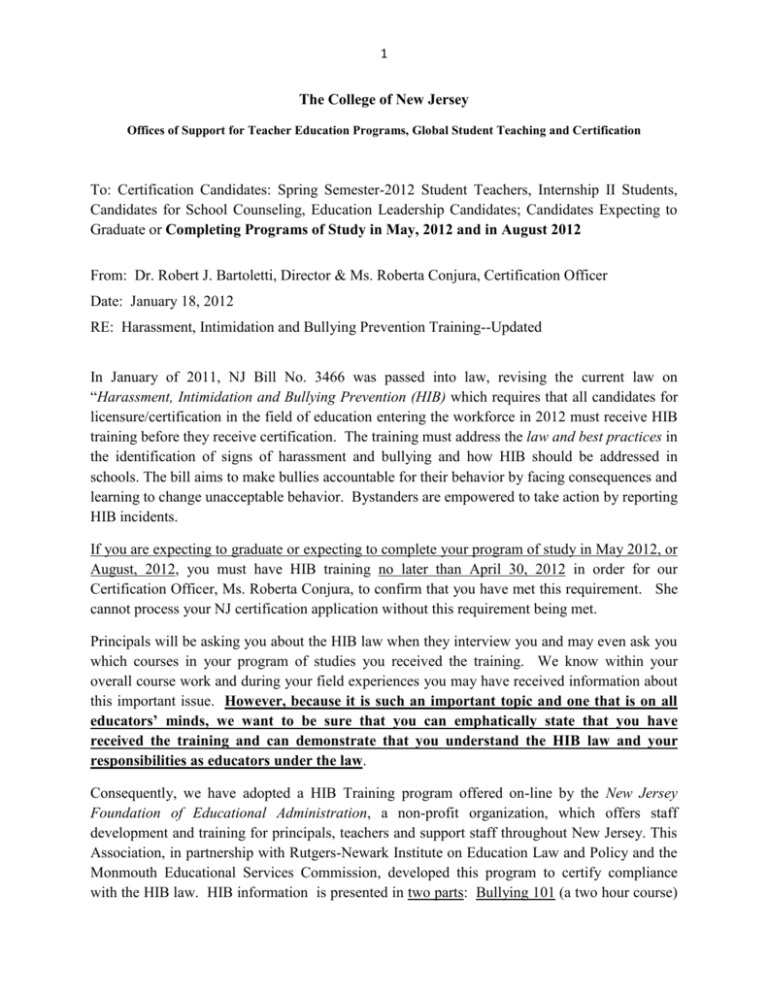 1
The College of New Jersey
Offices of Support for Teacher Education Programs, Global Student Teaching and Certification
To: Certification Candidates: Spring Semester-2012 Student Teachers, Internship II Students,
Candidates for School Counseling, Education Leadership Candidates; Candidates Expecting to
Graduate or Completing Programs of Study in May, 2012 and in August 2012
From: Dr. Robert J. Bartoletti, Director & Ms. Roberta Conjura, Certification Officer
Date: January 18, 2012
RE: Harassment, Intimidation and Bullying Prevention Training--Updated
In January of 2011, NJ Bill No. 3466 was passed into law, revising the current law on
"Harassment, Intimidation and Bullying Prevention (HIB) which requires that all candidates for
licensure/certification in the field of education entering the workforce in 2012 must receive HIB
training before they receive certification. The training must address the law and best practices in
the identification of signs of harassment and bullying and how HIB should be addressed in
schools. The bill aims to make bullies accountable for their behavior by facing consequences and
learning to change unacceptable behavior. Bystanders are empowered to take action by reporting
HIB incidents.
If you are expecting to graduate or expecting to complete your program of study in May 2012, or
August, 2012, you must have HIB training no later than April 30, 2012 in order for our
Certification Officer, Ms. Roberta Conjura, to confirm that you have met this requirement. She
cannot process your NJ certification application without this requirement being met.
Principals will be asking you about the HIB law when they interview you and may even ask you
which courses in your program of studies you received the training. We know within your
overall course work and during your field experiences you may have received information about
this important issue. However, because it is such an important topic and one that is on all
educators' minds, we want to be sure that you can emphatically state that you have
received the training and can demonstrate that you understand the HIB law and your
responsibilities as educators under the law.
Consequently, we have adopted a HIB Training program offered on-line by the New Jersey
Foundation of Educational Administration, a non-profit organization, which offers staff
development and training for principals, teachers and support staff throughout New Jersey. This
Association, in partnership with Rutgers-Newark Institute on Education Law and Policy and the
Monmouth Educational Services Commission, developed this program to certify compliance
with the HIB law. HIB information is presented in two parts: Bullying 101 (a two hour course)
2
and Legal One Advanced: New Jersey's Anti-Bullying Bill of Rights On line Training (70
minute program). After you participate in each on-line training module, you will be given an online assessment. When successfully completed you will be issued 2 certificates recognized by
both TCNJ and school districts. Many principals and teachers from across the state have or will
be participating in the very same training.
We realize teacher candidates currently student teaching may have attended HIB in-service
training in school districts. However, because we cannot certify school districts' HIB in-service
program content complies with our expectations for pre-service candidates, we cannot recognize
school district HIB training which is designed for certified teachers currently teaching in school
districts. Therefore we cannot certify teacher candidate participation in school district training.
Unfortunately there is a charge for this on line course which we are requiring you to take in order
to assure you that you will meet the letter and spirit of NJ HIB law. The total cost of
approximately 3 hours of training is $21.00. You can complete the training from the comfort of
your residence and at times convenient for you. However, it must be successfully completed
by April 30, 2012. This will enable Ms. Roberta Conjura to confirm that you have met the NJ
HIB training requirement.
Pages three (3) and four (4) will explain how to access the program, pay the bill for the service
and how we will be informed of your completion of the training. The fee only covers the cost of
the service. TCNJ receives no remuneration from the Foundation of Educational Administration.
On your resume, it may be helpful for you to add "completed HIB training courses" and indicate
the date you completed the training. You can also include your HIB certificates in your
portfolio.
Please register and participate in your training on line as soon as possible. You can divide the
time needed into segments to fit your schedule and you can continue with the on-line
assessments until you successfully pass it. April will be here before you know it and this training
must be done before we can process your certification paperwork. If you have any questions,
please feel free to Dr. Bartoletti at 609-771-2327 or email at bartolet@tcnj.edu or Mrs. Conjura
at 771-2318 or rconjura@tcnj.edu.
3
Registration for HIB Training
Registering for a LEGAL ONE Course:
1. Please go to www.legalonenj.org
2. Please click on "CLICK HERE TO PURCHASE" (located to the right of the web site)
3. A new window will open. This will bring you to the LEGAL ONE registration site. Click on "NEW
USER? CLICK HERE TO CREATE YOUR ACCOUNT"
4. Enter your information into the form displayed. Please note:
a. The "Select Customer Type" field must be set to INDIVIDUAL
b. The "School Type" field must be set to PUBLIC
c. The "SELECT COUNTY" field must be set to MERCER
d. The "SELECT DISTRICT" field must be set to TCNJ
e. The "SELECT SCHOOL" field must be set to TCNJ
f. The "COUNTY – DISTRICT CODE" fields must be set to 021 – 0021
g. Click "CREATE ACCOUNT"
h. Click "HOME" (top of the web page)
i. Click "REGISTER FOR A LEGAL ONE COURSE"
j. Click "ONLINE COURSES"
k. Select your course by clicking on the course name
l. Do not edit the quantity field. Click PURCHASE COURSE
m. In the COUPON OR GIFT CARD field enter the code TCNJ$2012 and click UPDATE CART.
This will reduce the price of your course to $10.50.
n. Click "Checkout now"
o. Enter your credit card information and click the "I agree to terms and conditions below"
checkbox and click "CONTINUE CHECKOUT"
p. Click PLACE ORDER
** PLEASE NOTE: IF YOU ARE REGISTERING FOR MORE THAN ONE LEGAL ONE COURSE:
PLEASE SUBMIT SEPARATE REGISTRATIONS FOR EACH. FOR EXAMPLE, IF YOU PLAN ON
TAKING BULLYING 101 and NEW JERSEY'S ANTI‐BULLYING BILL of RIGHTS, YOU WOULD
SUBMIT A REGISTRATION FOR BULLYING 101 FIRST. ONCE THAT REGISTRATION HAS BEEN
SUBMITTED AND YOU RECEIVE YOUR RECEIPT, YOU CAN PROCEED WITH REGISTERING FOR
NEW JERSEY'S ANTI‐BULLYING BILL of RIGHTS.
The LEGAL ONE system generates its usernames/passwords overnight. On the next
business day:
1. Go to www.legalonenj.org
2. Click on CLICK HERE TO PURCHASE
3. In the top right corner, click LOGIN
4. Enter your e‐mail address
5. Enter your password (you would have done this in step 4 from above)
6. Click LOGIN
7. In the top right corner, click on your name.
8. Scroll to the very bottom. You will see a link on the right side that reads "REGISTRANTS LIST." Click on
that link.
9. Your course username/password will be displayed.
To log into your course:
4
1 – Go to www.legalonenj.org
2 ‐ Click "CLICK HERE TO LOGIN"
3 – Enter the information you retrieved in step 9 from above.
4 – The first time you log in, you will be asked to change your password.
5 – Once your password has changed, please click "MY CONTENT". A link to your course will be
displayed. Click the link to begin your course.