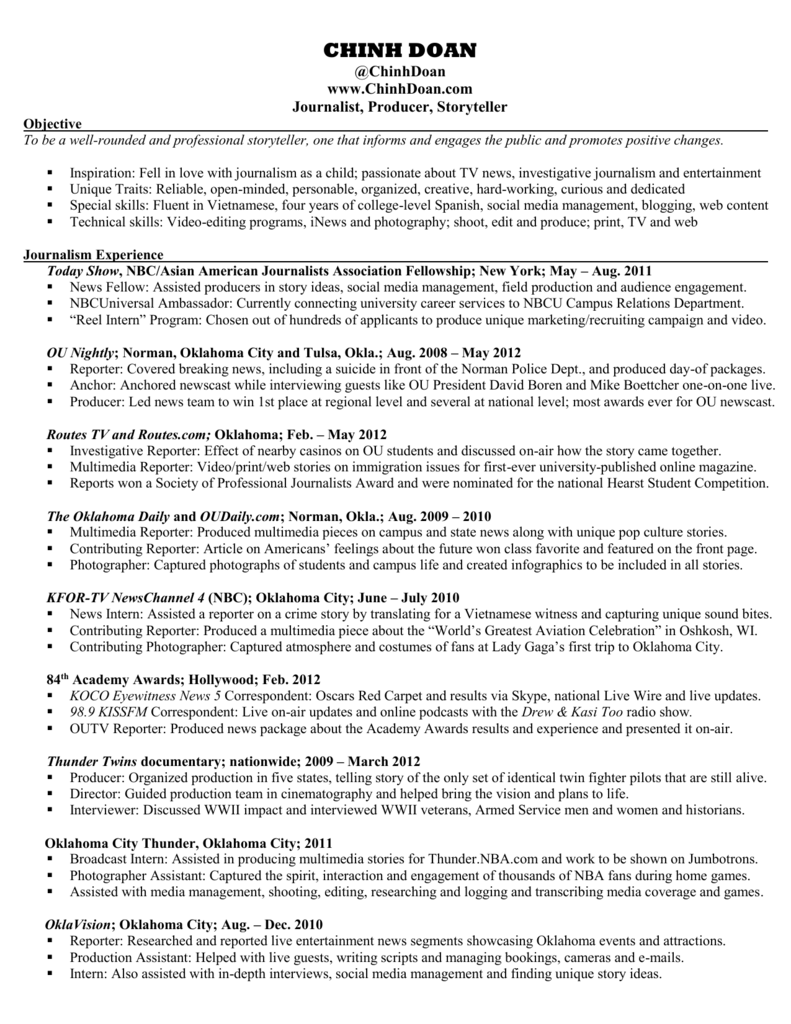 CHINH DOAN
@ChinhDoan
www.ChinhDoan.com
Journalist, Producer, Storyteller
Objective
To be a well-rounded and professional storyteller, one that informs and engages the public and promotes positive changes.




Inspiration: Fell in love with journalism as a child; passionate about TV news, investigative journalism and entertainment
Unique Traits: Reliable, open-minded, personable, organized, creative, hard-working, curious and dedicated
Special skills: Fluent in Vietnamese, four years of college-level Spanish, social media management, blogging, web content
Technical skills: Video-editing programs, iNews and photography; shoot, edit and produce; print, TV and web
Journalism Experience
Today Show, NBC/Asian American Journalists Association Fellowship; New York; May – Aug. 2011
 News Fellow: Assisted producers in story ideas, social media management, field production and audience engagement.
 NBCUniversal Ambassador: Currently connecting university career services to NBCU Campus Relations Department.
 "Reel Intern" Program: Chosen out of hundreds of applicants to produce unique marketing/recruiting campaign and video.
OU Nightly; Norman, Oklahoma City and Tulsa, Okla.; Aug. 2008 – May 2012
 Reporter: Covered breaking news, including a suicide in front of the Norman Police Dept., and produced day-of packages.
 Anchor: Anchored newscast while interviewing guests like OU President David Boren and Mike Boettcher one-on-one live.
 Producer: Led news team to win 1st place at regional level and several at national level; most awards ever for OU newscast.
Routes TV and Routes.com; Oklahoma; Feb. – May 2012
 Investigative Reporter: Effect of nearby casinos on OU students and discussed on-air how the story came together.
 Multimedia Reporter: Video/print/web stories on immigration issues for first-ever university-published online magazine.
 Reports won a Society of Professional Journalists Award and were nominated for the national Hearst Student Competition.
The Oklahoma Daily and OUDaily.com; Norman, Okla.; Aug. 2009 – 2010
 Multimedia Reporter: Produced multimedia pieces on campus and state news along with unique pop culture stories.
 Contributing Reporter: Article on Americans' feelings about the future won class favorite and featured on the front page.
 Photographer: Captured photographs of students and campus life and created infographics to be included in all stories.
KFOR-TV NewsChannel 4 (NBC); Oklahoma City; June – July 2010
 News Intern: Assisted a reporter on a crime story by translating for a Vietnamese witness and capturing unique sound bites.
 Contributing Reporter: Produced a multimedia piece about the "World's Greatest Aviation Celebration" in Oshkosh, WI.
 Contributing Photographer: Captured atmosphere and costumes of fans at Lady Gaga's first trip to Oklahoma City.
84th Academy Awards; Hollywood; Feb. 2012
 KOCO Eyewitness News 5 Correspondent: Oscars Red Carpet and results via Skype, national Live Wire and live updates.
 98.9 KISSFM Correspondent: Live on-air updates and online podcasts with the Drew & Kasi Too radio show.
 OUTV Reporter: Produced news package about the Academy Awards results and experience and presented it on-air.
Thunder Twins documentary; nationwide; 2009 – March 2012
 Producer: Organized production in five states, telling story of the only set of identical twin fighter pilots that are still alive.
 Director: Guided production team in cinematography and helped bring the vision and plans to life.
 Interviewer: Discussed WWII impact and interviewed WWII veterans, Armed Service men and women and historians.
Oklahoma City Thunder, Oklahoma City; 2011
 Broadcast Intern: Assisted in producing multimedia stories for Thunder.NBA.com and work to be shown on Jumbotrons.
 Photographer Assistant: Captured the spirit, interaction and engagement of thousands of NBA fans during home games.
 Assisted with media management, shooting, editing, researching and logging and transcribing media coverage and games.
OklaVision; Oklahoma City; Aug. – Dec. 2010
 Reporter: Researched and reported live entertainment news segments showcasing Oklahoma events and attractions.
 Production Assistant: Helped with live guests, writing scripts and managing bookings, cameras and e-mails.
 Intern: Also assisted with in-depth interviews, social media management and finding unique story ideas.
Other Experience
Norman Citizens' Police Academy; Norman, OK; Feb. – May 2012
 One of 20 chosen to represent the community by attending weekly evening classes and learning about the department.
 Unique knowledge of how the police department budgets, hires and prepares its plans, routines and events.
 Knowledge of drug enforcement, drinking and driving, S.W.A.T team, criminal investigations, emergency evacuations.
National Broadcasting Society National Convention, Los Angeles: March 2011
 Produced 1st place entry for "On-the-Spot" Competition, consisting of creating a TV package successfully and efficiently.
 Led OU student group to convention and raised funds as OU's Oklahoma College Broadcasters Vice President.
 Handled alumni relations and networking opportunities during convention by setting meetings with alumni in LA.
Limited Brands, Okla. City; May 2008 – present
 Longest-serving cashier and one of the longest-serving employees at the million-dollar budget store.
 Maintained integrity of brand by listening, engaging and providing, which led store to lead in national ranks in sales.
 Promoted brand on university campus by engaging students and Greek life members at promotional events.
Honors
 Gaylord College Outstanding Senior: One chosen annually to represent college at graduation and speak at convocations.
 International Radio & Television Society News Fellow: CBS special projects team in New York.
 South Central Broadcasting Society: 1st place TV News Producer and 3rd place TV News Reporter; awards' emcee.
 Assoc. for Women in Communications: Only student to receive scholarship for three years and speak at Byliner Awards.
 Dow Jones Foundation: One of only two students chosen nationally to receive an award based on talent and dedication.
 Broadcast Education Assoc.: National recognition for TV reporting about mom of 11 returning to college after 30 years.
 Oklahoma Broadcast Education Assoc./Oklahoma Assoc. of Broadcasters: 1st place feature story; 3rd place hard news.
 Associated Press/Oklahoma News Executives Journalism: One of two statewide; based on commitment and academics.
Education
University of Oklahoma; Gaylord College of Journalism and Mass Communication: May 2012 (Hours Earned: 130)
- B.A., Journalism with an Emphasis on Broadcasting
- Minors: Spanish and International Studies
- President's and Dean's Honor Lists
Gaylord College British Media Program, Summer 2009
- London, Paris, Bristol; BBC, CNN, Sky News, Al Jazeera, ITN
Education Abroad in Lima, Summer 2010
- Peruvian history and politics at Pontifica Universidad Catolica del Peru
References available upon request.