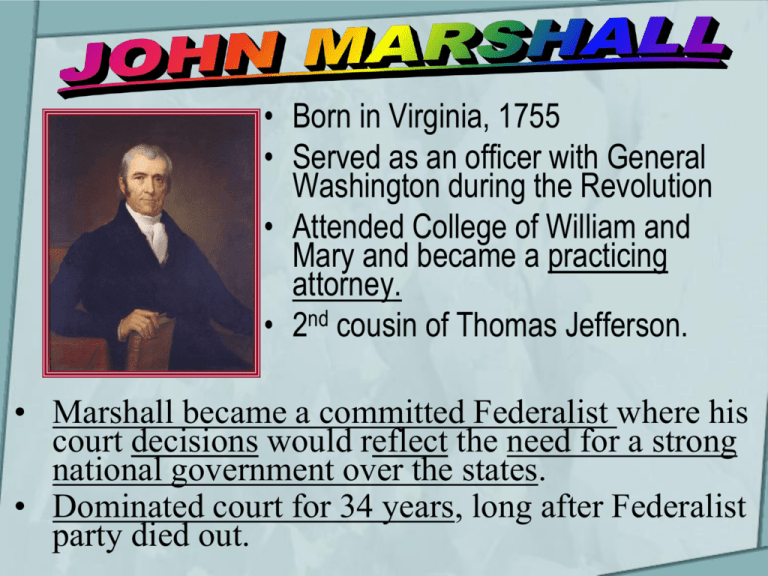 • Born in Virginia, 1755
• Served as an officer with General
Washington during the Revolution
• Attended College of William and
Mary and became a practicing
attorney.
• 2nd cousin of Thomas Jefferson.
• Marshall became a committed Federalist where his
court decisions would reflect the need for a strong
national government over the states.
• Dominated court for 34 years, long after Federalist
party died out.
Evolves As A Federalist
1. US troops suffer at Valley
Forge
• Need a strong govt. to tax
which AOC could not
2. Merchants refused to pay
debts to British
• Need strong to govt. to
demand obedience AOC
could not
3. Shay's Rebellion "mobocracy"
•Need a strong govt. to maintain order AOC could not
Marshall Evolves As A Federalist
4. French Revolution
•
Importance of US Govt to maintain order
5. Controversial: Neutrality/Whiskey Rebellion
•
Individuals should respect the office of the presidency
even if one disagrees with decisions
6. XYZ Affair
•
US Govt needed to be powerful enough to command
respect from other nations.
7. Kentucky/Virginia Resolutions
• States not the final authority over law but SC
8. Appointed as Chief Justice
•
Increase powers of SC and national govt.
9. Republicans took control of US Congress.
•
As chief justice, implements Federalist principles.
JUDICIAL AUTHORITY
Supreme Court has the power to declare a law
unconstitutional with the principle of judicial
review.
NATIONALISM
The National Government is over the states.
PROPERTY RIGHTS
Private property is sacred and contracts
legal.
Marbury vs. Madison
(1803) –
• "Midnight Judges"
• Marbury's story
• Had to pay salary but could not make
executive branch
• Judicial Review
• No "judge breaking", power of the court
remains
• Marbury vs. Madison, 1803
– Case: William Marbury, a Federalist and a
"midnight appointment" of President Adams, did
not receive his commission from Sec. of State,
James Madison. Marbury asked the SC to issue
a "writ of mandamus" forcing Madison to deliver
his commission.
– Decision/Reason: Marshall dismissed suit, but
in doing so struck down part of Judiciary Act of
1789 because SC had no authority to give
Marbury his commission.
– Significance: Established precedent of "judicial
review" and the Supreme Court, not states had
power to declare laws of Congress
unconstitutional.
McCulloch vs.
Maryland (1819)
• Attempt by Maryland to destroy a
branch of the BUS
• Upheld implied powers
• States cannot tax the bank
• Victory for loose interpretation of
constitution
• McCulloch v. Maryland (1819)
– Case: The state of MD tried to collect a tax from
the Second Bank of the United States
– Decision/Reason: Using a loose interpretation of
the Constitution, Marshall ruled that the federal
government had the implied power to create the
bank (which was in question)
– Significance: A state could not tax a federal
institution because "the power to tax is the power
to destroy" and that federal laws are supreme
over state laws
Cohens vs. Virginia
(1821)
• Cohens found guilty of illegally selling
lottery tickets
• Supreme court has the right to review
decisions made by state supreme
courts on federal matters
Gibbons vs. Ogden
(1824)
• New York tried to give monopoly to
waterborne commerce between New
York and New Jersey
• Interstate trade is the power of the
federal government
• Gibbons v. Ogden (1821)
– Case: NY state granted a monopoly to a
steamboat company that conflicted with a charter
authorized by Congress
– Decision/Reason: Marshall ruled NY monopoly
was unconstitutional, establishing the federal
govt's broad control of interstate commerce.
Congress regulates commerce.
– Significance: The decision secures the concept
of a common market and prevents states from
impeding (disrupting) commerce.
Fletcher vs. Peck
(1810)
• Property rights
• Land sold by Georgia Legislature given
only to be taken away by the following
legislature
• Decision– Contract cannot be broken
–1ST time overturned state law
• Fletcher v. Peck (1810)
– Case: involved Georgia legislature, bribed,
granted 35 million acres in the Yazoo River,
Mississippi to private speculators. Next legislature
cancelled transaction. Appealed to the Supreme
Court.
– Decision/Reason: SC concluded a state could
not pass legislation invalidating a contract thus
protecting property rights against popular
pressures. State law cannot impair contracts
violates Constitution
– Significance: Overturned a state decision
because the legislative grant was a contract and
national govt. is over the states.
Dartmouth College
vs. Woodward (1819)
• Dartmouth granted charter by king
• New Hampshire wanted to change
• Decision– Contracts are protected by the constitution
– Private companies out of the hands of
state governments
• Dartmouth College v. Woodward, 1819
– Case: Involved a law of NH that changed
Dartmouth College from a privately chartered
college into a public institution
– Decision/Reason: SC struck down the state law
as unconstitutional, arguing that a contract for a
private corporation could not be altered by the
state. Upheld the sanctity of contracts and private
property.
– Significance: Decision was important in assuring
economic development and encouraging
investment in corporations. In addition, it set a
precedent for the Supreme Court's overturning
acts of state legislatures and state courts.