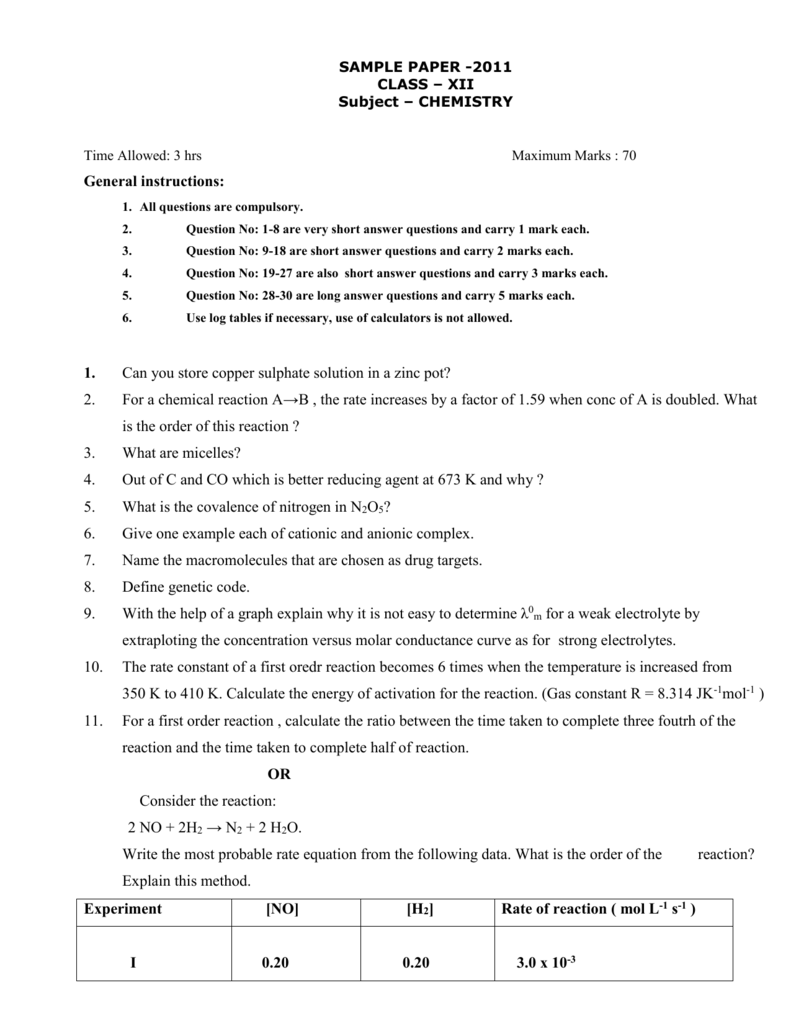 SAMPLE PAPER -2011
CLASS – XII
Subject – CHEMISTRY
Time Allowed: 3 hrs
Maximum Marks : 70
General instructions:
1. All questions are compulsory.
2.
Question No: 1-8 are very short answer questions and carry 1 mark each.
3.
Question No: 9-18 are short answer questions and carry 2 marks each.
4.
Question No: 19-27 are also short answer questions and carry 3 marks each.
5.
Question No: 28-30 are long answer questions and carry 5 marks each.
6.
Use log tables if necessary, use of calculators is not allowed.
1.
Can you store copper sulphate solution in a zinc pot?
2.
For a chemical reaction A→B , the rate increases by a factor of 1.59 when conc of A is doubled. What
is the order of this reaction ?
3.
What are micelles?
4.
Out of C and CO which is better reducing agent at 673 K and why ?
5.
What is the covalence of nitrogen in N2O5?
6.
Give one example each of cationic and anionic complex.
7.
Name the macromolecules that are chosen as drug targets.
8.
Define genetic code.
9.
With the help of a graph explain why it is not easy to determine λ0m for a weak electrolyte by
extraploting the concentration versus molar conductance curve as for strong electrolytes.
10.
The rate constant of a first oredr reaction becomes 6 times when the temperature is increased from
350 K to 410 K. Calculate the energy of activation for the reaction. (Gas constant R = 8.314 JK-1mol-1 )
11.
For a first order reaction , calculate the ratio between the time taken to complete three foutrh of the
reaction and the time taken to complete half of reaction.
OR
Consider the reaction:
2 NO + 2H2 → N2 + 2 H2O.
Write the most probable rate equation from the following data. What is the order of the
Explain this method.
Experiment
I
[NO]
[H2]
0.20
0.20
Rate of reaction ( mol L-1 s-1 )
3.0 x 10-3
reaction?
12
II
0.40
0.20
1.2 x 10-2
III
0.20
0.40
6.0 x 10-3
IV
0.60
0.20
2.7 x 10-2
a)Why does R3P=O exists but R3N = O does not. ( R- alkyl group)
b) PCl5 is ionic in the solid state. Why?
13.
What was the reasoning appiled by Neil Bartlett to prepare the first noble gas compound by carrying
out reaction of Xenon and PtF6 ?
14.
[Fe(H2O)6]3+ is strongly paramagnetic whereas [Fe(CN)6]3- is weakly paramagnetic. Explain.
15.
Give reasons.
a) Ethylamine is soluble in water, whereas aniline is not.
b) Although amino group is o- and p- directing in aromatic electrophlic substitution
reactions, aniline on nitration gives a substantial amount of m-nitroaniline.
16.
How is the activation of benzene ring by the amino group reduced by acetylating aniline during
nitration?
17.
Pure silicon is an insulator, silicon dopped with phosphorus is a semiconductor. Silicondopped with
gallium is also semiconductor. What is the difference between two dopped silicon semiconductors?
18.
A mettalic element has a cubic lattice. Each edge of the unit cell is 288 pm. The density of the metal is
7.20 g cm-3. How many (i) unit cells and ( ii) atoms will there be in 100 g of the metal?
19.
a) Calculate the potential of hydrogen elctrode in contact with a solution whose pH is 10.
b) How much electricity is required in coulomb for the oxidation of 1 mol of H2O to O2 ?
( Given 1 F = 96500 C )
c) Write the products obtained at cathode and anode on electrolysis of concentrated sulphuric acid using
platinum electrodes.
20.
a) How is colloidal sol. of sulphur is prepared?
b) Define gold number. What does receprocal of gold number indicate?
c) Give one test to distinguish whether the given emulsion is oil in wtaer type or water in
oil type emulsion.
21.
a) Copper can be extracted by hydrometallurgy but not zinc. Explain.
b) How does NaCN acts as a depressant in preventing ZnS from forming the froth?
c) Outline the principle of the method used for refining of silicon.
22.
a) Explain why inspite of nearly same electronegativity , oxygen forms hydrogen bonding while
chlorine does not.
b) Arrange the following in the decreasing order of property indicated.
i) ClO4-, BrO4-, IO4- - oxidising power.
ii) F2, Cl2, Br2, I2- bond energy
c) Write balanced equation for the thermal decomposition of ammonium dichromate.
23.
Explain why
a) Grignard reagents should be prepared under anhydrous conditions.
b) Haloalkanes react with AgCN forms isocyanides as major product.
c) The dipole moment of chlorobenzene is lower than that of cyclohexyl chloride.
23.
Account for following:
a) Dehydration of alcohols to form alkenes is always carried out with conc.H2SO4 and
not with conc.HNO3.
b) Ditertiary butyl ether cannot be prepared by Williamson's synthesis.
c) Hydrzones of CH3CHO are not prepared in highly acidic medium
24.
a). Give the structural formulae of the following α- amino acids.
i) Glycine
ii) Alanine.
b) Name the three physical and chemical changes that can cause proteins to denature.
c) What is a prosthetic group
25.
a)What does PMMA stands for ? How is it prepared?
b) What is the difference between two notations: Nylon-6 and nylon-66?
c) Is ( CH2-CH(C6H5)n a homopolymer or copolymer? Is it an addition polymer or
condensation polymer?
26.
a) Read the following statement:
" Ranitidine is an antacid" . With reference to which classification has this statement
been given?
b) What is meant by the term 'broad spectrum antibiotics'
c) Why do we require artificial sweetening agents?
27.
a)How will you bring about the following conversions.
i) Ethanol to ethyl fluoride.
ii) 1-chloropropane to 1-butanol
b) Name the reagents used in the following reaction.
Dehydration of propan-2-ol to propene.
28.
a) State Henry's law for solubility of a gas in a liquid. explain the significance of Henry's law constant.
At the same temperature , hydrogen is more soluble in water than helium. Which of them will have
higher value of KH and why?
b) Explain elevation in boiling point of a solution with the help of vapour pressure temperature
diagram.
OR
a) Why is a molar solution of solute in water is more concentrated than a molal solution?
b) Explain depression in freezing point of a solution on the addition of a solute. Show that depression in
freezing point is a colligative property.
29.
a) Explain giving reasons
i) Transition elements and their compounds exhibit paramagnetic behaviour.
ii) Transition elements and their compounds are found to be good catalysts.
iii) Cobalt ( II ) is stable in aqueous solution but in the presence of complexing agents , it
is easily oxidised.
iv) Of the d4 species , Cr2+ is strongly reducing while Mn( III ) is strongly oxidising.
v) The transition elements exhibit high enthalpy of atomization.
OR
a) What is lanthanoid contraction? What are the consequences?
b) Compare the chemistry of actinoids with that of the lanthanoids in reference to
i) Atomic and ionic size ii) oxidation state
c) Complete the reaction Cr2O72- + Sn2+ + H+→
30.
a) Carboxylic acids do not give the characteristic reactions of carbonyl group. Why?
b) Although p-hydroxy benzoic acid is less acidic than benzoic acid, ortho-hydroxy
benzoic acid is about 15 times more acidic than benzoic acid. Explain.
C) Name the product when benzophenone is reduced with Zn(Hg) in presence of HCl.
OR
Describe the following reactions with one example each.
i) Aldol condensation.
ii) Hell volhard Zelinsky reaction.
iii) Kolbe's electrolysis.
iv) Claisen condensation.