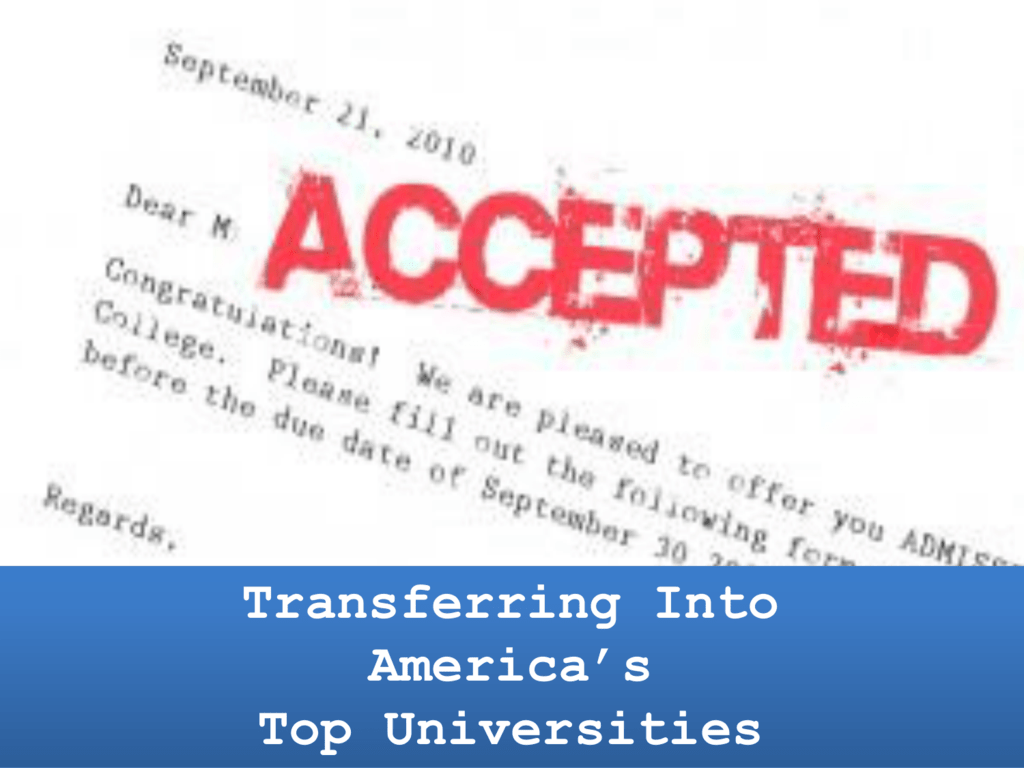 Transferring Into
America's
Top Universities
Contact Info
Thanks to everyone who came to see this
presentation! If anyone needs to contact me,
please email me directly at :
[email protected]
Available at:
30% of People in the United States
Have a Bachelor's Degree.
Including…
•
•
•
•
115,000 janitors
83,000 bartenders
323,000 restaurant servers
80,000 heavy-duty truck drivers
54%
of recent college graduates
are unemployed or
underemployed.
Study Something With a Great
Outlook
Lots of Prospects
You'll Have to Get Creative
•
•
•
•
•
• English
• Law
• Historical & Culture
Studies
• Communications
Computer Science
Mathematics
Physics
Engineering
Health/Medicine
Transferring Into Your Dream School!
Picking the Best
Transfer School
How Do Schools View Transfer
Students?
30%
7%
Expensive Private vs
Cheaper Public
Comparing Two
Expensive School
Cheaper School
Schools
Total Cost: $24,000
Total Cost: $52,000
Federal Pell Grant: $5,000
Federal Pell Grant: $5,000
Other Grants: $2,500
Other Grants: $2,500
Institutional Need Grant: $36, 000
Unmet Portion: $8,500
Unmet Portion: $16,500
Just Say
NO
To
Debt
IvyIvy
League
Transfer
League Transfer
Ivy League Transfer
Guidelines
Taking the Best
Courses
S.T.E.M Majors
Calculus 1
Calculus 2
Calculus 3?
Physics
(with or without calculus)
Life and Physical Sciences
Biology (for majors)
Chemistry (for majors)
Humanities Majors
Take Mathematics!
Life and Physical Sciences
Go Deep Into Your Major
Solid Electives:
Introduction to Anthropology
Philosophy 101
Psychology 101
History
Literature
Course
Resources
Transfer Guides
Ellen Goldberg!
University Website
www.transferbootcamp.com
Final Words…
• You Make the Bachelor's
Degree.
• You Can Transfer Anywhere!
• The Classes You Take Matter
for Admission AND Credit!