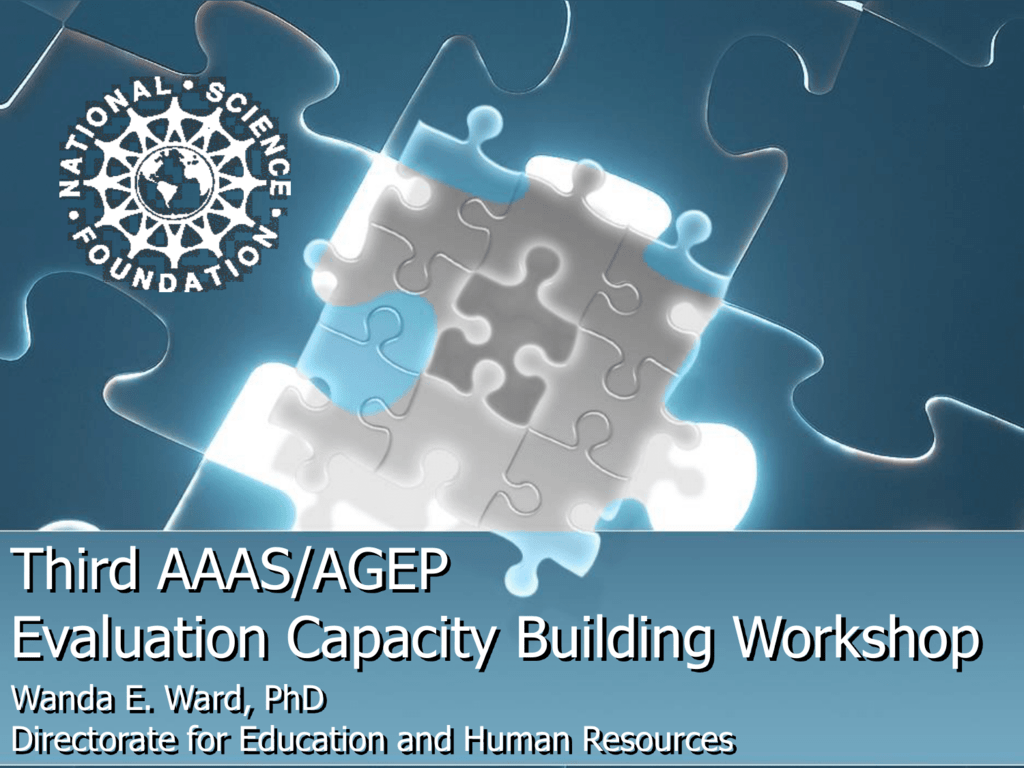 Third AAAS/AGEP
Evaluation Capacity Building Workshop
Wanda E. Ward, PhD
Directorate for Education and Human Resources
Overview of Presentation
 The
Role of NSF in STEM Education
 Drivers
 EHR's
Shaping the Future
Systematic Approach to Evaluation
 Examples
 AGEP
of EHR Program Evaluations
and the Broader Context
The Role of NSF
in STEM Education
To promote a diverse and well-prepared
workforce of STEM professionals and
educators.
 To develop the ideas and tools that lead to
innovation in STEM education through research
and evaluation.
 To disseminate findings to the S&E community.
 To promote a public understanding of science.

Drivers Shaping the Future
Global
Competition
• Economic
• Education
• Workforce
External Drivers
Drivers Shaping the Future
Internal Drivers
 NSF's
 NSB
Mission
2020 Vision for the NSF
 EHR's
Mission: To achieve excellence in
U.S. science and engineering education
at all levels and in all settings, and to
ensure the development of a diverse and
well-prepared workforce of scientists,
engineers, mathematicians, technicians, and
educators; and a well-informed citizenry.
NSF 's Strategic Plan for
FY 2006 to FY 2011
Strategic Outcome Goals




Discovery
Learning
Research Infrastructure
Stewardship
EHR's Systematic
Approach to Evaluation

Multi-method approach that includes
quantitative and qualitative analyses.

An evaluation continuum driven by the
program development cycle.

Multiple purposes including strategic planning,
program improvement, and accountability to
advance STEM knowledge.
Evaluation Review Criteria




DISCOVERY: Does the study advance the field of
evaluation? Does it create formative knowledge for
program improvement?
PROGRAM GOAL/LOGIC: Does the study fully capture
the variety of program successes and challenges?
EMPIRICAL RIGOR: Are study methods and
hypothesis testing appropriate and sufficiently rigorous
to meet study aims?
EVALUATION STANDARDS: In its design,
implementation and reporting, does the study adhere to
appropriate standards of utility, feasibility, propriety, and
accuracy?
Annual
Reports
Merit
Review
COV
Summative
Evaluation
GPRA
Formative
Assessment
Year 1
Evaluation
Timeline
Year 1
Project
Level
Evaluation
Program
Monitoring
Studies
Year 3
Longitudinal
Studies
Sustainability
Studies
Year 5
Years 6-7
Years 8-10
Capacity Building of Evaluation
Year 3
Year 5
Evaluative
Research
PART
Years 6-7
Years 8-10
Long-Term
Impact
COV
Portfolio
Review
Examples of EHR
Program Evaluations
Math and Science Partnership (MSP) Program
 Advanced Technological Education (ATE)
Program


Louis Stokes Alliances for Minority
Participation (LSAMP) Program

Integrative Graduate Education and Research
Traineeship (IGERT) Program
Math and Science Partnership
(MSP) Program



A major research and development effort that
supports innovative partnerships to improve K-12
student achievement in mathematics and science.
An emphasis on K-12 and higher education
partnerships.
Funded activities:
- 36 funded Partnership projects
- 12 funded MSP Teacher Institutes
- 35+ Research, Evaluation & Technical
Assistance (RETA) awards
Math and Science Partnership
(MSP) Program: Impacts
In a first analysis of student data, elementary, middle and
high school students showed significant improvements in
mathematics proficiency test scores during the 2002-2003
and 2003-2004 school years. During the same period, MSP
elementary school students showed significant gains (p<.05)
in science proficiency.
Math and Science Partnership
(MSP) Program: Impacts
Growth in the number of participating IHEs

150 IHEs participate in MSP
37% doctoral-granting
26% master's colleges/universities
20% baccalaureate-granting
13% associate-granting institutions
Greater commitment and interest among IHEs


2003-2004, 27% of Partnerships reported low
levels of commitment or interest among IHE
partners
2004-2005, that level dropped to 10%
ATE Program Synopsis
Education of technicians for the hightechnology fields that drive our nation's
economy.
 Partnerships between academic institutions
and employers to improve S&E education at
the undergraduate and secondary school
levels.
 ATE portfolio: National and Regional Centers,
Resources Centers, model projects, and
applied research studies.

ATE Program Reach

Students: FY 2005, >65,000 students took one or
more courses directly impacted by the ATE program
with 47,400 of them at 2-year institutions.

Instructional: 28,000 faculty and teachers involved
in professional development workshops.

Partnerships: 7,800 business and industry
partnerships with 2,200 educational institutions.

Courses: Within these 690 programs, nearly 2,000
courses were developed or improved.
Current Evaluation of the
ATE Program
 Program-level
formative evaluation by
Western Michigan University
 Program-level analysis of annual and
final reports by SRI International
 Project-level evaluation capacity building
workshop
Louis Stokes Alliances for Minority
Participation (LSAMP) Program
The LSAMP program supports sustained
and comprehensive approaches to
broadening participation at the
baccalaureate level. These approaches
facilitate the production of students who
are well prepared in STEM and
motivated to pursue graduate education.
LSAMP Evaluation Study
• A multi-year evaluation
study conducted by
The Urban Institute.
• Surveyed LSAMP
participants who
graduated between 1992
and 1997.
• 60% response rate
• Survey data compared
with national data on STEM
graduates collected as part
of the NSRCG.
LSAMP: Education Pipeline
Integrative Graduate Education and
Research Traineeship (IGERT) Program




IGERT has been developed to meet the challenges
of educating U.S. Ph.D. scientists and engineers
 In collaborative, interdisciplinary research in
emerging areas across the NSF
 With technical, professional and personal skills;
Catalyzing a cultural change in graduate education;
Facilitating diversity in graduate student participation
and preparation; and
Developing a diverse, globally engaged science and
engineering workforce.
IGERT: Interdisciplinary Experiences
Access to disciplines and expertise
outside of home department
93***
69
Opportunities to study multiple
disciplines
86***
55
Working on a research project
involving multiple disciplines
76***
42
Courses presenting laboratories or research
techniques of multiple disciplines
62***
37
Communicating to people outside
your home discipline
50***
22
Attended professional conference
outside home discipline
45***
IGERT
27
Laboratory rotations in multiple
disciplines
Non-IGERT
41***
26
0%
10%
20%
30%
40%
50%
60%
70%
80%
IGERT N ranges from 303-306. Non-IGERT N ranges from 559-566. Range is due to missing responses.
Significance denoted as: *** ( p < .0001)
90%
100%
IGERT: Interdisciplinary Experiences
Working on joint research projects
with individuals outside of home
discipline
90***
78***
86***
Co-authored proposals with
individuals outside home discipline
64***
Co-authored research
articles/books with individuals
outside home discipline
76***
60***
63***
Published research findings in journal
outside home discipline
48***
60***
Presented research findings at a conference
outside home discipline
Non-IGERT
42***
Team taught courses with faculty
members outside home department
28***
0%
Note:
IGERT
44***
10%
20%
30%
40%
50%
60%
70%
80%
90%
100%
IGERT N ranges from 344-346. Non-IGERT N ranges from 551-555. Range is due to missing responses.
Significance denoted as: * (p<.01) ** (p<.001) *** (p<.0001)
AGEP Expanded
AGEP
SBE
Social, Behavioral
and Economic
Sciences
SBE-AGEP Participating
Institutions












City University of New York
(CUNY)
Howard University
Michigan State University
Northwestern University
Ohio State University
Pennsylvania State University
Temple University
Texas A&M University
Stanford University
University of California at
Berkeley
University of California at Los
Angeles
University of California at Santa
Barbara











University of Chicago
University of Florida
University of Illinois at UrbanaChampaign
University of Maryland at
College Park
University of Miami
University of Michigan
University of North Carolina at
Chapel Hill
University of Southern
California
University of Wisconsin
University of Texas at Austin
Wayne State University
SBES – AGEP
Learning Community
Northwestern
CUNY-MI
UC-DIGGS
EDGE
AC SBES
The EHR Portfolio
• To prepare the next generation of STEM professionals
• To develop a robust research community that can
conduct rigorous research and evaluation that will
support excellence in STEM education
• To increase the technological, scientific and
quantitative literacy of all Americans
• To broaden participation and close achievement gaps
in all STEM fields
AGEP and the
Broader Context
GSE
HBCU
-UP
LSAMP
AGEP
RDE
CREST
TCUP
Examples of How Evaluation Informs
EHR Programming
PROGRAM
REDIRECTION
MGE
AGEP
Alliances for Graduate Education
and the Professoriate
CCLI
PROGRAM
ILI
+
CCD+
UFE
REALIGNMENT OR
CONSOLIDATTION Course, Curriculum, and Laboratory Improvement
PROGRAM
ENHANCEMENT
PROGRAM
REFINEMENT
PGE/PWG
GSE
Research on Gender in Science and Engineering
IGERT
QUESTIONS

What are the educational/research
outcomes for the participating institutions?

What is the impact of the program on its
participants (e.g. students, faculty and
administrators)?

How has AGEP increased the knowledge
base regarding broadening participation in
STEM?