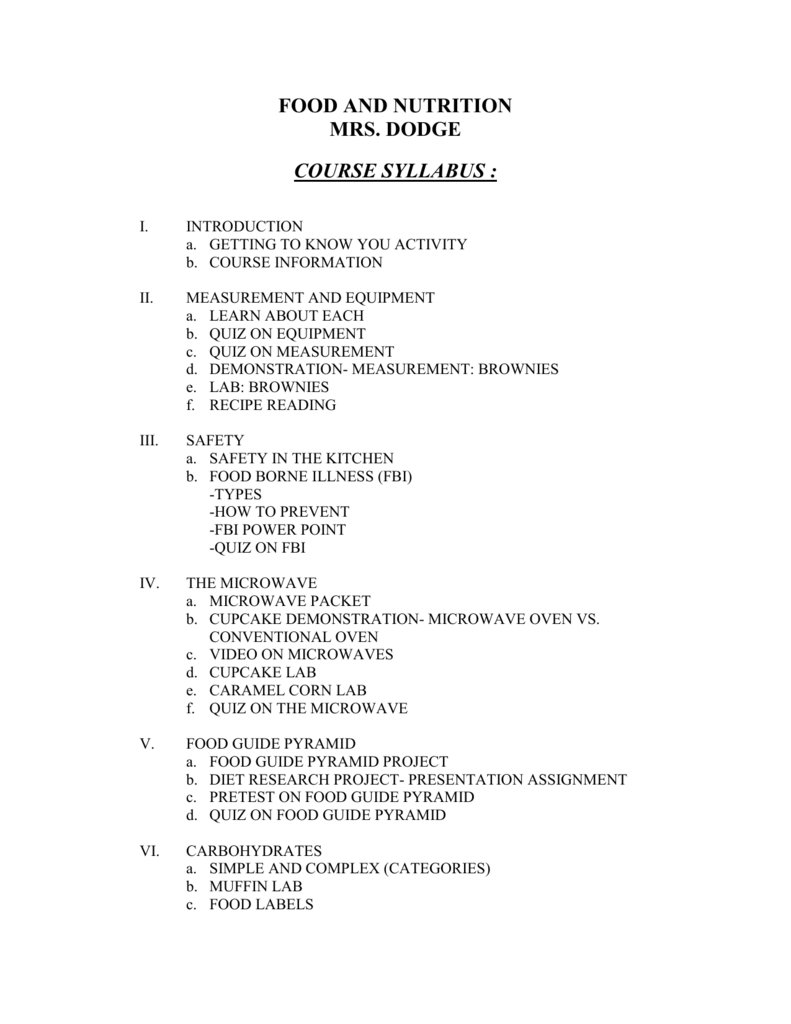 FOOD AND NUTRITION
MRS. DODGE
COURSE SYLLABUS :
I.
INTRODUCTION
a. GETTING TO KNOW YOU ACTIVITY
b. COURSE INFORMATION
II.
MEASUREMENT AND EQUIPMENT
a. LEARN ABOUT EACH
b. QUIZ ON EQUIPMENT
c. QUIZ ON MEASUREMENT
d. DEMONSTRATION- MEASUREMENT: BROWNIES
e. LAB: BROWNIES
f. RECIPE READING
III.
SAFETY
a. SAFETY IN THE KITCHEN
b. FOOD BORNE ILLNESS (FBI)
-TYPES
-HOW TO PREVENT
-FBI POWER POINT
-QUIZ ON FBI
IV.
THE MICROWAVE
a. MICROWAVE PACKET
b. CUPCAKE DEMONSTRATION- MICROWAVE OVEN VS.
CONVENTIONAL OVEN
c. VIDEO ON MICROWAVES
d. CUPCAKE LAB
e. CARAMEL CORN LAB
f. QUIZ ON THE MICROWAVE
V.
FOOD GUIDE PYRAMID
a. FOOD GUIDE PYRAMID PROJECT
b. DIET RESEARCH PROJECT- PRESENTATION ASSIGNMENT
c. PRETEST ON FOOD GUIDE PYRAMID
d. QUIZ ON FOOD GUIDE PYRAMID
VI.
CARBOHYDRATES
a. SIMPLE AND COMPLEX (CATEGORIES)
b. MUFFIN LAB
c. FOOD LABELS
d.
e.
f.
g.
h.
i.
j.
BISCUIT LAB
CREPES, WAFFLES, PANCAKES LAB
YEAST INFORMATION
HOMEMADE PIZZA LAB
HOMEMADE PASTA AND SAUCE LAB
QUICK BREAD AND YEAST BREAD WORKSHEETS
QUIZ ON CARBOHYDRATES
VII.
MINERALS
a. MAJOR, ELECTROLYTES, TRACE (CATEGORIES)
b. STIR FRY LAB
c. MINERAL WORKSHEET
d. MINERAL POWER POINT
e. QUIZ ON MINERALS
VIII.
VITAMINS
a. WATER AND SOLUBLE (CATEGORIES)
b. VITAMIN PRETEST
c. APPLE CRISP LAB
d. ORANGE JULIUS LAB
e. QUIZ ON VITAMINS
IX.
FAT
a. FAST FOOD PROJECT- PRESENTATION
b. FAT POWER POINT
c. PIE LAB
d. COOKIE LAB
e. QUIZ ON FAT
X.
PROTEIN
a. COMPLETE AND INCOMPLETE (CATEGORIES)
b. OMELET VIDEO "THE ULTIMATE OMELET"
c. OMELET LAB
d. BROILING METHOD- HAMBURGER LAB
e. QUIZ ON PROTEIN
XI.
REVIEW
a. REVIEW ALL INFORMATION COVERED IN CLASS
b. FINAL EXAM ON INFORMATION
c. FINAL DEMONSTRATION
GRADING PROCEDURE:
ASSIGNMENTS: 25%
QUIZZES: 25%
LABS: 40%
FINAL EXAM: 10%
EACH LAB IS WORTH 25 POINTS!
MEETING REQUIREMENTS:
*We will meet a Friday (5pm-9pm) and Saturday (8am-5pm)
at the beginning of class, half way through the class (same days
and times), and at the end of class.
*You will have several assignments throughout the class.
Assignments will be due weekly- deadline for weekly
assignments is midnight on Sunday. Points will be deducted
for late assignments.