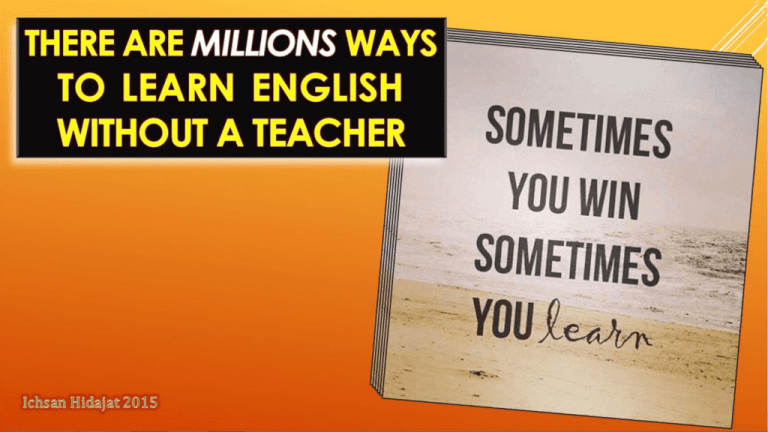 5
READ
IN
ENGLISH!
READ
aloud
READ
for fun
ENJOY
IT
6
Watch subtitled movies
to master pronunciation.
7
Listen to your
favourite
song
and
catch
the
words
8
Make vocabulary
flip cards or flash cards
from index cards.
Write the word on one side and
the meaning on the other.
9
Use a Thesaurus.
A Thesaurus
is similar to a dictionary,
which gives not the
definitions of words but
groups of synonyms
(words with similar
meanings) and related
concepts for words.
10
Enjoy the words
Learn words with opposite
meanings (antonyms)
and words with similar
meanings (synonyms)
11
Wordmap will be helpful
Enjoy yourself
by digging up words
connected to one another,
perhaps in some crazy ways
12
There are
many word games
that families play together.
One example of these is
Scrabble. Play with the sounds
of new words. For instance:
Each peach that you reach,
you can eat on the beach.
13
Practice with a native
English speaker.
Be confident.
Don't be afraid of making mistakes
14
Learn things quickly and permanently.
Use the new word immediately. Use it
10 minutes later. Use it one hour later.
Use it 1 day later. Use it 1 week later.
15
Think in English
to develop the basics.
This tip is especially useful if you are learning
English in a non-English-speaking country
where you won't have the opportunity to
practice your English language skills with
native speakers.
Find the methods
that work best for you.
You may need to try out
a number of different
learning techniques
before you find those
that work best for you.