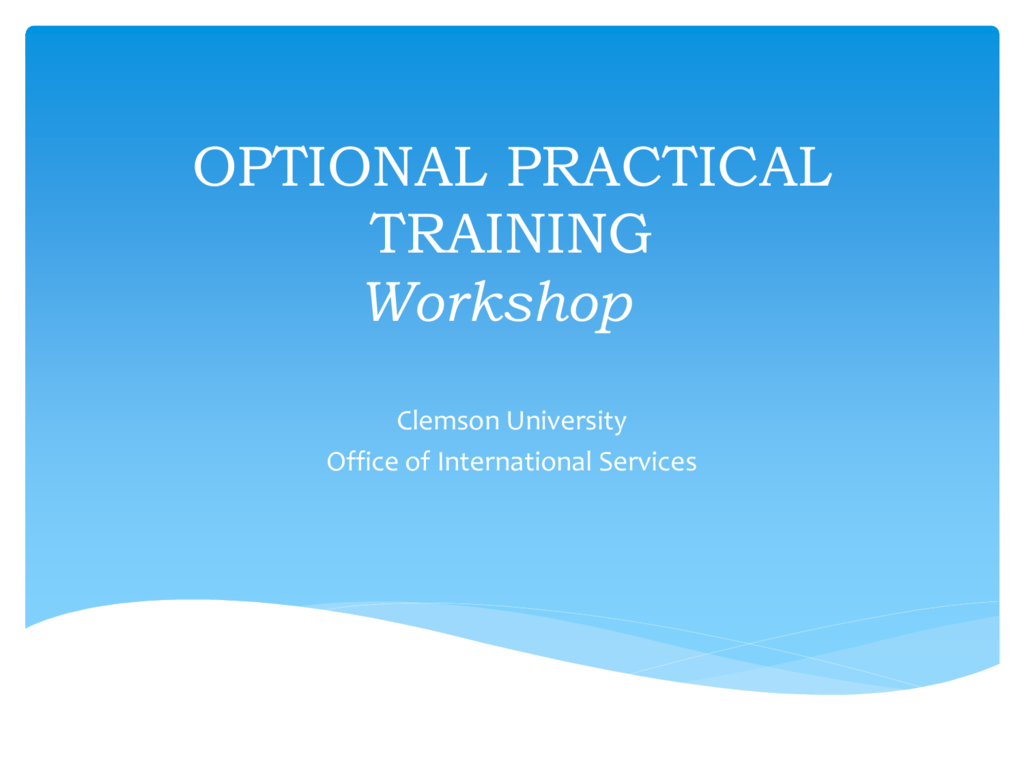 OPTIONAL PRACTICAL
TRAINING
Workshop
Clemson University
Office of International Services
Welcome!
This presentation will answer many questions
regarding OPT, including:
 What is OPT
 How do I apply for OPT?
 When do I apply for OPT?
 Can I cancel/change my application?
 What about OPT extension?
 Travel on OPT
 And more…
WHAT IS OPT?
 Off campus work authorization permitting a
work experience in your field of study at a
U.S. company or organization.
Employment limited to your field of
study
Maximum authorization is 12 months
WHAT EXACTLY IS OPT?
 Xiaoyu majored in Chemistry and is hired by
Coca-Cola to work in their Research and
Development department.
WHAT IS NOT OPT?
Maria is completing a degree in
Biology. She wants to work as a
waitress.
WHEN CAN I USE OPT?
Pre-Completion
 During school vacations (full-time)
 During school year (part-time)
Post-Completion
 After completion of program
WHEN CAN I USE OPT?
Masters or PhD students:
 Once all coursework has been completed,
students may concurrently work full-time on
Pre-Completion OPT while writing their
thesis/dissertation.
 Full-time enrollment is required.
 Time spent during pre-completion will be
subtracted from the total 12 months.
WHAT IS COMPLETION?
(when your I-20 will expire)
 Your completion date is when your I-20
expires, and you have completed your
program.
 Using post-completion OPT means you
are FINISHED as a student. You are no
longer eligible to extend your I-20. You
are also ineligible to work in your
graduate assistantship.
WHAT IS COMPLETION?
(when your I-20 will expire)
 You CANNOT work, paid or volunteer,
between your completion date and your
OPT start date.
WHEN CAN I APPLY?
 It is recommended that you apply before your
completion date. USCIS must receive your
application BEFORE the end of your 60 day
grace period.
 The earliest you can apply is 90 days before
your completion date.
 OPT must start within 60 days of the
completion date.
WHAT HAPPENS WHEN I APPLY?
 You will receive a new I-20
 You will send the required documents to
USCIS
 You receive a Notice of Action (receipt letter)
within 2-3 weeks
 You can track your application with the
receipt number at: www.uscis.gov
 Your Employment Authorization Document
(EAD) will arrive within 90 days
WHAT IF I CHANGE MY MIND?
 Your OPT can be cancelled without losing any time if
you have not mailed your application
 NO REFUNDS. You will lost the $380 application fee to
USCIS
 Your OPT may be cancelled once it has begun, but you
risk losing considerable time during the cancellation
process
 ANY CHANGE to your OPT application is NOT
recommended once it has been submitted
 If you start a new degree program or transfer your
SEVIS record to a new school during your OPT period,
this will cancel your OPT work authorization
OPT Rules
 You MUST work at least 20 hours a week
 Your work MUST be in your field of study
 You cannot accrue more than 90 days of
unemployment
 You must report changes in address,
employers, and period of unemployment to
International Services using the IS-150 Data
Validation Form
TRAVEL
 I-20 travel signature: no more than 6 months old!
 If your application is still pending and you have
completed your program, travel is risky
 If your application was approved and you have:
 A job; it is recommended that you travel with written
support from your supervisor
 No job; leaving the country is risky. Carry proof of
your job search
WHAT HAPPENS WHEN OPT
ENDS?
 Extension of your OPT work authorization is
available if you have a pending non-exempt H-1B
petition (contact our office)
 If your degree is in Science, Technology,
Engineering, or Math (STEM), you may qualify for
a 17 month OPT extension (contact our office)
 You have a 60 day grace period after your OPT
expires. You can use this time to:
 Apply to change Visa status
 Prepare to leave the U.S.
 Begin a new degree program
WHAT TO BRING TO OPT APPOINTMENT
 IS-140 Form signed  2 US Passport photos
by both you and your (2x2)
academic advisor
 Copies of: front and
 G-1145 Form (typed)
back of I-94, Visa,
passport photo and
 I-765 Form (typed)
biographical page (if
there is one)
 Check made out to
U.S. Department of
 NO job offer required
Homeland Security
for $380
G-1145Form
 USCIS Website
 MUST be filled online, NOT handwritten
 NOT a required form, but we strongly
recommend students to complete and submit
with their application to receive confirmation
of USCIS having received the documents
I-765 Application Form
 MUST be filled online, NOT handwritten
 USCIS Website
 Address: Make sure you use a reliable address
where you will be in 90 days. USCIS will NOT
forward mail! If you are unsure, use International
Services address
 A-Number OR I-94 Number: You will write your I94 number
 Date and Place of last entry: Can be found on your
I-94 card
I-765 Application Form




Manner of Entry and Current Status: F-1 Student
Pre-Completion Code: (c) (3) (A)
Post Completion Code: (c) (3) (B)
OPT Extension Code: (c) (3) (C)
 Question 17 is for Extension applicants only
Waiting Game
 A watched pot never boils!
NEED MORE HELP?
OPT and other immigration questions can be
emailed to [email protected]
Advising Hours
Monday and Tuesday: 9:00-11:30
Wednesday and Thursday: 1:30-3:30
Or by appointment. Please call 656-3614.
Requests for appointments through email
will not be considered
OPT
Questions?