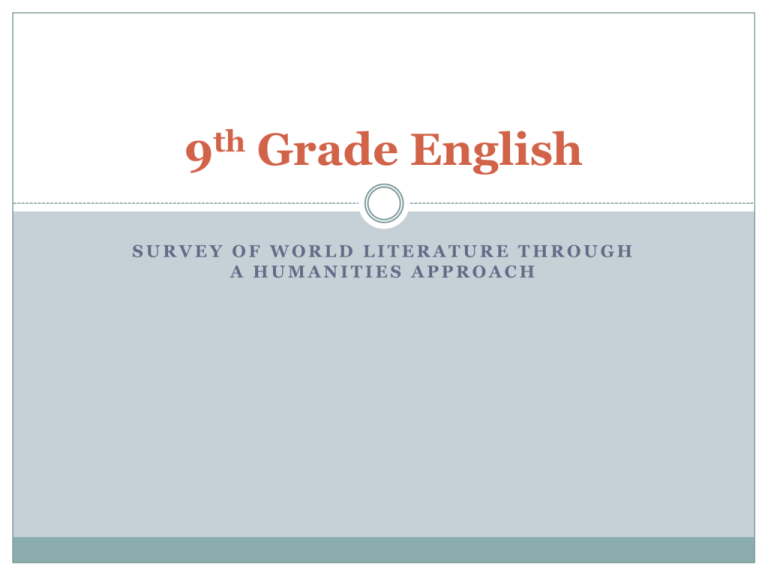 9th Grade English
SURVEY OF WORLD LITERATURE THROUGH
A HUMANITIES APPROACH
Daily Goals for Each Student
 To learn something about yourself
 To learn something about the way the world
works
 To learn something about how language
works
Essential Questions
 Why is it important that we study art forms such as philosophy,
literature, art, and music in concert?
 How can studying the humanities help us to find our common
humanity?
 How does a study of past art forms help us to understand our
modern world?
 Why is the "personal journey" a recurrent feature of myth, and how
do elements of myth manifest themselves in contemporary
literature? How does this speak to a sense of common humanity or
the common human experience?
 What is the relationship between our stories and our identities?
Units of Study
 Mini-unit on Intro to the Humanities
 Hero's Quest (The Common Human Experience):
 Persepolis by Marjane Satrapi
 The Odyssey by Homer
 Night by Elie Weisel
 The Impact of Culture (The Significance of Situated
Knowledge):




Romeo and Juliet by Shakespeare
The Woman Warrior by Maxine Hong Kingston
Krik? Krak! By Edwidge Danticat
Interpreter of Maladies by Jhumpa Lahiri
Approach to Writing
 National Writing Project

Writing is a not only a means to express ideas, but a way to
GET ideas. (Writing is thinking!)

Good writing skills are not simply "natural" – they are learned.
All students can become more skillful writers if they are taught
the processes and techniques of quality writing.

Writing Improvement Logs (students should earn credit for
improvement/progress)
Approaches to Writing

Developing writers should regularly be exposed to quality
texts.

Developing writers should have diverse and frequent
writing experiences.
 Narratives
 Literary analysis essays
 Poetry
 Articles/news writing
 Multi-media projects
Grading
 Each marking period: 21% of total grade
 Writing 35%
 Tests 30%
 Quizzes 20%
 Homework 15%
 Authentic Assessment: 8% of total grade
 Final Exam: 8% of total grade
Equality vs. Equity
Homework
 Practice for assessments/reinforcement of concepts
 Agendas and Handouts on First Class
 No "daily" homework late (4 points or fewer)
Authentic Assessment
 "This I Believe" Essay
Based on "word of intention"
 A culmination of a year's worth of analysis/exploration of
this personally meaningful word/idea

Examples: uncertainty, risk, companionship, commitment,
travel, education, beauty, acceptance, protest, etc.