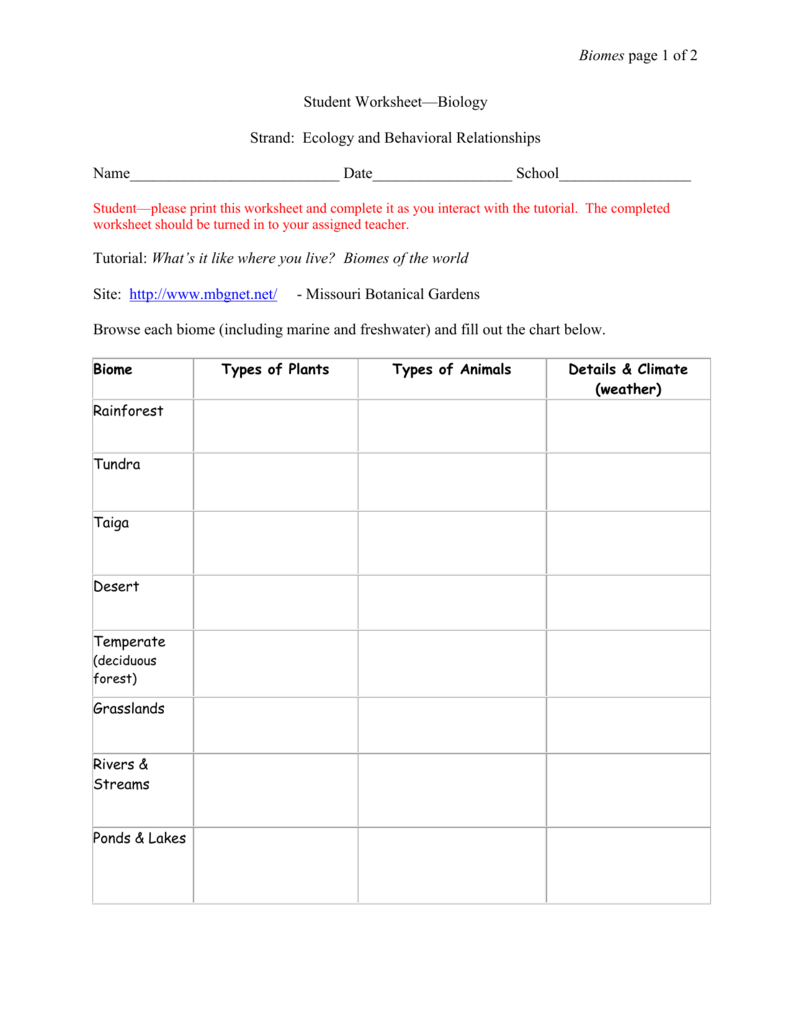 Biomes page 1 of 2
Student Worksheet—Biology
Strand: Ecology and Behavioral Relationships
Name___________________________ Date__________________ School_________________
Student—please print this worksheet and complete it as you interact with the tutorial. The completed
worksheet should be turned in to your assigned teacher.
Tutorial: What's it like where you live? Biomes of the world
Site: http://www.mbgnet.net/
- Missouri Botanical Gardens
Browse each biome (including marine and freshwater) and fill out the chart below.
Biome
Rainforest
Tundra
Taiga
Desert
Temperate
(deciduous
forest)
Grasslands
Rivers &
Streams
Ponds & Lakes
Types of Plants
Types of Animals
Details & Climate
(weather)
Biomes page 2 of 2
Wetlands
Shorelines
(estuaries and
salt marshes)
Temperate
oceans
Tropical
Oceans
QUESTIONS:
1. Describe the leaves of trees that live in the taiga.
2. How do trees in the taiga protect themselves from fire?
3. The changing of seasons is best viewed in which biome?
4. Second to the rainforest, which biome gets the most amount of rain?
5. Identify the leaves below. (HINT: Find the "Leaf Identification" section)
6. Why do the leaves of deciduous trees fall in the autumn?
7. What are two main differences between a hot and a cold desert?