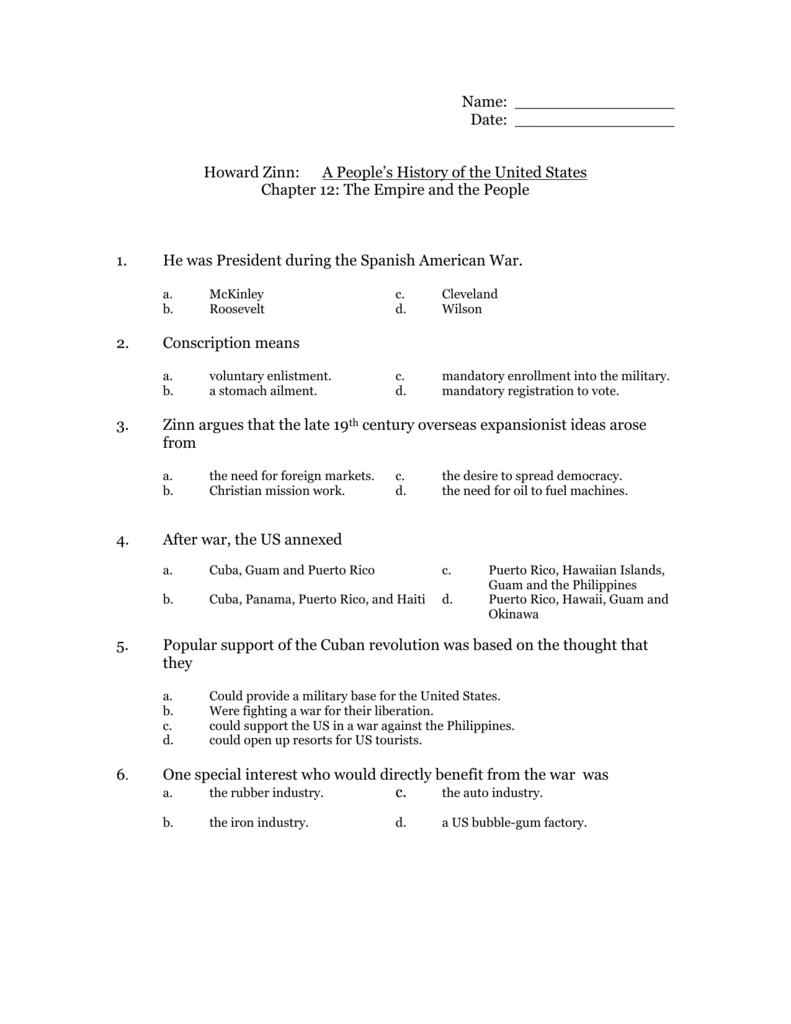 Name: ________________
Date: ________________
Howard Zinn: A People's History of the United States
Chapter 12: The Empire and the People
1.
He was President during the Spanish American War.
a.
b.
2.
5.
voluntary enlistment.
a stomach ailment.
c.
d.
mandatory enrollment into the military.
mandatory registration to vote.
the need for foreign markets.
Christian mission work.
c.
d.
the desire to spread democracy.
the need for oil to fuel machines.
After war, the US annexed
a.
Cuba, Guam and Puerto Rico
c.
b.
Cuba, Panama, Puerto Rico, and Haiti
d.
Puerto Rico, Hawaiian Islands,
Guam and the Philippines
Puerto Rico, Hawaii, Guam and
Okinawa
Popular support of the Cuban revolution was based on the thought that
they
a.
b.
c.
d.
6.
Cleveland
Wilson
Zinn argues that the late 19th century overseas expansionist ideas arose
from
a.
b.
4.
c.
d.
Conscription means
a.
b.
3.
McKinley
Roosevelt
Could provide a military base for the United States.
Were fighting a war for their liberation.
could support the US in a war against the Philippines.
could open up resorts for US tourists.
One special interest who would directly benefit from the war was
a.
the rubber industry.
c.
the auto industry.
b.
the iron industry.
d.
a US bubble-gum factory.
A=True or B=False
7.
President Cleveland officially supported the establishment of a white and
black republic in Cuba.
8.
The Teller Amendment was supported by people who were interested in
Cuban independence and opposed to American imperialism.
9.
The Phillipine rebels welcomed US offers to rule their islands.
10.
Zinn cited examples of the torture and extermination tactics of Spanish
soldiers against people of the Philipines.
11.
Phillipine rebels appealed to black US soldiers to not serve a racist
government against other "colored people".
12.
Philipino firepower was overwhelmingly superior to anything the
American soldiers could put together.
13.
The Spanish American War was the first case of US military intervention
in Latin America since the Mexican War.
14.
There were differing opinions concerning the war among leaders of US
labor unions.
15.
The Platt Amendment guaranteed full independence of Cuba from Spain.