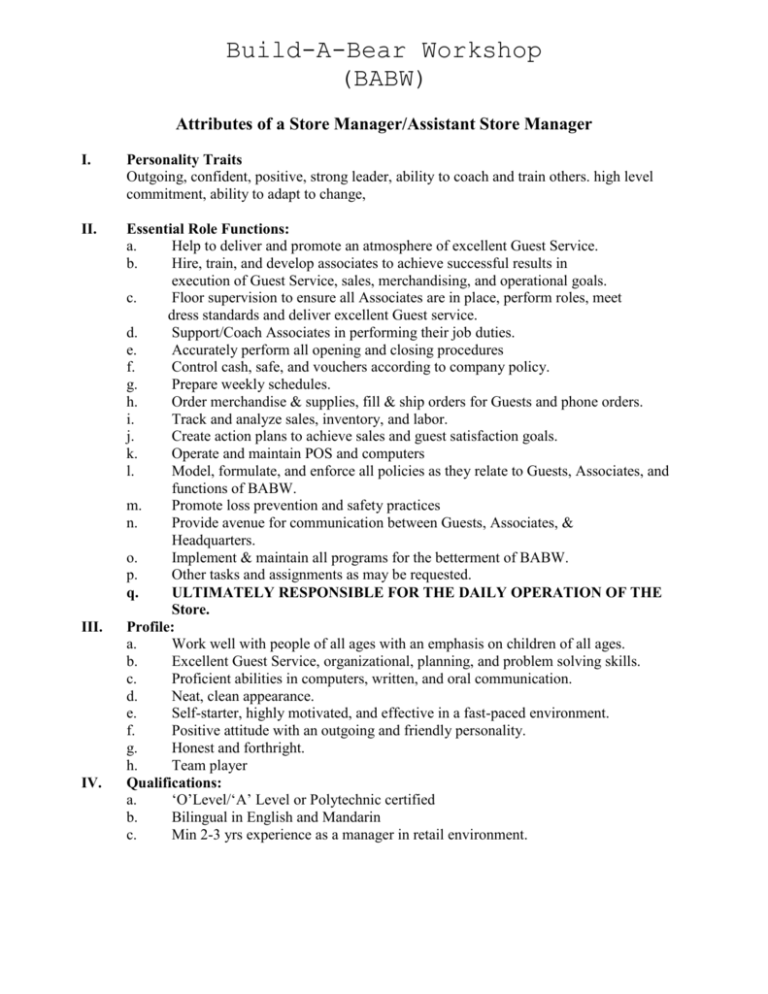 Build-A-Bear Workshop
(BABW)
Attributes of a Store Manager/Assistant Store Manager
I.
Personality Traits
Outgoing, confident, positive, strong leader, ability to coach and train others. high level
commitment, ability to adapt to change,
II.
Essential Role Functions:
a.
Help to deliver and promote an atmosphere of excellent Guest Service.
b.
Hire, train, and develop associates to achieve successful results in
execution of Guest Service, sales, merchandising, and operational goals.
c.
Floor supervision to ensure all Associates are in place, perform roles, meet
dress standards and deliver excellent Guest service.
d.
Support/Coach Associates in performing their job duties.
e.
Accurately perform all opening and closing procedures
f.
Control cash, safe, and vouchers according to company policy.
g.
Prepare weekly schedules.
h.
Order merchandise & supplies, fill & ship orders for Guests and phone orders.
i.
Track and analyze sales, inventory, and labor.
j.
Create action plans to achieve sales and guest satisfaction goals.
k.
Operate and maintain POS and computers
l.
Model, formulate, and enforce all policies as they relate to Guests, Associates, and
functions of BABW.
m.
Promote loss prevention and safety practices
n.
Provide avenue for communication between Guests, Associates, &
Headquarters.
o.
Implement & maintain all programs for the betterment of BABW.
p.
Other tasks and assignments as may be requested.
q.
ULTIMATELY RESPONSIBLE FOR THE DAILY OPERATION OF THE
Store.
Profile:
a.
Work well with people of all ages with an emphasis on children of all ages.
b.
Excellent Guest Service, organizational, planning, and problem solving skills.
c.
Proficient abilities in computers, written, and oral communication.
d.
Neat, clean appearance.
e.
Self-starter, highly motivated, and effective in a fast-paced environment.
f.
Positive attitude with an outgoing and friendly personality.
g.
Honest and forthright.
h.
Team player
Qualifications:
a.
'O'Level/'A' Level or Polytechnic certified
b.
Bilingual in English and Mandarin
c.
Min 2-3 yrs experience as a manager in retail environment.
III.
IV.