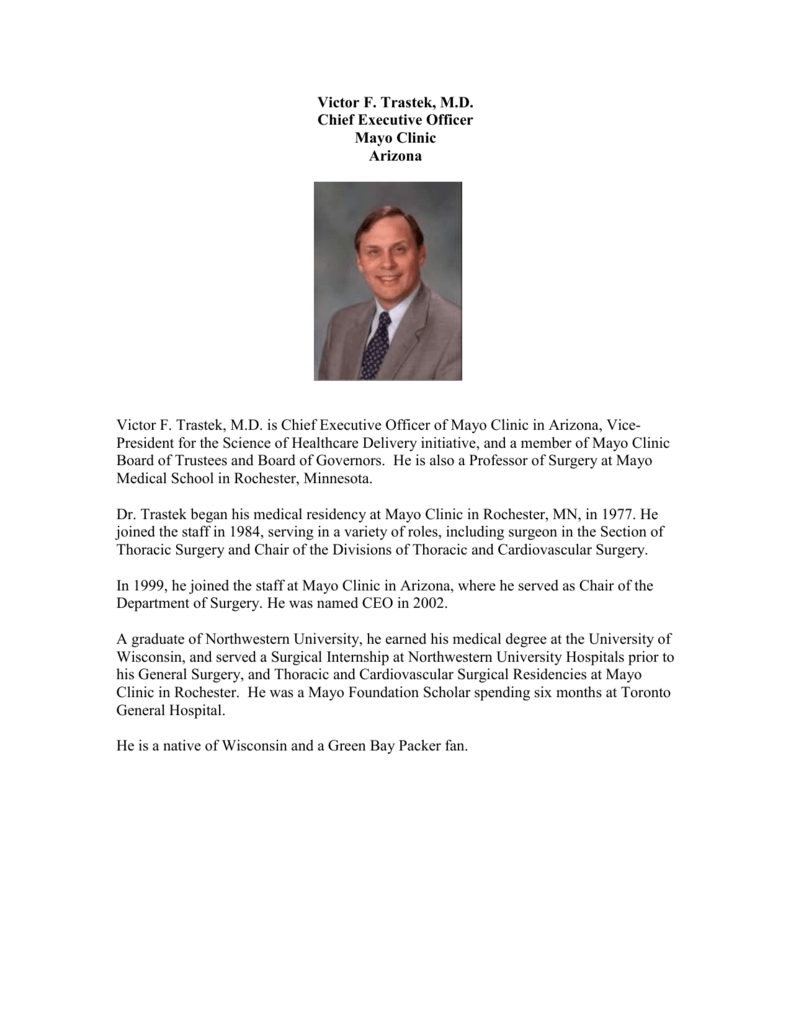 Victor F. Trastek, M.D.
Chief Executive Officer
Mayo Clinic
Arizona
Victor F. Trastek, M.D. is Chief Executive Officer of Mayo Clinic in Arizona, VicePresident for the Science of Healthcare Delivery initiative, and a member of Mayo Clinic
Board of Trustees and Board of Governors. He is also a Professor of Surgery at Mayo
Medical School in Rochester, Minnesota.
Dr. Trastek began his medical residency at Mayo Clinic in Rochester, MN, in 1977. He
joined the staff in 1984, serving in a variety of roles, including surgeon in the Section of
Thoracic Surgery and Chair of the Divisions of Thoracic and Cardiovascular Surgery.
In 1999, he joined the staff at Mayo Clinic in Arizona, where he served as Chair of the
Department of Surgery. He was named CEO in 2002.
A graduate of Northwestern University, he earned his medical degree at the University of
Wisconsin, and served a Surgical Internship at Northwestern University Hospitals prior to
his General Surgery, and Thoracic and Cardiovascular Surgical Residencies at Mayo
Clinic in Rochester. He was a Mayo Foundation Scholar spending six months at Toronto
General Hospital.
He is a native of Wisconsin and a Green Bay Packer fan.